Part II              Great, Great, Great Britain
Chapter 9          Hay Days on Tir Mawr
Chapter 11          South Stack, Snowdonia  and Soggy Sheep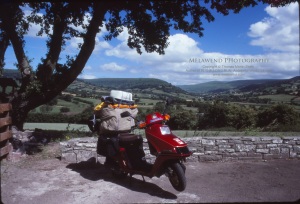 A beautiful roadside scene I just had to stop and photograph my Melawend as part of.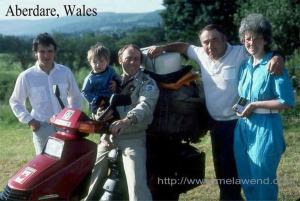 Melawend and me with our hosts Peter & Carol Francis, and their sons Paul and little Ian – on their farm – Tir Mawr Farm – near Llwydcoed, Aberdare, Wales.
– from Chapter 9:  Hay Days on Tir Mawr
"Tom, this is my husband, Peter."

"How do you do, sir?" I said, shaking hands with him.

"Fine, Tom. Carole has told me about your trip.  You are certainly welcome to camp here."

"Great! Thank you."

"We'll be having our dinner soon. Would you like to join us?"

For the next few days, I ate farm style: breakfasts of Wheatbix, bacon and eggs, buttered bread and jam; lunches and dinners of roast pork, potatoes, carrots, and tea cakes; and always, lots of tea. I had hoped to stay one night.  I stayed four.  That first night, I sat outside my tent in a hay field, happy under moonlight that illuminated the long and verdant Cynon Valley.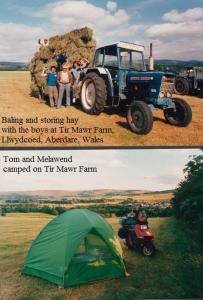 Baling hay with the boys!  And camped beside a hedgerow along the field.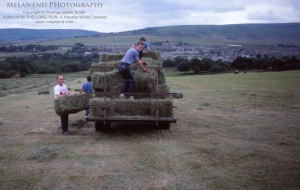 Yours truly having getting ready to store baled hay in Wales!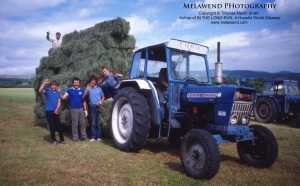 Having a hay-high time with the boys in Wales!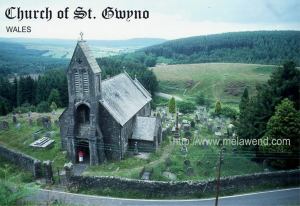 Church of St. Gwynno, Llanwonno Wales, in the mountains between the Rhondda and Cynon valleys – is famous in part for the annual run – Nos Galan road race –  in memory Guto Nyth Bran a runner who, in 1737, won against a challenge by an Englishman, despite some cheating by supporter's of Guto's challenger.  Ironically, exhausted from the run, he died from a congratulatory slap on the back from his bet-collecting girlfriend.  His grave is at this church.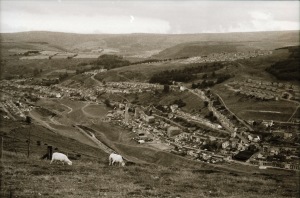 A beautiful Welsh valley.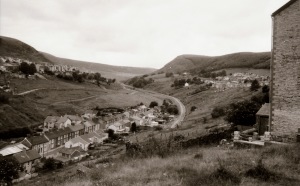 The Rhondda Valley
Both the above b&w photos were used in a story for the Times-Review.

CANADA ~~ ENGLAND ~~ WALES ~~ SCOTLAND ~~ NORWAY ~~ SWEDEN ~~ DENMARK ~~ THE NETHERLANDS ~~ BELGIUM ~~ LUXEMBOURG ~~ GERMANY ~~ LIECHTENSTEIN ~~ AUSTRIA ~~ SWITZERLAND ~~ FRANCE ~~ SPAIN ~~ MONACO ~~ ITALY ~~ THE VATICAN ~~ GREECE ~~ EGYPT ~~ SUDAN ~~ KENYA ~~ INDIA ~~ NEPAL ~~ SINGAPORE ~~ MALAYSIA ~~ JAPAN ~~ HAWAII ~~ USA ~~ RETURN
MELAWEND – My Amazing Honda Elite 250 Motorscooter
Helpful Quotes & Odyssey Photos by Tom
NEWS ~ About ITLR ~ About Tom ~ Chapters ~ Galleries ~ FAQ ~ Contact ~ For YOU!
Chapter 1: Crossroads
Chapter 23: Sojourn in Greece
Chapter 24: The Ups and Downs of Egypt
IN THE LONG RUN: Stories Written From The Road
Christmas in Greece – lively, lonely…