Part V                Shades of Africa
Chapter 26        Of Man and Beast:  A Story of Kenya
Chapter 27         Out of Africa… A Passage to India
We come now to another unique and equally mesmerizing country on the journey – KENYA.  My experiences there were again life-changing.
"In the vast savannahs of Africa there is a dimension of space and time that is an echo of our own beginnings and which reminds us that we were not born initially to live in the concrete jungle."

William Holden, from his book: Journey Through Kenya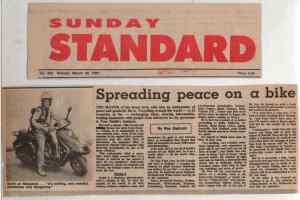 Yours truly, featured in The Standard – the national newspaper of Kenya.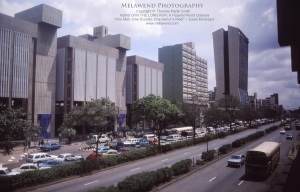 Downtown Nairobi
It was hot and, for once, humid as we rolled along Mombasa Road straight from the airport. The countryside was brown but grassy and there were trees!  It got greener as we got closer to the city.  I had not seen so much greenery since Melawend and I left Greece.  We rolled through the Western Suburbs and into the city via the continuation now known as Uhuru Highway (uhuru is Swahili for "freedom").  Entering Nairobi was wonderful!  Grass, trees, flowers, and modern buildings.  And, there was no dust!  It lived up to its catch phrase: "Green City in the Sun".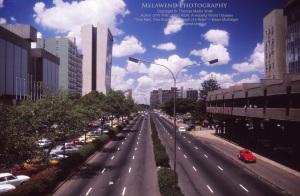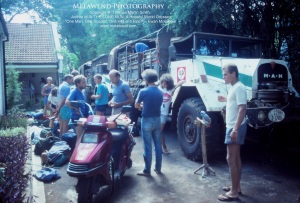 Home in Nairobi – the Nairobi International Youth Hostel.  On this day, an overland safari group that had stayed briefly at the hostel was getting ready to move on… while my awesome little Melawend draws attention!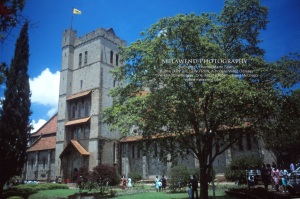 I loved visiting All Saints Cathedral, Nairobi.  I attended Easter services here and took this photo.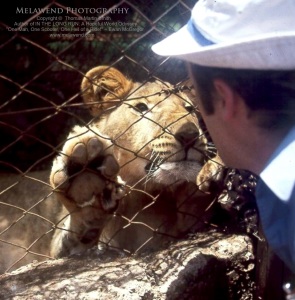 Another favorite place for me – the Nairobi Animal Orphanage.
Here I connect with Sheru – a lion that the orphanage's director, Dr. Ian Chaudhry and his family had raised form a cub – rescued after one of its siblings had been killed by it's mother after she had given birth to three cubs.   And then…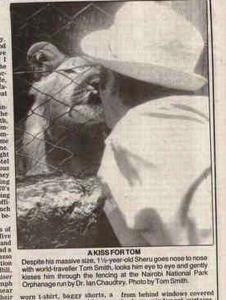 Photo used – scan of part of the Times-Review piece itself.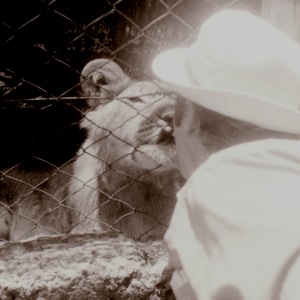 I moved about ten feet over and sat beside the fence of the lion's pen. I did not know it but I was about to experience something truly remarkable.  I had seen a lion sitting in the corner of this large treed pen, looking rather tired and sad.  I sat close to the fence and he walked slowly toward me.  It was a large cat and from a distance I thought it was a lioness.  When it was closer, I saw the beginnings of the majestic mane.  He sat down close to the fence and looked at me, as if to say, I'm bored. What would you like to do? 

     I got out my camera and mounted it on the tripod. The lion's expression brightened and he titled his head in curiosity.  I brought my face up to the fence and he brought his to within ten inches of mine.  I blew into his face.  He brought his face to mine and pressed his nose hard against my nose.  I sensed a child's intense inquisitiveness in his big unmoving walnut-brown eyes as he stared into mine.  I felt the tickle of his whiskers and the bristly white hairs of his chin.  He breathed heavily through his cool nostrils.  Then the lion kissed me! (licked my face)  He reached up to the fence with his right paw.  I put my hand against his paw.   He pushed the thick pads of his toes through the wire.  We did these things several times.  As we did so, I reached over and tripped the timer on the camera.  For a few shots, I simply held the camera at arm's length and took wide-angle images.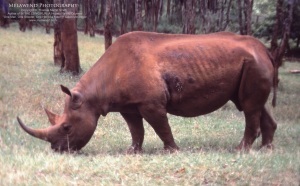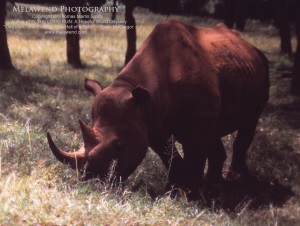 Being in Kenya and up close with so many magnificent animals – quintessential to Kenya – I was once again reminded of the life and times of my recurrent writing mentor, Ernest Hemingway.  We were both 33 years old when we were in Kenya for the first time, but we did indeed live in different times.  His was the age of the "Great White Hunter"…
"See the lioness in that cage over there?" he said. (This was Dr. Chaudhry speaking.)

She was laying on her back "tits-up" beside a huge lion on a raised wooden platform in a pen to the left of Sheru's pen. Seeing the lioness reminded of a story that Ernest Hemingway had written for the April 1934 issue of Esquire magazine: "A.D. in Africa: A Tanganyika Letter".  (It was included in By-Line: Ernest Hemingway and I had read it a few times on the journey.)  Hem and his group had been hunting lions near and on the Serengeti Plain.  They shot four of the 84 lions and lionesses they had seen in the past two weeks and three days: three black-mane lions (now rare) and a lioness.

"She wanted to charge and it was impossible to go after the lion without killing her first. I broke her neck with a .220 grain .30-06 solid at thirty yards," Hemingway wrote.

I admired Hemingway's lean prose but I detested the macho descriptions of the killing of animals. With all due respect to the great author, I felt it was pompous of him to say "I broke her neck…" 

Did you really. That was done by the impact of the bullet. 

Maybe it was just the way hunters talked. Besides, Hem lived in another age that had different values.  I sometimes thought of Hemingway the writer as being immortal; I thought of Hemingway the great white hunter as a dinosaur.
But Hemingway did write so well and truly of his time.  Me, I too loved writing, but I did not the hunting of animals for sport.  It's simply the way it was.  And be it writing (both his fiction and journalism), bull-fighting, fishing, boxing, war, or hunting, Hemingway immersed himself fully into what he was passionate about – a quality we could all emulate.
His son Patrick was with him on his second safari (1953).  He loved his father and did a great job in posthumously editing and publishing Ernest's last book – True At First Light – about that second safari.  Patrick gave me a wonderful inscription in my copy – together with a kind and complimentary hand-written letter.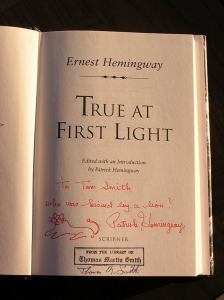 I head north to Mount Kenya to see if I can visit Don Hunt at the Mount Kenya Game Ranch – which he started with his partner, the late great actor, William Holden – continuing with Bill's love, Stephanie Powers.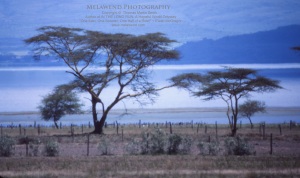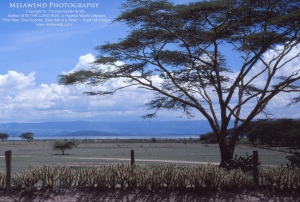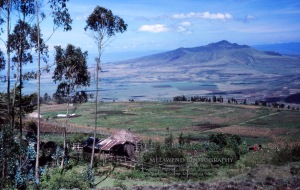 Longonot Crater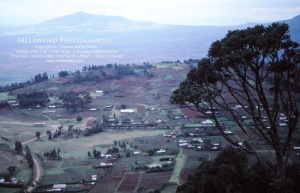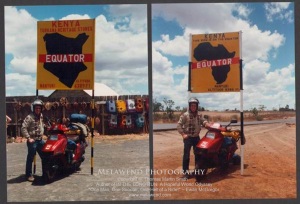 Two signs, about a half-mile apart – both on the Equator!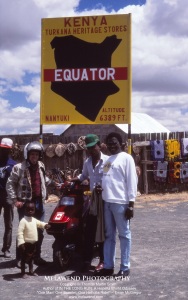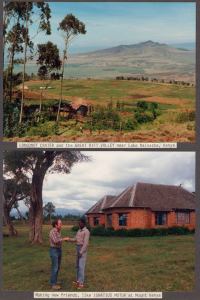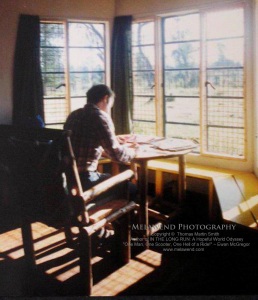 I loved writing the stories for my hometown newspaper!  Here, I'm working on a story at the Mount Kenya Youth Hostel, at a table and chair I moved over to a bay window that faced Mount Kenya – the second highest mountain in Africa (next to Kilimanjaro).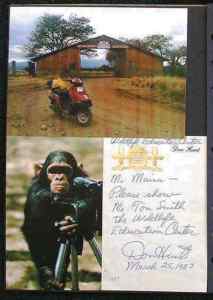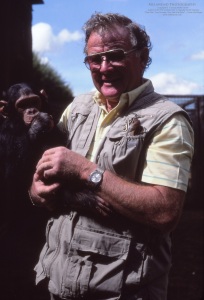 I felt so blessed, but ill-prepared, to meet Don Hunt – a game-master turned leading conservationist and educator.  I even suffered a lapse of basic photography – use fill-flash!  Here he is with little Max, an orphaned chip who became something of a mascot for the game ranch and the nearby William Holden Wildlife Education Center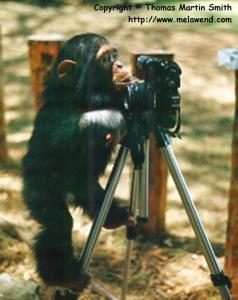 A bongo – one of the rarest animals in Africa – standing at a memorial to William Holden at the game ranch's animal orphanage.
Shortly before his death in November 1981, Bill wrote: "For more than twenty-five years I have counted Kenya as a second home and high on the slopes of old Kirinyaga, the sacred mountain of the Kikuyu tribe, Mount Kenya, I can watch the sun slide over the Aberdare Mountains within the sound of the call of the jackal and the leopard. Don Hunt and I have a game ranch on the mountain.  We have taken a lovely piece of Africa and have built a private reserve as a home and safe haven for more than 1,000 animals of twenty-six species."

By 1973, Bill had already been inducted into Kenya's Conservation Hall of Fame, along with the late President Jomo Kenyatta.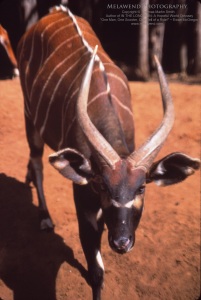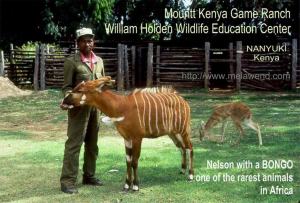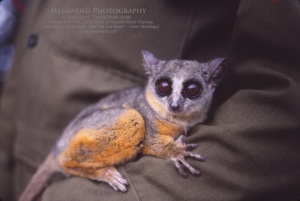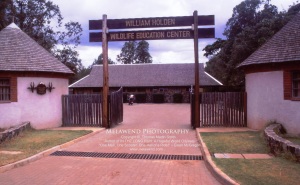 My Melawend was here!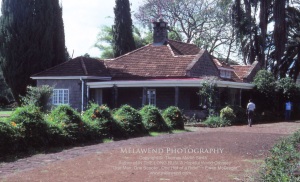 The haunting beauty of Karen Blixen's "Out of Africa" home, near Nairobi.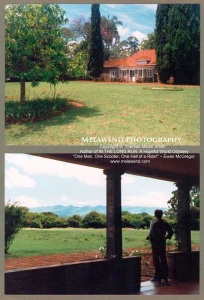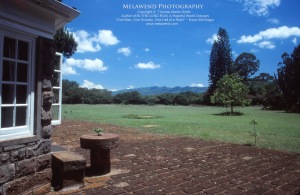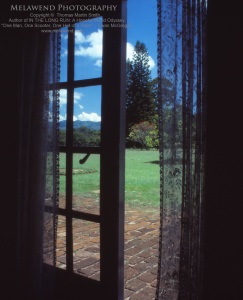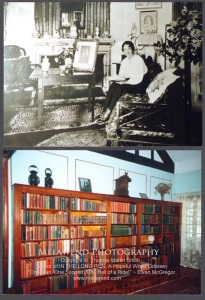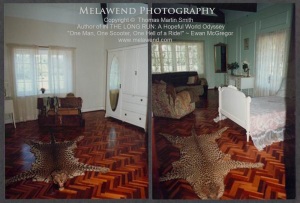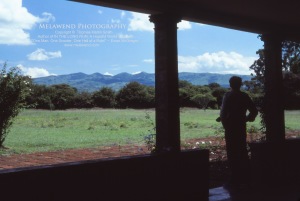 Yours truly on the wrap-around porch of Karen Blixen's home – looking out at the Ngong Hills she loved.  I would visit her home twice – the last just before I too would head out of Africa.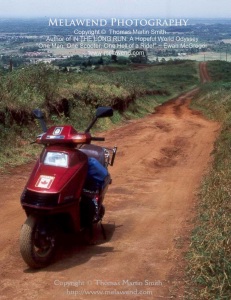 Melawend takes on a severely rutted road up the Ngong Hills.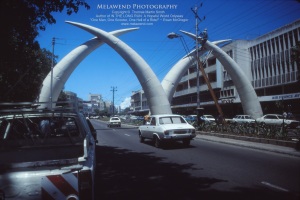 Entering the coastal city of Mombasa.  I had come because the time had come for me to move out of Africa and on to India – hopefully as a work way on a ship.  Though I would even get aboard ship bound for India, win support and would be accompanied by a few senior members of its crew to meet the captain in town, Mombasa for me became a repeat of Halifax.  I had to head back to Nairobi to figure out how I was going to move on.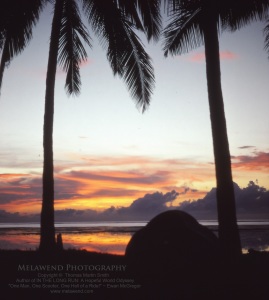 I loved the walking in the sea while camping at Kanamai on Kenya's east coast.

CANADA ~~ ENGLAND ~~ WALES ~~ SCOTLAND ~~ NORWAY ~~ SWEDEN ~~ DENMARK ~~ THE NETHERLANDS ~~ BELGIUM ~~ LUXEMBOURG ~~ GERMANY ~~ LIECHTENSTEIN ~~ AUSTRIA ~~ SWITZERLAND ~~ FRANCE ~~ SPAIN ~~ MONACO ~~ ITALY ~~ THE VATICAN ~~ GREECE ~~ EGYPT ~~ SUDAN ~~ KENYA ~~ INDIA ~~ NEPAL ~~ SINGAPORE ~~ MALAYSIA ~~ JAPAN ~~ HAWAII ~~ USA ~~ RETURN
MELAWEND – My Amazing Honda Elite 250 Motorscooter
Helpful Quotes & Odyssey Photos by Tom
NEWS ~ About ITLR ~ About Tom ~ Chapters ~ Galleries ~ FAQ ~ Contact ~ For YOU!
Chapter 1: Crossroads
Chapter 23: Sojourn in Greece
Chapter 24: The Ups and Downs of Egypt
IN THE LONG RUN: Stories Written From The Road
Christmas in Greece – lively, lonely…