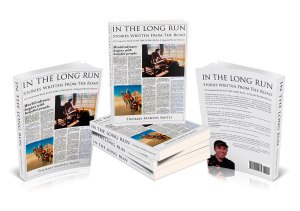 As I travelled around the world on my mighty Melawend for those two life-transformational years, I wrote full-page stories for readers of my hometown newspaper – in 18 installments for the Times-Review.    But unlike my hometown audience that had to wait over 24 months for the series to be complete, in this ebook YOU GET ALL THE STORIES – ALL AT ONCE!
This ebook stands alone as a guide for you.  The stories present the main experiences shortly after they happened. To keep moving forward, I had to consistently and creatively come up with win/win solutions.  These stories cover the journey beginning to end.
I wrote both books with the reader – you – in mind.  I wanted to avoid those boring, bitch-about-everything-foreign, "I, me, my" travel accounts that are so common.
Purposeful travel – be it terrestrial, or, more important, cerebral travel – moves you forward in so many beneficial ways when you approach your journey openly.
Here is how you can get the most out of both ebooks:
*   Imagine you are making the journey with me.
*   Learn from my efforts and successes.
*   Think of how you would have handled the various situations.
*   Make notes for yourself as you read.
*   Generate ideas for your own life.
*   Incorporate things from the stories you feel would serve you into plans to improve your life – and implement them!
Have a go at the series with this FREE SAMPLE CHAPTER!…
Christmas in Greece – lively, lonely…

CANADA ~~ ENGLAND ~~ WALES ~~ SCOTLAND ~~ NORWAY ~~ SWEDEN ~~ DENMARK ~~ THE NETHERLANDS ~~ BELGIUM ~~ LUXEMBOURG ~~ GERMANY ~~ LIECHTENSTEIN ~~ AUSTRIA ~~ SWITZERLAND ~~ FRANCE ~~ SPAIN ~~ MONACO ~~ ITALY ~~ THE VATICAN ~~ GREECE ~~ EGYPT ~~ SUDAN ~~ KENYA ~~ INDIA ~~ NEPAL ~~ SINGAPORE ~~ MALAYSIA ~~ JAPAN ~~ HAWAII ~~ USA ~~ RETURN
MELAWEND – My Amazing Honda Elite 250 Motorscooter
Helpful Quotes & Odyssey Photos by Tom
NEWS ~ About ITLR ~ About Tom ~ Chapters ~ Galleries ~ FAQ ~ Contact ~ For YOU!
Chapter 1: Crossroads
Chapter 23: Sojourn in Greece
Chapter 24: The Ups and Downs of Egypt
IN THE LONG RUN: Stories Written From The Road
Christmas in Greece – lively, lonely…