Part v                 Shades of Africa
Chapter 25         Crossroads of Khartoum
One of our Canadian ambassadors had me come to his office.  He was amazed at the journey I was undertaking… but advised me not to try to go through the Sudan: there was a civil war going on between the north and the south.  He said I would likely not make it through the south – where the fighting was taking place.
I considered options and had tried to get passage by sea from Port Said in Egypt through to the east coast of Kenya.  But as detailed in the previous chapter in the book – IN THE LONG RUN: A Hopeful World Odyssey – though I was given great assistance by the government in Port Said, and letters of support from the Canadian Embassy in Cairo, that effort did not succeed.  Perhaps it was divine guidance that made it so… that had me follow my original plan of going overland through Sudan.
So it was that Melawend and I found ourselves on the ferry that travelled from Aswan, Egypt across Lake Nasser (created by the building of the High Dam in Aswan), to the relocated village of Wadi Halfa, in the Sudan.
Yet again, I was embarking on another profoundly life-transformational part of my odyssey around the world…
What I was finding  as I crossed borders and seas was what were to me increasingly massive changes in culture, and even more so changes in myself,  most of which actually came from within.
I had put myself in the position of finding new friends in a country I had had apprehensions upon entering, getting out of myself and finding amazing friends, but then having to leave them.  Though I was moving on, which indeed I wanted and needed to do, there was always a sadness in leaving…. Now it was in the leaving of Egypt for the Sudan… and my growing apprehension of it, what was then the largest – and one of the most troubled – in Africa.
(On July 9, 2011, South Sudan became an independent nation.)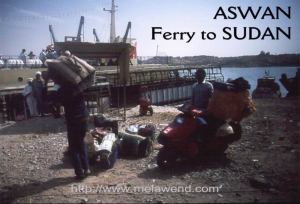 Melawend and her big load, waiting until I could walk her along a narrow gangplank to be stowed in a hallway aboard the ferry.  She and I were the last to board ship.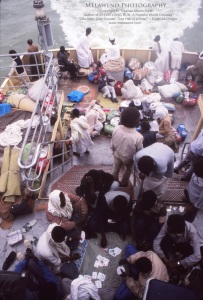 On the ship to Sudan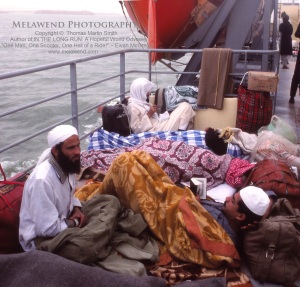 Passengers resting and reading the Quran on the ship to Sudan.  Just up the ship from here, I met Ali Ahmed, a kind and friendly Muslim man from Kassala, Sudan.  In the way of a benevolent teacher, he taught me about Allah and his faith.
On another deck, laying on the floor or leaning against the railing was a small group of Arabs. They were covered in colourful patterned blankets – completely covered if they were sleeping or head propped up on a duffel bag if not. Most were reading from the Quran. One man was somewhat separate from the group, alone under the davits that supported one of the orange-painted lifeboats. He saw me and beckoned me to come over. His name was Ali Ahmed. He was from Kassala, an agriculture-based city west of Khartoum, near the border with Ethiopia. He was a well-groomed, bearded man with salt and pepper hair. He wore a dark green galabiyah with a matching headwrap that were made of high-quality fabric. He sat upright on a pillow. With an air of serene confidence on his face he seemed to be a man who was at peace with himself and the world. Without the shadowy features, Ali looked like the Ayatollah Khomeni (but only if you could picture him younger and with a kind, grandfatherly face and manner). Ali was just 41 years old. I took off my shoes and sat with him. He asked where I was from and where I was going. "Ah, you are Canadian and are travelling the world," he said. "You are a good man." We exchanged more introductory conversation. As we did, Ali would see some of his friends go by and he would call to them. "This is my good friend, Tom," he said. "Ali, will you tell me of Allah?" I said. "It will be my pleasure, Tom." With this, Ali seemed to go into a state of tranquility, but in a much more relaxed way than had my aggravated instructor near the mosque in El Minya. For a moment Ali closed his eyes and a smile of calm came to his face. He waved at the sky, to the waters of Lake Nasser, to the people on deck – Allah had created all. He closed his eyes and breathed in, raising his hands toward his lungs in a gesture of gathering. He exhaled slowly, spreading his arms in kind as he slowly opened his eyes. This was to show the tranquility of thoughts of and prayers to Allah. He rose. It was time for Isha, the fifth and last prayer of the day. I would observe Ali and many other Muslims at dawn the next morning on deck, with carpets spread on the open deck. Their shoes were off to one side. This was Fajr, the first prayer of the day. Ali and the others stood, bowed, knelt, touched their foreheads to the floor, stood again and said prayers softly, the sun bathing their faces in gold as the looked in the direction of Mecca.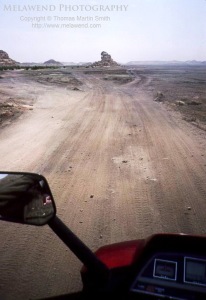 Once off the ferry, the next challenge was to find the road to Wadi Halfa – but which way?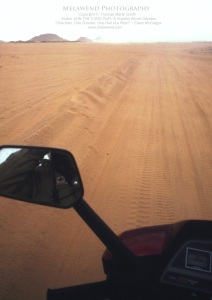 The answer: follow vehicles whose paths were suggestive of heading toward Wadi Halfa – so I did.  And indeed, you can see the rising dust around the buildings of Wadi Halfa as other vehicles – and Melawend and I – get near it!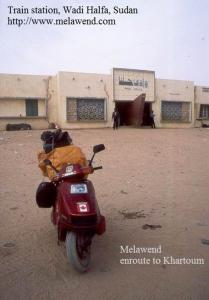 Melawend awaits at the Wadi Halfa train station for the ride to Khartoum.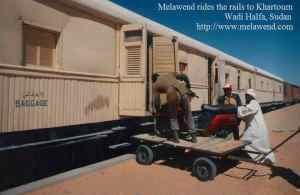 A police officer and a porters help load Melawend into an ancient baggage car!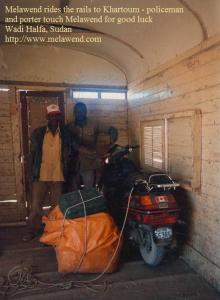 They took some pride in touching Melawend, feeling she was special for making this journey.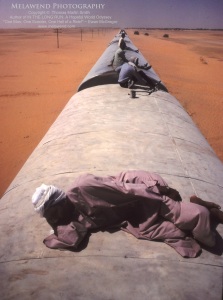 Riding the traintop to Khartoum!  (Much less dusty than riding in third-class – with it's wooden seats and windows that let sandy dust in!)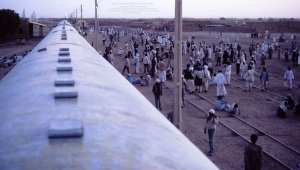 Stopping in a village to rest, essentially to let the engine cool as well.  Then when starting up again, some would hang back and then run after the moving train to jump on – to the delight of other passengers!
Traveling in third class (because tickets for first and second had sold out before I had cleared Sudan Customs), I met many wonderful people.  I was invited to share first class for a time by a young man from Palestine who had heard of my journey on BBC radio and wanted to learn of it and share his story.
When not riding on the roof, I spent most of my time in third class – un-upholstered wooden seats, shuttered windows, crowded with people, their luggage and vendor wares.  I sat with a group of students coming home to Sudan from Cairo.
The 5:00 p.m. train finally pulled out of Wadi Halfa at 10:05 p.m. There were no operable lights in the car (you saw the occasional burst of light from flashlights carried by some passengers). The small fans in the ceiling did not work either. There was a jolly short balding guy who wore an aviator-style cap who sat across the isle. His name was Mohamed and he was from Kosti. He appeared to be travelling with the three girls. He was loud and out-spoken but full of laughter and good humour. He was curious about Canada. You could hear other conversations as the train rumbled through the night. Sometimes conversations mingled with exchanged comments and questions. It was a convivial time and despite the uncomfortable seats, I was relaxed. We talked into the night like old friends. In the darkness, race and religion was not noticed.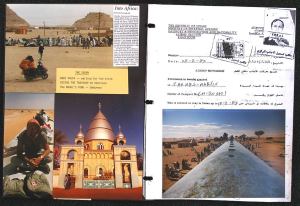 A photo montage of arriving in Sudan.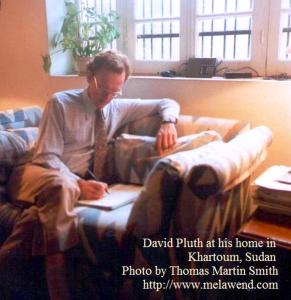 The late David Pluth, a fellow Canadian, a new friend – and my main hero in Sudan!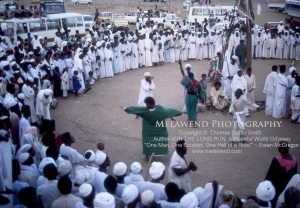 Dervish dancing in a grave in Omdurman, Sudan.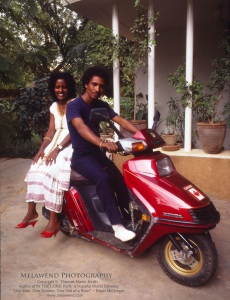 Fred and Tzehai – awesome friendly Eritrean refugees met in Khartoum.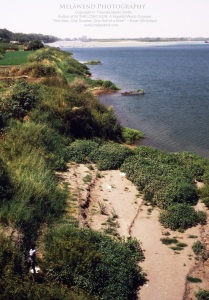 Alongside the Blue Nile near Khartoum… in the upper part of the waters, you see the confluence the White Nile and Blue Nile rivers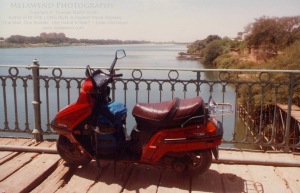 This was such an awesome moment!  Here's Melawend on a bridge over the Blue Nile, near Khartoum, Sudan.  In the extreme upper portion of the water, you see the confluence of the silt-laden waters of the White Nile with the Blue Nile as the two join and flow north toward the Mediterranean Sea.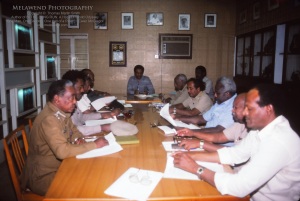 In Khartoum, I am invited to stand in on a meeting of the city Council.
Then I am given the opportunity to visit one of the city's schools and learn about their education system…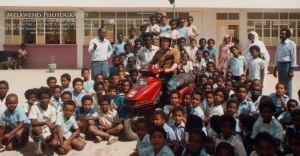 Melawend and I with teachers and students in the courtyard of Khartoum North School.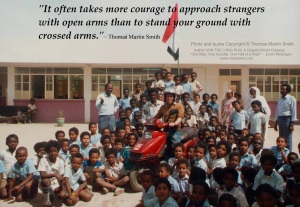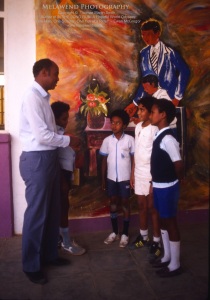 Principal Abdelegadr Albrae poses with students at the school.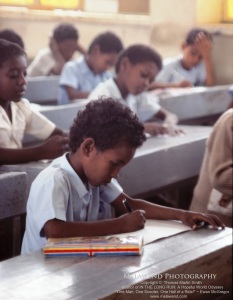 Actually the visit of Melawend and me to the school was a bit of a break for the students – it was final exam time!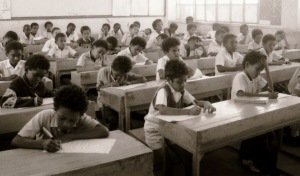 Photo intended for use in the Time-Review story.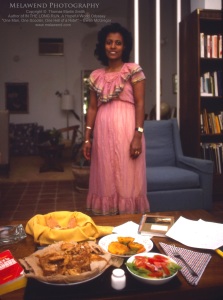 Tzehai made this awesome meal for me in Khartoum.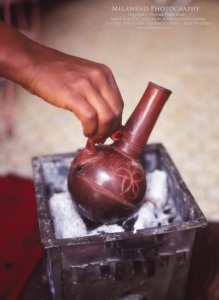 Tzehai would make some great, strong Ethiopian coffee is this beautiful clay pot, heated over charcoal in this little cooker.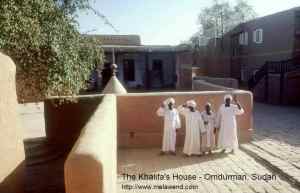 I visited the Khalifa's House in Omdurman – and was warmly welcomed!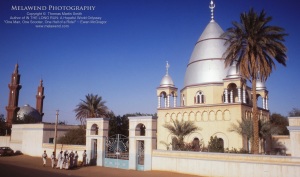 The restored Mahdi's Tomb, Omdurman, Sudan.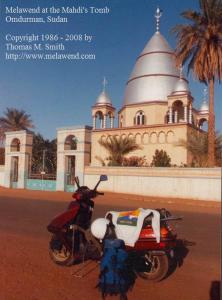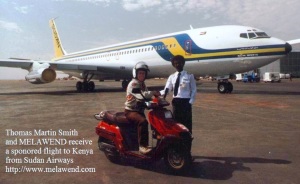 I was so grateful to Sudan Airways for sponsoring the flight for Melawend and me to Nairobi… and especially grateful to the people who made it happen!

CANADA ~~ ENGLAND ~~ WALES ~~ SCOTLAND ~~ NORWAY ~~ SWEDEN ~~ DENMARK ~~ THE NETHERLANDS ~~ BELGIUM ~~ LUXEMBOURG ~~ GERMANY ~~ LIECHTENSTEIN ~~ AUSTRIA ~~ SWITZERLAND ~~ FRANCE ~~ SPAIN ~~ MONACO ~~ ITALY ~~ THE VATICAN ~~ GREECE ~~ EGYPT ~~ SUDAN ~~ KENYA ~~ INDIA ~~ NEPAL ~~ SINGAPORE ~~ MALAYSIA ~~ JAPAN ~~ HAWAII ~~ USA ~~ RETURN
MELAWEND – My Amazing Honda Elite 250 Motorscooter
Helpful Quotes & Odyssey Photos by Tom
NEWS ~ About ITLR ~ About Tom ~ Chapters ~ Galleries ~ FAQ ~ Contact ~ For YOU!
Chapter 1: Crossroads
Chapter 23: Sojourn in Greece
Chapter 24: The Ups and Downs of Egypt
IN THE LONG RUN: Stories Written From The Road
Christmas in Greece – lively, lonely…