Part III            Scandinavian Serenity
Chapter 15      Fallout  in Nostalgic Sweden
More photos to come!
Initially, Sweden reminded me so much of my home province of Ontario, Canada…
The first night in Sweden, I was a heartbeat away from a coronary. I was camped in a forest near Kristinehamn just off the highway to Stockholm, "miles from nowhere".  There were moose in these woods – I had seen moose-crossing signs all day.  I was haunted by a tale told by a government executive back home about a camping trip he had made with his sons in a forest in northern Ontario.  While they were sitting around their campfire one night, they thought they heard a moose calling in the distance.  Just for fun, they blew on their own moose-call whistle.  The moose went silent.  They listened, then carried on talking and drinking beer.  Several minutes later, they heard a sound "like a locomotive coming through the woods".  They scurried up into the nearest trees just as a huge bull charged through their camp, demolishing their tent. 

"I'll tell ya, we nearly pissed our pants!" he said.

Maybe it was my imagination, but during the night, between the shadow-flickered lights and the thunder of passing transport trucks in the blackness, I swore I heard snorting just outside my tent. I lay there absolutely motionless and silent for much of the night.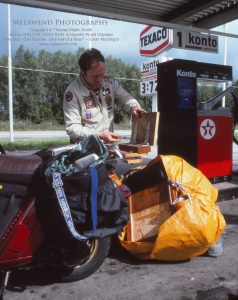 Clumsy me – I lost my grip while filling Melawend at a gas station in Sweden – the load on the platform fell backwards, snapping off its hinge mount.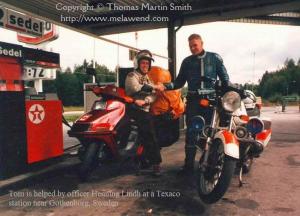 When this highway patrol officer pulled into the station, I thought I was cooked for having an overloaded scooter…. But Officer Hennig Lindt helped me get the load back onto Melawend.  And we talked in the way of new friends!

CANADA ~~ ENGLAND ~~ WALES ~~ SCOTLAND ~~ NORWAY ~~ SWEDEN ~~ DENMARK ~~ THE NETHERLANDS ~~ BELGIUM ~~ LUXEMBOURG ~~ GERMANY ~~ LIECHTENSTEIN ~~ AUSTRIA ~~ SWITZERLAND ~~ FRANCE ~~ SPAIN ~~ MONACO ~~ ITALY ~~ THE VATICAN ~~ GREECE ~~ EGYPT ~~ SUDAN ~~ KENYA ~~ INDIA ~~ NEPAL ~~ SINGAPORE ~~ MALAYSIA ~~ JAPAN ~~ HAWAII ~~ USA ~~ RETURN
MELAWEND – My Amazing Honda Elite 250 Motorscooter
Helpful Quotes & Odyssey Photos by Tom
NEWS ~ About ITLR ~ About Tom ~ Chapters ~ Galleries ~ FAQ ~ Contact ~ For YOU!
Chapter 1: Crossroads
Chapter 23: Sojourn in Greece
Chapter 24: The Ups and Downs of Egypt
IN THE LONG RUN: Stories Written From The Road
Christmas in Greece – lively, lonely…