Part XI              America, America!
Chapter 42        Hooray for Hollywood!
Chapter 43         America, the Beautiful
Chapter 44        The Atlantic Rush
Chapter 45        Mr. Smith Goes to Washington and the UN
Chapter 46        The Home Run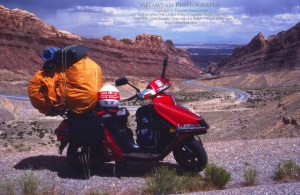 One of my favorite portraits of fully-loaded Melawend  – here at Spotted Wolf Canyon on Interstate 70, Utah – on our home run across the USA!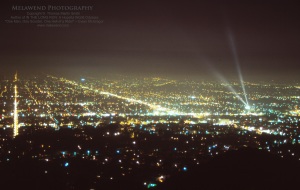 The famous search lights in Hollywood!  (I took this photo from Griffith Park Observatory on an earlier trip to California.)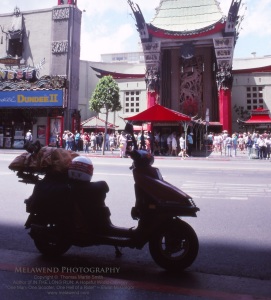 Melawend was the star of this Hollywood production!  Making her quiet premier at the famous Mann's Chinese Theatre (now called the TCL Chinese Theatre).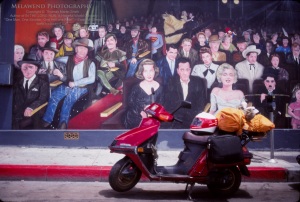 My star in Hollywood – Melawend – poses in front all those legendary movie stars!   This was a 20-by-30 foot mural depicting the stars in a theatre – painted on the side a building at the corner of Hollywood Boulevard and Wilcox.  "You are the Star" was painted in 1983 by artist Thomas Suriya of Taos, New Mexico.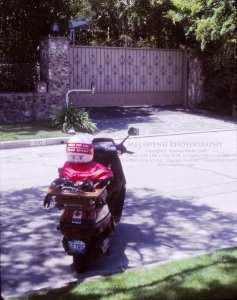 Melawend outside Barbra Steisand's home in Hollywood…
I rode out to see Vinny but he was not around, so I rode over to Barbra Streisand's home on Carolwood Drive.  There were shadowy trees and branches over a low stone wall.  At one end of the wall were two upright stone pillars with a double car width coral-coloured steel gate closed between them.  I thought it would be nice to get shots of Melawend by Barbra's front gate.

As I was posing Melawend, a blue Chevy station wagon pulled up and a chubby young guy with long, thick, curly blond hair got out.

"Is this Barbra Streisand's house?" he said,  "Are you waiting for her?"

"Yes and no," I said.

He just looked quizzically at me, took a shot of the gate and left.

Another guy got out of the car.  He was wearing sunglasses with a frame made to look like frog skin.  The chubby gut went up and peered through the small gap between the gate and the post.  I just waited until they left to take my photos. 

As I was about to leave, a small black Jeep pulled up.  A tall chunky guy got out and had a letter in his hand.  He called into the house over the intercom to the left of the gate.  I went up to him.

"Have you ever met Barbra?" I said.

"Not actually," he said.  "I've been out to her place in Malibu, though.  I've even been in it.  It's bigger than this place, but it's hard to find."

Someone came to the fence on the other side.  I could just make out feminine features: long blond hair tied in a ponytail and a long flowing skirt in shades of gold.  She reached a hand through and took the letter.  She was wearing a long-sleeved top and she seemed to have long fingers.  She signed a receipt and returned it through the gap.  Then she walked back.  I looked and saw her back.  She was wearing a ground-length gold skirt, a long-sleeved brown sweater and her long dirty-blond hair was tied held back with a beret in the middle.  The guy sensed my curiosity.

"Ah, that's nobody, just her sister," he said.

I felt like saying: Just her sister?  And who the hell are you?

(That would have been Roslyn Kind, Barbra's half sister – who was also an actress, singer, and songwriter.)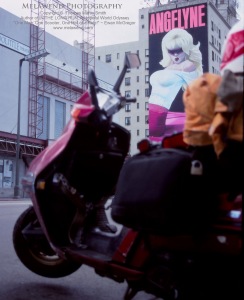 Angeline – an American singer, actress, artist, and model – who got more fame in the 1980's from billboards such as these around Los Angeles, promoting her.  I had fun with this one, trying to give Angeline a ride on Melawend!  But her well-known preference was a pink Corvette!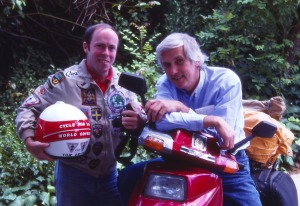 Blessed I was to meet and share some great times in Hollywood with Douglas Kirkland – a living legend in photography – Google him!   We were both born and raised in Fort Erie – but he is virtually synonymous with Hollywood as well as the iconic publication, Life magazine.  Here is a bit about his amazing career from his website – http://www.douglaskirkland.com
Through the years, Douglas Kirkland has worked on the sets of over one hundred motion pictures. Among them, "Butch Cassidy and the Sundance Kid", "2001 A Space Odyssey", "Sound of Music", "Out of Africa", "Titanic"  "Moulin Rouge", "Australia" and "The Great Gatsby" Baz Luhrmann's film starring Leonardo DiCaprio and Tobey Maguire.

Some of his books are "Light Years", "Icons", "Legends", "Body Stories", "An Evening With Marilyn", the best selling "James Cameron's Titanic", "Freeze Frame", a decade by decade look behind the scenes from 50 years photographing the entertainment industry and "Coco Chanel, Three Weeks". "Michael Jackson – the Making of Thriller" and his most recent monograph "A Life in Pictures". 

Douglas Kirkland's fine arts photography has been exhibited all over the world. His exhibition of Freeze Frame is now in the permanent collection of Academy of Motion Picture Arts and Sciences in Beverly Hills. His work is also in the permanent collections of the Smithsonian, the National Portrait Gallery in Canberra Australia, the National Portrait Gallery in London, the Eastman House in Rochester and the Houston Center for Photography and the Annenberg Space for Photography in Los Angeles.
Many years later, when I finally published the First Print Edition of IN THE LONG RUN: A Hopeful World Odyssey, and sent Douglas a copy, he gave me a great blurb for the book:
"In The Long Run" is really exciting! After reading it, the words "He's a modern Marco Polo" came to mind. Tom boldly created and carried out this challenging project in part to improve his photography – he achieved some excellent results."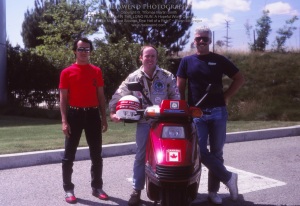 Outside the offices of RIDER Magazine in Agoura, California, Melawend and I meet Denis Rouse (right, publisher) and Tash Matsuoka (left, editor) .  Photo by Mark Tuttle (who is now editor of Rider).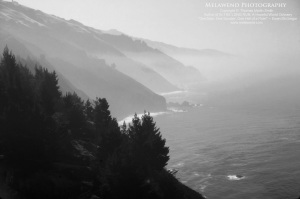 Melawend and I travel along the awesome, humbling BIG SUR coastline of northern California.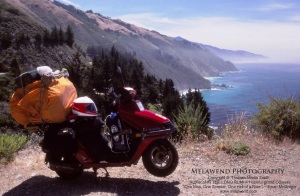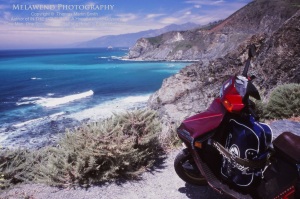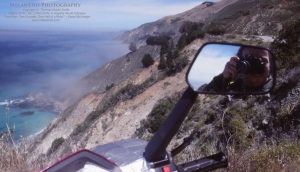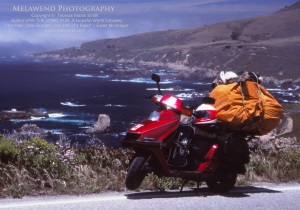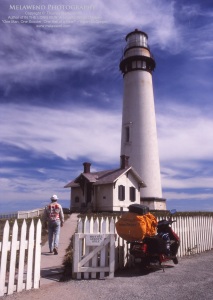 Melawend and I at Pigeon Point Light Station State Historic Park, about 50 miles south of San Francisco.  I'm walking up the path from the Pigeon Point Lighthouse Hostel next door – where I stayed for the night. (see the sign on the fence gate).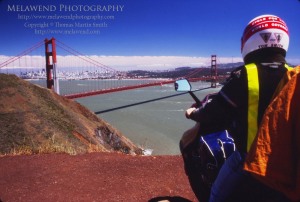 Melawend and I reach another long-awaited milestone on the world journey – the Golden Gate Bridge, San Francisco.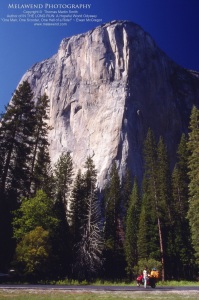 Yosemite National Park's El Capitan dwarfs me and Melawend!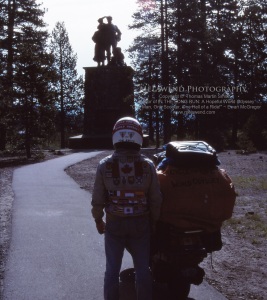 Taking a moment high up in the Sierra Nevadas to pay respects at the memorial to those 39 people of the 87-member Donner Party pioneers who perished by starvation in the winter of 1846-47.  The journey from the eastern USA west to Oregon and California usually took those early pioneers between four to six months to complete.  The Donner Party had suffered delays by mishaps while travelling along a rugged new route (including the loss of cattle), and then finally became snowbound in this remote place.  They rapidly ran out of food and starvation set in.  Some resorted to cannibalizing the dead to survive.  The tragedy of the Donner Party helped me realize how lucky I was to have travelled almost all the way around the world relatively safely, and with so much help and hospitality along the way.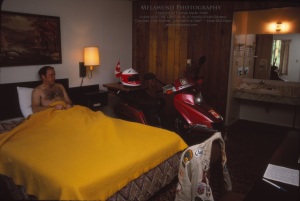 In one sponsored hotel stay along the way, I had been given a unit at the back of the hotel.  Concerned for Melawend's security, I brought her into the room.  But the smell of gas… well, out she went – and was safe for the night!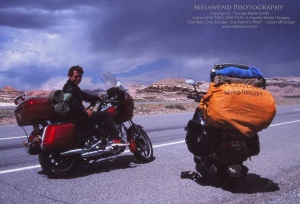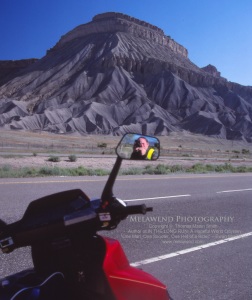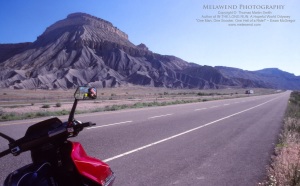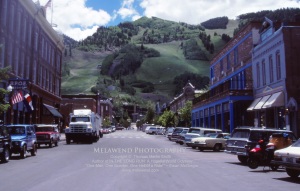 Melawend in Denver, Colorado!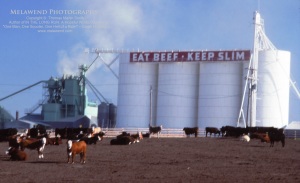 This reminded me how much so many depend on animals for our diets.   Just east of Garden City, Utah.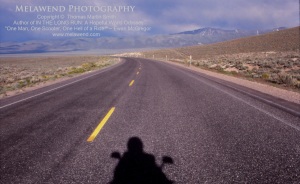 Heading the long way home down that long lonesome highway.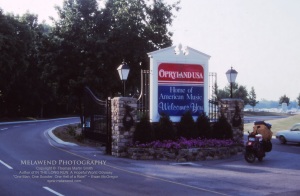 Melawend at Nashville's famous Opryland… where I caught a glimpse a  dead-ringer for Kenny Rogers!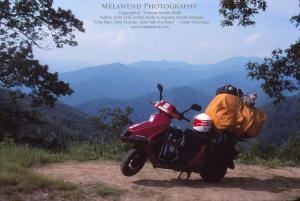 You can imagine how I loved taking this portrait of Melawend at Big Witch Overlook up on the Blue Ridge Parkway!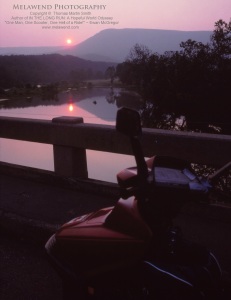 My Melawend – on a bridge over the Shenandoah River during a romantic sunset.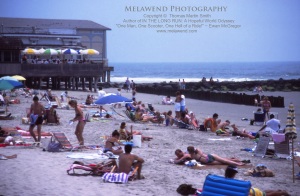 We reach the Atlantic!  At Cape May, New Jersey.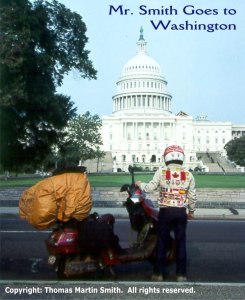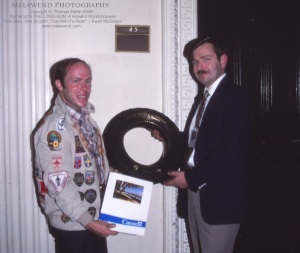 Back at the embassy, I got my gear and rode Melawend over to the huge Old Executive Office Building. (This was the huge building immediately west of the White House.  It was renamed the Eisenhower Executive Office Building in 1999.)   Kim was waiting there for me, wearing a coral-coloured dress.  There were two other young girls from the embassy with her.  I thought they wanted to enjoy this spectacle as well.  We went over and waited in the reception area, which was in a vaulted hallway. 

I was introduced to Bill Harlow, Assistant Press Secretary for Foreign Affairs.  He was about 40, a quiet-spoken guy with dark brown hair and glasses.  He said that they were just getting back from the summit that had just been held in Toronto and added that their Canadian hosts had been very nice to them.  He seemed a bit bewildered as to just why I was there and even moreso when I presented him with the portfolio and the tire (The most recent of Melawend's worn tires, signed in gold ink with a message of goodwill to the people of the USA) – so much so that this was transacted right in the hallway.  It was a letdown for me, but I could only imagine his predicament.  I went into a little bit of a speech about my journey and he listened attentively.  Kim took a photos using my camera. 

Bill left us and went behind the reception where you had to check through security (this was likely why we had stayed out in the hall).  I felt a bit sorry for Bill who got some curious looks as he disappeared into the building, carrying a worn-out tire.

Afterwards, the girls took a cab back to the embassy.  I went back to Melawend across the street.  The sky had darkened and foreboded rain.  A woman came rushing up to me.

"Are you Tom Smith?"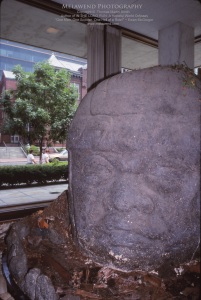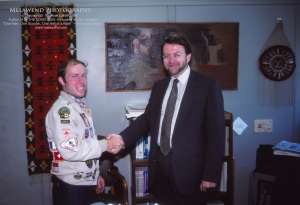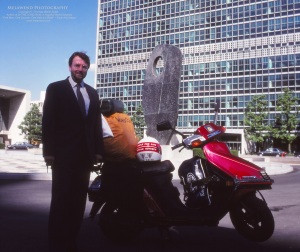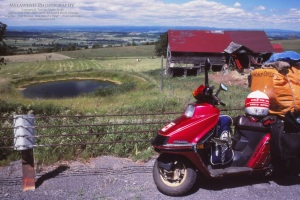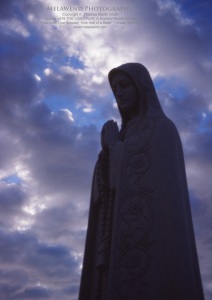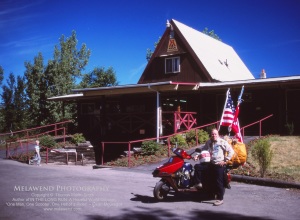 CANADA ~~ ENGLAND ~~ WALES ~~ SCOTLAND ~~ NORWAY ~~ SWEDEN ~~ DENMARK ~~ THE NETHERLANDS ~~ BELGIUM ~~ LUXEMBOURG ~~ GERMANY ~~ LIECHTENSTEIN ~~ AUSTRIA ~~ SWITZERLAND ~~ FRANCE ~~ SPAIN ~~ MONACO ~~ ITALY ~~ THE VATICAN ~~ GREECE ~~ EGYPT ~~ SUDAN ~~ KENYA ~~ INDIA ~~ NEPAL ~~ SINGAPORE ~~ MALAYSIA ~~ JAPAN ~~ HAWAII ~~ USA ~~ RETURN
MELAWEND – My Amazing Honda Elite 250 Motorscooter
Helpful Quotes & Odyssey Photos by Tom
NEWS ~ About ITLR ~ About Tom ~ Chapters ~ Galleries ~ FAQ ~ Contact ~ For YOU!
Chapter 1: Crossroads
Chapter 23: Sojourn in Greece
Chapter 24: The Ups and Downs of Egypt
IN THE LONG RUN: Stories Written From The Road
Christmas in Greece – lively, lonely…