Part IV              Along European Lines
Chapter 17         Benelux  and the German Factor
     I had roots in Germany.  My great paternal grandfather – Johann Schmidt – had come from Essen to live in Canada and changed his surname to Smith.  But Germany was also Hitler and the Holocaust. I had seen so many World War II movies that I approached Germany with apprehension… I would leave feeling quite the opposite…
Stone-faced soldiers with machine guns and leery-eyed German Shepherds at the ready, motorcycles and sidecars, barbed wire and gun emplacements – I did not know what I was truly expecting to see at the German border. But I was simply waved through.  There was no passport check.  I rolled into Germany under thickening gray skies.  I remember a two-lane road, a small factory, modest brick homes – a semi-rural look.  There were few cars.  Still, this deserted look enhanced my apprehensions.

…..

When listening to the Otten family, the German language did not seem so harsh, only difficult to pronounce and to learn. Mark Twain had written: "One might better go without friends in Germany than take all this trouble about them." (learning their language)  I wasn't going to be in Germany long enough to learn the language, but I had already learned that it was worth the effort to share friendship with Germans.

….

At the door when I left, she clasped my right hand with both of hers. "Auf Wiedershen!"

Germans, I was discovering, were not much different from North Americans. They liked their leisure.  They liked soccer, handball and tennis.  They had taken up the American craze for jogging and fitness.  Television had long been their number one spare-time activity, although good old gabbing seemed to be up there too.  Many men loved their cars; it was their hobby.  Germany had given us Hitler, but few European countries had produced so many world-renowned poets, thinkers, engineers, scientists and musicians.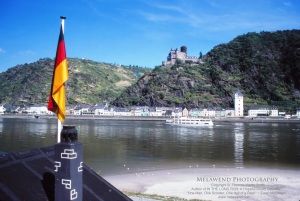 Cruising the Rhine past some of its famous castles… some of the romance of Germany.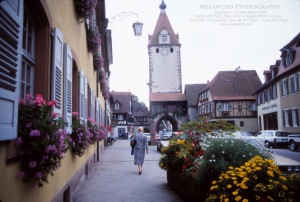 Beautiful flowerboxes abound in an old village in Germany.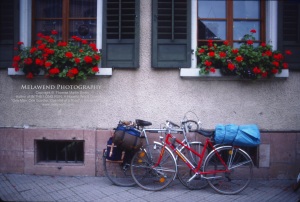 A simply nice sight in Germany.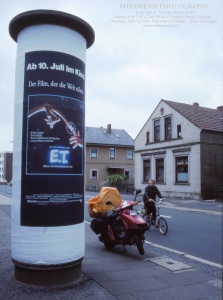 I'm dating myself here!  Melawend stands by a pillar in Germany – advertising a new movie – Stephen Spielberg's E.T. !!!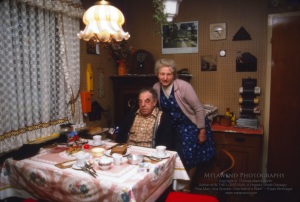 My wonderful hosts Johann and Ella Otten and their family on their small urban farm near Bremen.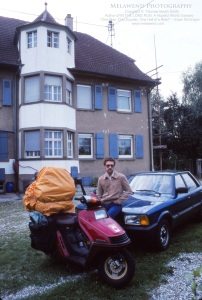 Lahr – as guest of the German-Canadian Friendship Association in Lahr, I was hosted by member Ewe Reider who drove me around to see some of the sights, including a castle and Lahr's famous vineyards.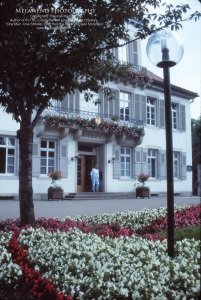 City Hall in Lahr.  You can imagine the feeling of being a vagabond that way I was travelling, I was always nervous about meeting local, regional and national officials. but I was happily greeted by Lord Mayor Werner Dietz who gave me two bottles of Lahr's finest wines in a gift box.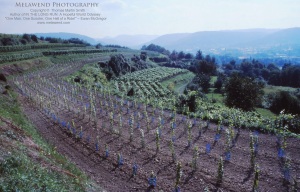 One of Lahr's famous vineyards.

CANADA ~~ ENGLAND ~~ WALES ~~ SCOTLAND ~~ NORWAY ~~ SWEDEN ~~ DENMARK ~~ THE NETHERLANDS ~~ BELGIUM ~~ LUXEMBOURG ~~ GERMANY ~~ LIECHTENSTEIN ~~ AUSTRIA ~~ SWITZERLAND ~~ FRANCE ~~ SPAIN ~~ MONACO ~~ ITALY ~~ THE VATICAN ~~ GREECE ~~ EGYPT ~~ SUDAN ~~ KENYA ~~ INDIA ~~ NEPAL ~~ SINGAPORE ~~ MALAYSIA ~~ JAPAN ~~ HAWAII ~~ USA ~~ RETURN
MELAWEND – My Amazing Honda Elite 250 Motorscooter
Helpful Quotes & Odyssey Photos by Tom
NEWS ~ About ITLR ~ About Tom ~ Chapters ~ Galleries ~ FAQ ~ Contact ~ For YOU!
Chapter 1: Crossroads
Chapter 23: Sojourn in Greece
Chapter 24: The Ups and Downs of Egypt
IN THE LONG RUN: Stories Written From The Road
Christmas in Greece – lively, lonely…