Part VII            Surprising Singapore
Chapter 34         The World of Charlie Tan
Chapter 35         Treasure in the South China Sea (see Malaysia gallery)
Chapter 36         The Singapore Explorer
After the incredibly diverse worlds of Egypt, Sudan, Kenya, India, and Nepal, there came a feeling of coming back to the future in the ultra-modern island nation of Singapore.  Still, I love it's blend of the old and new.  In fact, Singapore was taking great pains and expense to revive the seedier sections of the city – in part to attract the throngs of tourists that it had before it's mega-modernization.
For me, Singapore represented a great opportunity to truly expand on and implement what I learned about life and win/win solutions in my travels so far – but now in a more sophisticated, world-class environment of modern technology and economy.  I knew I would be dealing with the best in communications and corporate structures – quite a heady challenge for a shy, vagabond-looking guy like me!  But I felt strong and prepared for it.
Come with me as I put myself into it.  After a brief getaway to Tioman Island, Malaysia (covered in the Malaysia gallery), I returned to Singapore.  (If you are working on a long-term project, it's good to reward yourself and distance yourself from it briefly.)  You will see how my working with the city government in becoming a "Singapore Explorer" would help me move forward, and help others at the same time.  In so doing, see how you can implement win/win strategies in your own life.
Singapore had been a filthy, raunchy backwater port, a bawdy, brawling colonial port – a place of smugglers, sailors and hookers that you read about in novels. But under hard-driving Lew Kwan Yew's leadership, Singapore had severed its ties with Malaysia and been steadily cleaning up its act and modernizing the city, with a vengeance. And they had just recently launched their bold four-year billion-dollar "Tourist Product Development Plan". 

Even now, aside from all the modern polished skyscrapers and hotels and malls and government-built apartment complexes, places like the quay, which was once cluttered and noisy with sailors and shipping offices, and the jostling of bumboats in the filthy water, were now scoured clean, paved, and developed. There were squeaky-clean hawkers food stalls and pleasant promenades.  Singapore was "clean and green" – as in trees and money. 
But they also came to realize they had gone to far…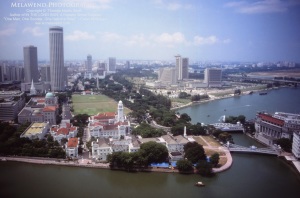 Singapore – as I photographed a core area of it from the 33rd floor of the OCBC Center building.  (I was there as a guest of the Rotary Club of Singapore.)  See the tall cylindrical building to the left?  That is the Western Stamford Hotel (now the Swissôtel The Stamford.)  At the time, it was the tallest hotel in the world at 73 stories. (It remains the world's tallest cylindrical building).  With the permission of the hotel's management, I was allowed to roam the roof alone, taking photographs of the city below – including the photo immediately below – in which you can see the calculator-like  OCBC  Centre.
There I was, 771 feet above the streets below.  Since the roof was just flat with no protective railing – there was only a rail-track around the perimeter of the roof used for window-wash equipment – I wondered what people down below might have thought of, seeing someone literally on the edge of that high roof.   "He's going to jump!"  (more like, "fall"!)  I did manage to get a great shot straight down!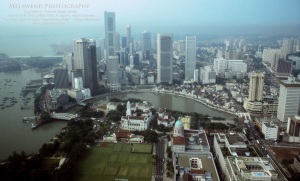 I took the photo above from the roof of the Western Stamford Hotel.  In it, you can see a tall round-sided building that looks a an old-style three-tiered calculator – that's the 52-story OCBC Center.  In between, the green space you see is the Padang (an open playing field) and to the left, the domed Old Supreme Court Building, and Parliament House on the north side of the Padang.  The waterway immediately north of that, in front of the modern buildings, is the Boat Quay, which includes the once bustling old Port of Singapore.
(This was the skyline in 1987… it has since changed dramatically with the contraction of  many glitzy new high-rise buildings!)
INSERT photo of me atop the Western Stamford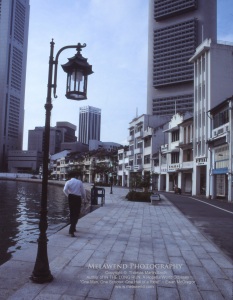 The beautiful restored shophouses and promenade along the historic Boat Quay of the Singapore River.  This was busy old Port of Singapore.  You see the OCBC Center straight ahead.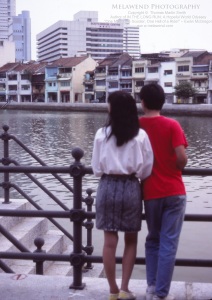 A LOVING COUPLE – on the Boat Quay, with the famous shophouses on the opposite shore.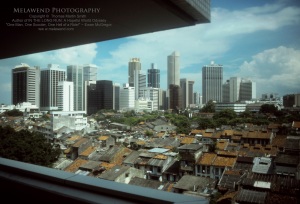 I loved exploring the old and new Singapore – as you can see here, including some of Chinatown.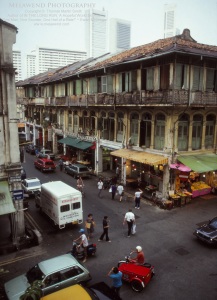 A corner in Chinatown.  Again, the OCBC Center in the background.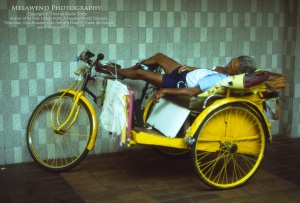 I was, as they say, "getting nowhere fast" in my efforts to secure sponsorship to visit the Soviet Union (did not happen)… or onward passage anywhere.   I needed to get away from the hustle of the hustle in Singapore for a while, regroup my thoughts and come up with new strategies.  I was told about nearby exotic Tioman Island, Malyasia (which had been called one of the 10 most beautiful islands in the world – and there were virtually no roads there!)  So I went!
I came back better prepared.  I began to work with the Singapore Tourist Promotion Board – and soon became, as the ads extoled, a "Singapore Explorer".  This was such a great move!  The government helped me learn and experience a lot more of Singapore than I could have on my own.  And that enable me to help to create win/win strategies in Singapore – and beyond!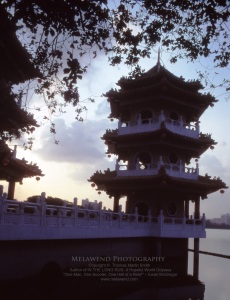 I loved the privilege of being able to explore Singapore!  I was here at sunset – photographing one of two twin pagodas in Singapore's Chinese Garden.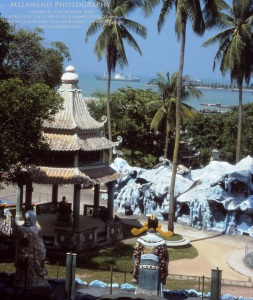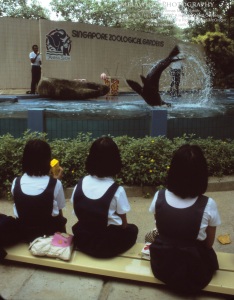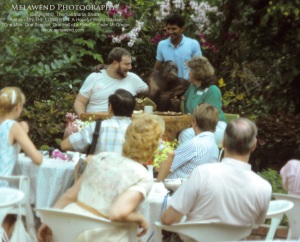 Breakfast with a chummy orangutan at the Singapore Zoo.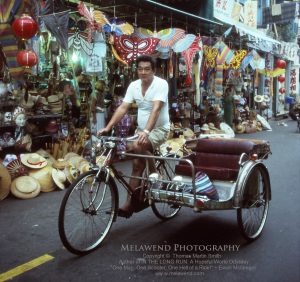 I got a ride with this fellow – reminded me a bit of my time with OP in Agra, India.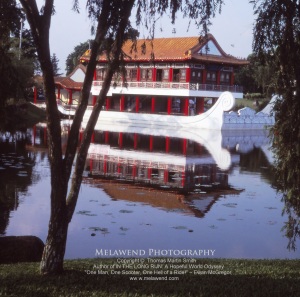 Stone boat in the Chinese Garden.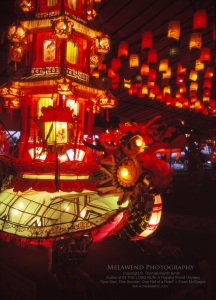 Chinese Garden Lantern Festival.
 A place that became like a refuge for me in Singapore… and my last place to visit before moving on to Japan.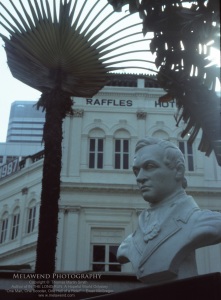 Singapore was a maze of modern marvels, especially after having been in developing countries.  But for all it's wonders, cleanliness, happy mix of culture and festivals, and its high-tech amenities, there was one place whose quiet comfort to me began to feel a bit like home… Raffles Hotel.
It was also long been a writer's haven.  Several of the suites were named after famous literary guests.  And some exercised their muse there…
Somerset Maugham picked up gossip and local news for some of his stories, at Raffles. He penned some words that were now printed on all manner of the hotel's advertisements, saying that "Raffles stands for all the fables of the exotic East".
~~~~~~~
In the afternoon, I retreated to the Writer's Bar at Raffles and sat in an upholstered wooden armchair. I was alone in the room.  I felt a sense of déjà vu in its subdued light, old dark wood paneling, parquet floors, arm chairs and oriental carpets.  It was a sense of comfort and familiarity that put me in mind of Papa and Nanny Smith's old house back in Ridgeway. 

Still, I felt a little out of place at this juncture in life. For me, the Writer's Bar was symbolic of two worlds – those who had some reputation, notoriety or celebrity – some fame to lend to that of Raffles.  Then there were those who simply came to partake of its atmosphere, to have been here, to have had a Singapore Sling and slept in a suite that had been named for a famous writer who had frequented Raffles.  To those who had earned it, a place like Raffles became part of their world.  To sit here and pretend you were a writer was fine.  Maybe James Michener had sat in the same chair I was now sitting in.  That would be enough for a tourist.  For this aspiring writer, however, it was not.  To mean more to me later, it had to mean less now.  (Does that make sense?)  I dared to say that it was not so important to Rudyard Kipling that he had stayed here as it was to the tourist to know that Kipling had stayed here.   Me, I had $12 in my pocket, enough for a Sling and a cab ride back to Skyscraper.
~~~~~~~
But when the city and my activities and my loneliness had seemed to close in on me, I would retreat to my favourite haunts at Raffles. So I did this one last time.  I splurged on a Singapore Sling and made the last of my notes in the Writer's Bar.  Somehow my time in this part of the world all came into clearer perspective for me at Raffles, as did feelings about where I had been and where I was going in my life.  Raffles was my haven.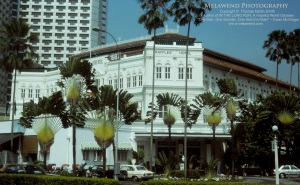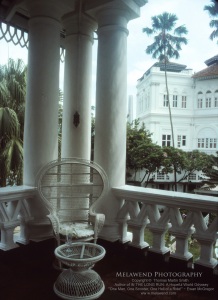 Below, my photos of Raffles that were used in the Times-Review story I wrote on Singapore…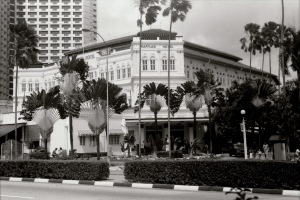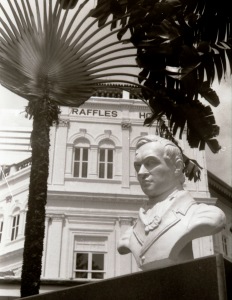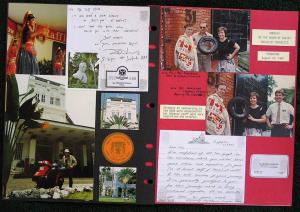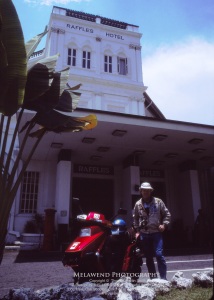 Melawend and me at Raffles short before we left – with only $8 in my wallet – headed for…. JAPAN.

CANADA ~~ ENGLAND ~~ WALES ~~ SCOTLAND ~~ NORWAY ~~ SWEDEN ~~ DENMARK ~~ THE NETHERLANDS ~~ BELGIUM ~~ LUXEMBOURG ~~ GERMANY ~~ LIECHTENSTEIN ~~ AUSTRIA ~~ SWITZERLAND ~~ FRANCE ~~ SPAIN ~~ MONACO ~~ ITALY ~~ THE VATICAN ~~ GREECE ~~ EGYPT ~~ SUDAN ~~ KENYA ~~ INDIA ~~ NEPAL ~~ SINGAPORE ~~ MALAYSIA ~~ JAPAN ~~ HAWAII ~~ USA ~~ RETURN
MELAWEND – My Amazing Honda Elite 250 Motorscooter
Helpful Quotes & Odyssey Photos by Tom
NEWS ~ About ITLR ~ About Tom ~ Chapters ~ Galleries ~ FAQ ~ Contact ~ For YOU!
Chapter 1: Crossroads
Chapter 23: Sojourn in Greece
Chapter 24: The Ups and Downs of Egypt
IN THE LONG RUN: Stories Written From The Road
Christmas in Greece – lively, lonely…