Part VI              A Passage Through India
Chapter 28        BOMBAY:  Britannia, Bureaucracy and Beggars
Chapter 29        O.P. and the Taj Mahal
Chapter 30        Diplomacy in Delhi
Chapter 31        Holy Ghats  of the Ganga Ma
Do you make a lot of preparations before you go somewhere new (or try something new)?
When it came to India, part of me wished later that I had read V.S. Naipaul's An Area of Darkness before I made my journey. But then again, no… because even if I found the same things he did, I would come there prejudiced.  I wanted people and a place to work themselves on me without being prescient about it.  That has advantages and disadvantages.  My thinking was that learning too much might work against my willingness to face the unknown.
And in reading the travel accounts of others you had this to realize: people can have very different temperaments in the way they approach and experience people, places, and things.
India, for me, was one of the most beguiling and challenging places I encountered on my two-year journey.  On one hand, you saw and had to flow with"the teeming masses" in any developed area, yet there were huge areas where there was no one to be seen, or you'd pause in the mid-day heat to sit under a sparse-leafed tree, only to have a local older man come seemingly out of nowhere to sit down near you, and in a way watch over you, then leave when you did.  There was extreme poverty, but there was stunning architecture.  There was labyrinthine, sometimes asinine bureaucracy, as encountered a few times in Egypt.  But everywhere I found welcome, kindness and offers help.
The advantage of writing about something after you have removed yourself from it and had time to reflect and to research what you were ignorant of is that you get a lot of "ah-ha!" moments – that you either did or did not experience something.
So here, from the chapter on India, was my take on what Naipaul said:
V. S. Naipaul, a third-generation-removed Indian who grew up in Trinidad, West Indies, undertook a year-long odyssey through India in the early 1960's to discover his heritage, for India had become for him "an area of darkness." He too had entered India via Bombay.  He said that India was "the world's largest slum."  But while that seemed highly plausible when you came into this area of Bombay, he also said, "to see its poverty is to make an observation of no value."  But, as he had also suggested, it did arouse your anger and contempt.  And true, you might even have looked a little deeper and seen "the smiles on the faces of the begging children" and the private love between a family living on the streets. (I would soon see such family scenes.)  But he said that it was "your gaze that violates them, your sense of outrage that outrages them."  People coming to India were "seeing only the obvious."  Naipaul wrote: "In India, the easiest and most necessary thing to ignore was the most obvious."   But he also discovered: "…in spite of all that I had read about the country, nothing had prepared me for it."  That would be particularly true of me.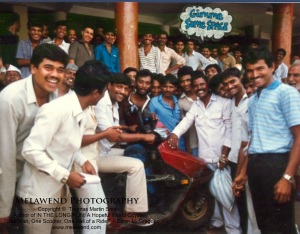 Imagine this…  You're riding around the world on your beloved scooter.  To get to India from Kenya, you are lucky to get a flight sponsored by Kenya Airlines for both you and your scooter.  But few if any vehicles arrive in India by air.  So when your scooter is discovered at the Air Cargo Complex and you go to clear her through Customs, she draws the attention of a flash mob of cargo employees!  Lucky again you are when you've packed all your gear on your scooter and you ask, "Which way is it to New Delhi?" … you get 100 smiles and 100 arms all pointing the same way!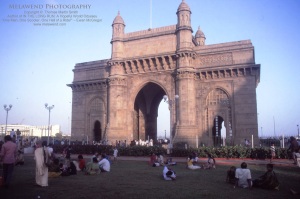 The awesome Gateway of India – Mumbai (Bombay).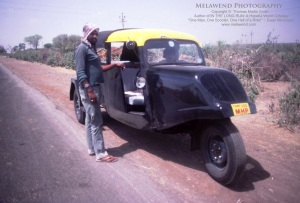 Neat taxi, but I would not trade my Melawend for it!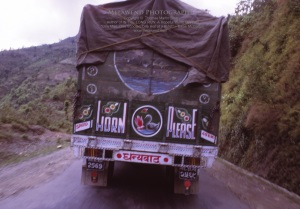 A common sight on narrow roads in India and Nepal.  Where else in the world do drivers ask you to honk at them, and so politely?!!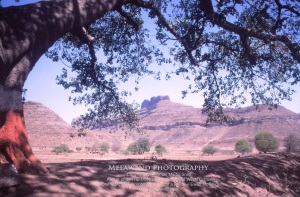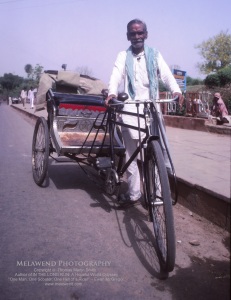 OP… my friendly driver to the Taj Mahal.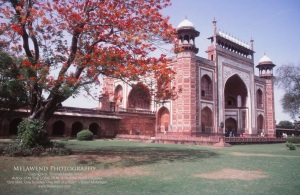 My entrance to the Taj Mahal was via the 100-foot high Southern Gate.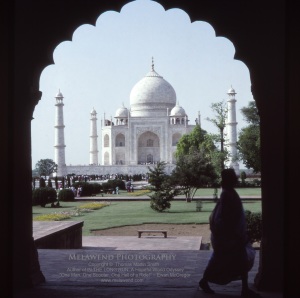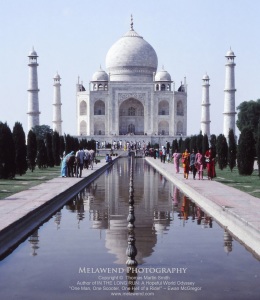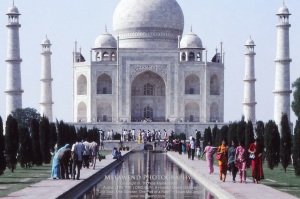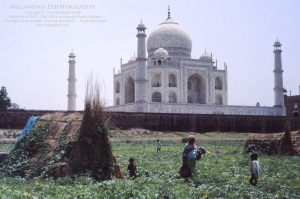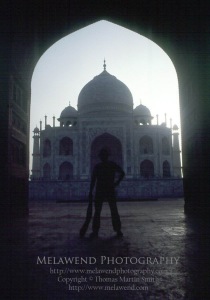 Yours truly doing his Indiana Smith thing at the Taj!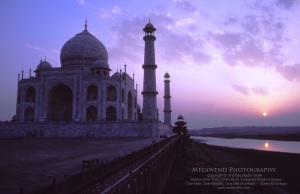 The Taj at sunset… the beautify and serenity took my breath away!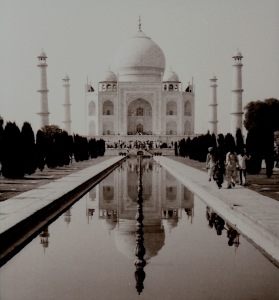 Photo used in the Times-Review feature I wrote.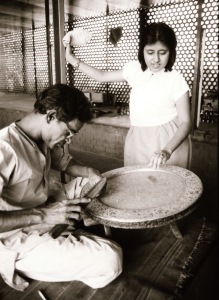 Craftsman working in brass – photo for the Times-Review.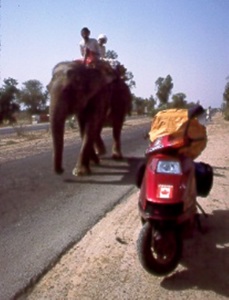 Pausing for a photo-op with a local taxi going by on the road near New Delhi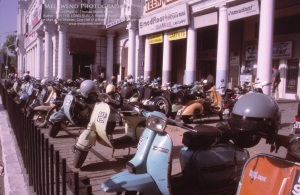 New Delhi – scooter city!  Melawend had lots of company!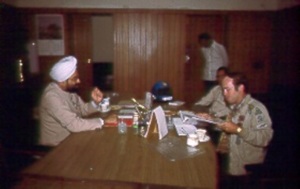 Talking about world peace over tea and biscuits with His Excellency Mahinder Singh Saathi in his office in Chandni Chowk, Delhi.
     I was often flattered by what people would write in my Odyssey books, but I also thought this served more as an opportunity for them to reflect their own feelings on things like international peace and friendship. It often seemed that I was doing something they would loved to be doing.  So it may have been with Mayor Saathi:

     "Mr. Thomas M. Smith, a wonderful personality, met me in my Chamber in Town Hall today. I am greatly moved of his mission of understanding, goodwill and for promotion of friendship amongst the people of different countries.  I think this is the need of the world and Mr. Smith in his style and way is serving a great human cause."

     Mayor Saathi graciously accepted my humble diplomatic offerings. In exchange, he presented me with a locally written and photo-illustrated book, Delhi: A Portrait (Khushwant Singh and Raghu Rai, Oxford University Press, 1983).  We parted in the way of diplomats and politicians when they have agreed on things – and as new friends –  then I was away.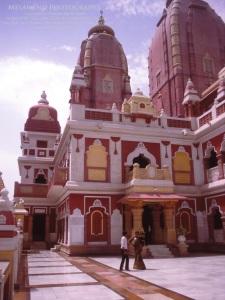 I was intrigued by the colourful almost confection look of the awesome Laxminarayan Temple in New Delhi – one of the many Birla Temples in India.  It also featured reliefs of the Swastika – which was actually used by several cultures back to Neolithic times (12,000 years ago).  Its use was common in India.  It was also part of the design of a head-wrap my pedal-rickshaw driver in Varanasi gave to me.  It was a positive symbol, denoting luck or auspiciousness.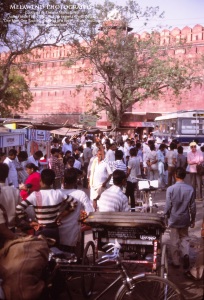 Outside New Delhi's Red Fort.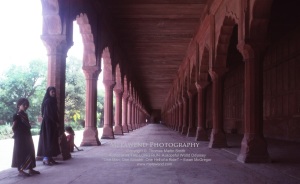 Outside the Red Fort – New Delhi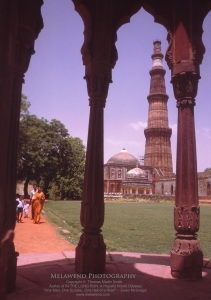 With so many things to see and do virtually everywhere I went in the world – and travelling on a shoestring budget – so when an opportunity came up to take a bus tour of New Delhi for the equivalent of $1.25, I got with it!  It turned out to be an 8-hour tour!
This was the first stop, about 10 miles outside the city – the Qutab Minar Complex – a UNEXCO World Heritage site near New Delhi.  The Qutab Minar is 240-foot tall sandstone and marble Islamic monument started in 1192 and finished in 1368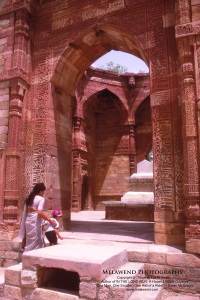 Woman and child at the Qutab Minar Complex.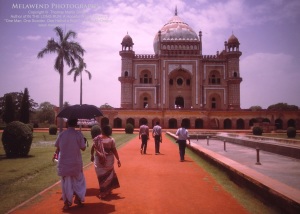 Humayun's Tomb – resting place of this Mughal emperor, and another UNESCO World Heritage site.  Built in 1570.  This visit was included in that eight-hour city bus tour I took – for just $1.25!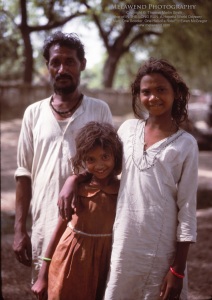 "Untouchables" – Dalit children I met while photographing water buffalo outside my hotel – as they were gathering dung for adults who were drying it.  Everyone laughed – including me – when one buffalo relieved itself near my feet!  They were kind and friendly – so one had to wonder why such people – many millions of them in India, as well as in other countries – were so ostracised as to be consider impure and less than human.  That was inhuman.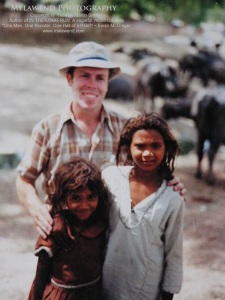 But in front of the Hotel India, there were people who did not wear such beautiful clothes as what Shyam marketed in Europe. I had gone out to photograph some water buffalo that were gathered under the trees by a shallow canal across the street.  While I was doing this, I felt a warmth and then a dampness around one of my feet.  One of the beasts behind me had emptied bowels on my left foot.  I smacked him on the behind and he slowly plodded away.  This brought on hilarious laughter from a woman who was sitting nearby.  She was wearing a worn dark purple sari.  Beside here were two girls who were about the same age as my two daughters.  Both were lean.  Their dresses were dirty and their hair was matted.  The younger girl had big eyes and impish grin. 

     What to do?

      I laughed with them. A lean middle-aged Hindu man in equally dirty clothes was also standing nearby.  I photographed him with the two girls and then got him to photograph me with them, with the buffalo providing a natural background.  Then the girls took small round woven dishes and scooped up the bull's poop and placed it on small woven platters on the ground near the woman.  These would be dried and used later for fuel.

     These were little Harijan girls of the supposedly former "untouchables" caste – untouchable because it was believed they were so dirty they were not fit to be touched by those of higher castes. They were thought of as suited only for dirty jobs like this. Ironically, Harijan means "God's children".  (They had more recently chosen to be called Dailits, which meant "oppressed".)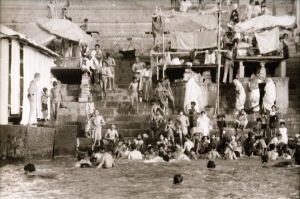 A photo similar to this one was used for the piece I wrote for the Times-Review.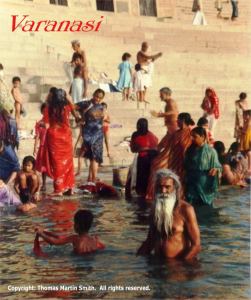 Devotees making their puja and cleansing themselves by the ghats and in the waters of the Ganga Ma – Mother Ganges… the Ganges River in Varanasi
Each new country I had visited had increasingly expanded my inward and outward perspectives.  Through the global route I had chosen, I was feeling a powerful, life-changing progression of "west to east" – not only in moving that direction terrestrially, but in that expansion of my knowledge and awareness of the diversity within our not-so-small-small world, the one I was use to, in the way that no other means other than actually being there can do.
Complications in travel – much like complications of any kind in your life – compel you to look inward as well, where you are open to discovering and developing strengths you never knew you had.  You find those can help you overcome weakness you never really did much about, but currently need to.
India given that to me massively.  But I also knew that what I was experiencing came mostly from a shoestring traveler's perspective, which like most things, had its advantages and disadvantages.
Have you noticed that when you push yourself to what you perceived as personal limits, you gradually pushed those limits away?  Or did you let those hold you back.  Have you found the latter can be the easier way?  The way of excuses.
I was finding the further I went with my purpose and passion, the more I loved that challenge!  And I knew that growing strength would help me for the rest of my life.
I was ill in Varanasi, but inwardly – largely because I was forcing myself to exercise my heart, mind and spirit, and feed it from an immense and expanding buffet of new knowledge and experience, both driven by purpose – I felt much stronger.
Being ill and alone made it easier to miss home. I looked at my photo portfolio.  What a different world I was in now, I thought.  Home looked so far away.  I looked back on so many places I had been that had romantic distant-sounding names to a North American (especially to one who had never been outside North America) – London, Paris, Athens, Khartoum, Bombay.  I suddenly realized I had started this journey over a year ago.  And it began to depress me to think that it would be another year before I was home again.  Home again. 

This made me think again that cliché thought: What the hell am I doing here?

I knew. Frank Sinatra's "My Way" had taken on significant meaning by now.  Especially "…I bit off more than I could chew", but then "I ate it up and spit it out."
With the coming of the monsoons, I felt compelled to move on… quickly.  I had heard of landslides in Nepal during that rain-drenching time.

CANADA ~~ ENGLAND ~~ WALES ~~ SCOTLAND ~~ NORWAY ~~ SWEDEN ~~ DENMARK ~~ THE NETHERLANDS ~~ BELGIUM ~~ LUXEMBOURG ~~ GERMANY ~~ LIECHTENSTEIN ~~ AUSTRIA ~~ SWITZERLAND ~~ FRANCE ~~ SPAIN ~~ MONACO ~~ ITALY ~~ THE VATICAN ~~ GREECE ~~ EGYPT ~~ SUDAN ~~ KENYA ~~ INDIA ~~ NEPAL ~~ SINGAPORE ~~ MALAYSIA ~~ JAPAN ~~ HAWAII ~~ USA ~~ RETURN
MELAWEND – My Amazing Honda Elite 250 Motorscooter
Helpful Quotes & Odyssey Photos by Tom
NEWS ~ About ITLR ~ About Tom ~ Chapters ~ Galleries ~ FAQ ~ Contact ~ For YOU!
Chapter 1: Crossroads
Chapter 23: Sojourn in Greece
Chapter 24: The Ups and Downs of Egypt
IN THE LONG RUN: Stories Written From The Road
Christmas in Greece – lively, lonely…