Hi dear friends!
Here is a pre-Pre-Launch announcement… *drum roll, please*… With current planning, IN THE LONG RUN: Stories Written From The Road – the ebook – will be released via AMAZON on January 19, 2016!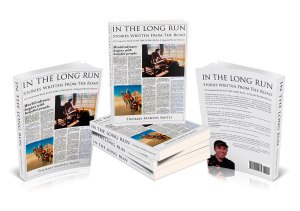 This is the series of stories I wrote for a newspaper in real time during those two life-transformational years. Readers of the newspaper had to wait two years to get all the stories – you will get them all at once!
This book serves as a companion book to the much larger and more personal main book – IN THE LONG RUN: A Hopeful World Odyssey.
Here is what EWAN McGREGOR had to say about the main book:
"My two trips by bike were amazing and life changing, but short compared to Tom's two-year traveling extravaganza! One Man, One Scooter, One Hell of a Ride!"
And here is what living legend in Photography DOUGLAS KIRKLAND said about my photography and the main book I wrote about the journey:
"In The Long Run is really exciting! After reading it, the words "He's a modern Marco Polo" came to mind. Tom boldly created and carried out this challenging project in part to improve his photography – he achieved some excellent results."
You can read more reviews here: http://www.melawend.com/about-itlr/
BONUS! During the FIRST TWO DAYS OF THE LAUNCH… you will be able to GET THE BOOK – for FREE!
And if you feel your FB friends and other social media sites you're on that might be interested, please SHARE THIS BLOG!
Cheers to you and yours for your MERRIEST CHRISTMAS yet!
Tom
IF YOU ENJOYED THIS POST, please SHARE it with your friends on your favorite social media pages!  Just click the buttons below.  ALSO, if you want to keep informed on developments here, please subscribe via the sign-up form to the upper right.  CHEERS to you and your loved ones!