Part IX            The Tokyo Times
Chapter 37      Trials and Treasures of Tokyo
Chapter 38      The Japanese Art of the Deal
Hi!  I'll be adding more photos… here are a few for now.
To begin this part of the journey, visualize yourself arriving at Narita Airport with just $8.00 on you – not good for arriving in Tokyo, one of the most expensive cities in the world to be in.  And being on an island nation, you have no idea how you are going to move on to your next designation.
That was my predicament.  So I had to spend all my time in Japan just in Tokyo… trying to make money to meet expenses and negotiating for a sponsored passage.
HONDA seemed an obvious quest.  But ironic… there I was in the glitzy showroom of Honda's headquarters in Tokyo – as my poor Melawend languished in some air cargo warehouse.  Her wheels would never touch the ground of the land of her birth! And I had to slog the 100+ pounds of gear around this bustling city just to get accommodations.
But hang on!  Japan and the awesome Japanese people I met were fantastic!  And I did learn what I call "The Japanese Art of the Deal".  I flying on from Japan "Executive Class", with my Melawend stowed in the belly of the aircraft!
Let's go…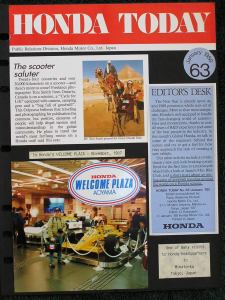 A fun, informative diversion in Tokyo…
Ignorance struck me again when I went to visit the Meiji Shrine, a post-war reconstruction of one of Japan's largest Shinto shrines.  It was in a small forest within the city.  There were lots of parents with their young children all dressed to the nines, the kids especially.  Little girls were dressed up in fancy kimonos and boys were in immaculate suits, looking very much like little businessmen.  The parents seemed to be doting on them, photographing and videotaping them, going over to the shrine and praying for them.  They tossed coins into a long deep trough that was made of a huge white sheet draped over a frame on one side of the shrine.  I was the only foreigner but no one seemed to take much notice of me, nor did they mind when I joined in the taking of pictures.  But all this seemed to be almost competitive as to which child was best dressed.  There were too many people doing the same thing for this to be coincidental child adulation.

Ron told me later that this was the Shichi-Go-San Festival.  Shichi-Go-San meant "Seven-Five-Three".  It was celebrated on annually.  Girls who were 3 and 7 years old and boys who were 3 and 5 were celebrated on this day.  Odd numbers were considered lucky.  The children were given candies in bags.  I had noticed that many of the children were carrying balloons and fancy bags.  Inside, there were candies decorated with turtles and cranes.  These symbolized longevity.  The prayers were for their good health and growth.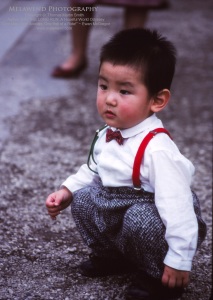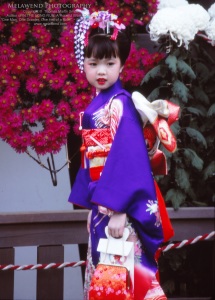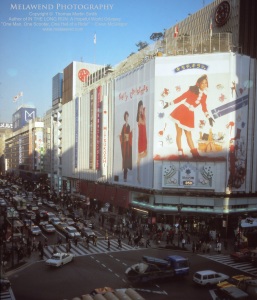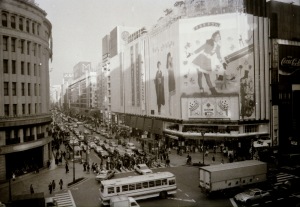 Tokyo's awesome GINZA – one of the world's most famous luxury shopping areas.
The same photo composition above – the black & white was used with my story for the Times-Review.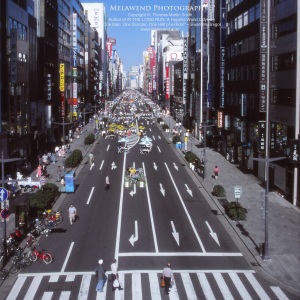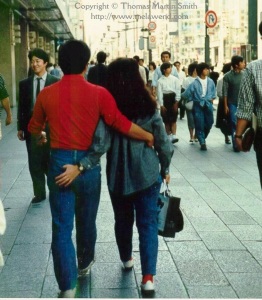 My photo: "Love on the Gizna"

CANADA ~~ ENGLAND ~~ WALES ~~ SCOTLAND ~~ NORWAY ~~ SWEDEN ~~ DENMARK ~~ THE NETHERLANDS ~~ BELGIUM ~~ LUXEMBOURG ~~ GERMANY ~~ LIECHTENSTEIN ~~ AUSTRIA ~~ SWITZERLAND ~~ FRANCE ~~ SPAIN ~~ MONACO ~~ ITALY ~~ THE VATICAN ~~ GREECE ~~ EGYPT ~~ SUDAN ~~ KENYA ~~ INDIA ~~ NEPAL ~~ SINGAPORE ~~ MALAYSIA ~~ JAPAN ~~ HAWAII ~~ USA ~~ RETURN
MELAWEND – My Amazing Honda Elite 250 Motorscooter
Helpful Quotes & Odyssey Photos by Tom
NEWS ~ About ITLR ~ About Tom ~ Chapters ~ Galleries ~ FAQ ~ Contact ~ For YOU!
Chapter 1: Crossroads
Chapter 23: Sojourn in Greece
Chapter 24: The Ups and Downs of Egypt
IN THE LONG RUN: Stories Written From The Road
Christmas in Greece – lively, lonely…