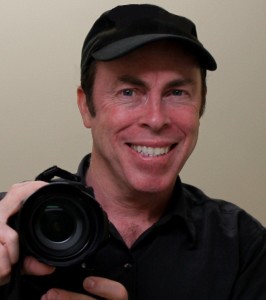 THOMAS MARTIN SMITH grew up in Ridgeway, Ontario, Canada, just a few miles from the Peace Bridge, one of the busiest crossing points between Canada and the USA.  His early fascinations with National Geographic lead to his passions for writing and photography.  Overland photo junkets around North America, resulted in exhibitions, membership in CAPIC (the Canadian Association of Professional Image Creators), and a contract with a photo agency in New York.
At a crossroads in his life – Tom was a jobless, broke, divorced, introverted, directionless, and virtually homeless father – a photography mentor suggested to him: "Go around the world," as a means to grow as a photographer and as an individual.  Perfect for a friendly loner.  And the timing was perfect.
So in May, 1986, Tom, who had never been outside North America, nor ridden a motorbike, got on a motorscooter he named Melawend (for his two daughters, Melanie and Wendy) and rode around the world on a self-created project to promote friendship and communication.  A journey originally planned for one year by bicycle evolved through unforeseen circumstances into a two-year odyssey that became a profound education in the world and the self.
During the journey, Tom had amazing encounters people from many walks of life, from being detained by secret police in Kenya to shaking hands with Pope John Paul at St. Peter's Basilica.  He overcame numerous misadventures including three crashes and dysentery (after losing 24 pounds in 16 days).  He quickly found that creating win/win solutions – helping others get what they wanted – helped him and Melawend complete the journey.  Along the way, he took thousands of photographs and kept detailed journals and audio recordings.  He wrote stories for magazines and newspapers during and after the trip.  Ernest Hemingway was a recurrent mentor.  The journey also resulted in his acclaimed book, IN THE LONG RUN: A Hopeful World Odyssey, what Ewan McGregor referred to: "One Man, One Scooter, One Hell of a Ride!"
He also turned the series of 18 feature articles he wrote for his hometown newspaper along the way into a book:  IN THE LONG RUN: Stories Written from the Road.
His world journey – as well as many other life experiences – remains a cornerstone of Tom's current work in writing, photography, and life coaching – aimed at helping others on their odysseys through life.
Tom lives in Victoria, BC, Canada. He is engaged to Jacqueline Katherine Jones, a talented American writer.
Check out this video of the story!
Also, check out my MELAWEND PHOTOGRAPHY video!   Enjoy!

CANADA ~~ ENGLAND ~~ WALES ~~ SCOTLAND ~~ NORWAY ~~ SWEDEN ~~ DENMARK ~~ THE NETHERLANDS ~~ BELGIUM ~~ LUXEMBOURG ~~ GERMANY ~~ LIECHTENSTEIN ~~ AUSTRIA ~~ SWITZERLAND ~~ FRANCE ~~ SPAIN ~~ MONACO ~~ ITALY ~~ THE VATICAN ~~ GREECE ~~ EGYPT ~~ SUDAN ~~ KENYA ~~ INDIA ~~ NEPAL ~~ SINGAPORE ~~ MALAYSIA ~~ JAPAN ~~ HAWAII ~~ USA ~~ RETURN
MELAWEND – My Amazing Honda Elite 250 Motorscooter
Helpful Quotes & Odyssey Photos by Tom
NEWS ~ About ITLR ~ About Tom ~ Chapters ~ Galleries ~ FAQ ~ Contact ~ For YOU!
Chapter 1: Crossroads
Chapter 23: Sojourn in Greece
Chapter 24: The Ups and Downs of Egypt
IN THE LONG RUN: Stories Written From The Road
Christmas in Greece – lively, lonely…