Soon you can get all the benefits such a journey of a lifetime can give to you – easily, from your favorite ebook reader!
(Click on the two photos below to see it full-size.)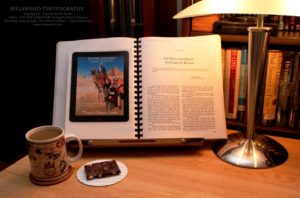 EWAN McGREGOR gave yours truly a wonderful hand-written blurb for the book:
.
"My two trips by bike were amazing and life changing but short compared to Tom's two-year traveling extravaganza! One Man, One Scooter, One Hell of a Ride!"
.
Here is a reader describing the benefits she got from reading  IN THE LONG RUN: A Hopeful World Odyssey…
.
"I love your book Tom. There are no other words to describe it – it is full of wonders – inspiration – spirituality – history and so much more… Your odyssey has taken me on a journey of the spirit. You took one step further – you believed in your capacity and your dreams, and you drove through with determination and confidence toward your journey of life…..Your words have painted a canvas of the world for me, describing people, cities, and things…..I feel your emotions – fear, stumblings, pain, ecstasy, fantasy, luck, discoveries and amazements……Thank you Tom, you've taken me back home again.… to follow your dreams, take a chance, and never give up."
~ JO-ANN OWEN, Program Assistant, Simon Fraser University, Vancouver
.
Check out the ITLR & Reviews page for more.
 .
While you're here – you can read 3 Chapters – FREE!
 .
HERE'S HOW TO GET THE MOST OUT OF ITLR… both ebooks!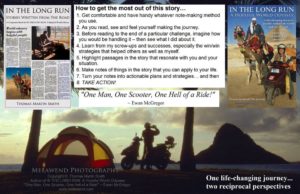 I hope you have an happy fulfilling day!
 .
More to come!
.