Part IV             Along European Lines
Chapter 21         Riding the Rivieras
From the café on the hillside terrace beside the sign you got a splendid view of Monte Carlo – all ivory-colored buildings with red-brown roofs by the blue Mediterranean merging into a blue haze. I rode through the elegant palm-adorned city, taking shots of a terrace of eleven tennis courts that overlooked the sea, and of a Rolls Royce that was parked in front of a theatre.

That was my Monte Carlo. It was nothing more than a longing glimpse.  In yet another city that unabashedly displayed its wealth, I felt the poverty of my finances and my knowledge.  I vowed that if I ever became rich, I would come back and explore Monte Carlo in style.  I would not gamble again on spontaneous shoestring experience, not here.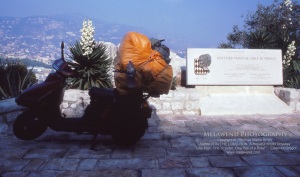 Melawend and I reach beautiful Monaco – home of the late Princess Grace, the former American actress, Grace Kelly.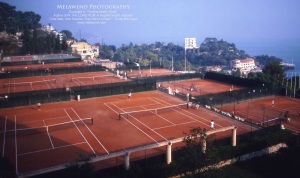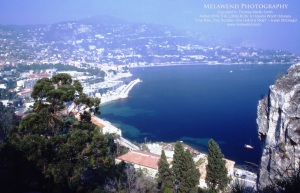 CANADA ~~ ENGLAND ~~ WALES ~~ SCOTLAND ~~ NORWAY ~~ SWEDEN ~~ DENMARK ~~ THE NETHERLANDS ~~ BELGIUM ~~ LUXEMBOURG ~~ GERMANY ~~ LIECHTENSTEIN ~~ AUSTRIA ~~ SWITZERLAND ~~ FRANCE ~~ SPAIN ~~ MONACO ~~ ITALY ~~ THE VATICAN ~~ GREECE ~~ EGYPT ~~ SUDAN ~~ KENYA ~~ INDIA ~~ NEPAL ~~ SINGAPORE ~~ MALAYSIA ~~ JAPAN ~~ HAWAII ~~ USA ~~ RETURN
MELAWEND – My Amazing Honda Elite 250 Motorscooter
Helpful Quotes & Odyssey Photos by Tom
NEWS ~ About ITLR ~ About Tom ~ Chapters ~ Galleries ~ FAQ ~ Contact ~ For YOU!
Chapter 1: Crossroads
Chapter 23: Sojourn in Greece
Chapter 24: The Ups and Downs of Egypt
IN THE LONG RUN: Stories Written From The Road
Christmas in Greece – lively, lonely…