Part IV              Along European Lines
Chapter 17         Benelux  and the German Factor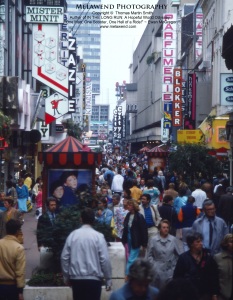 Downtown Brussels.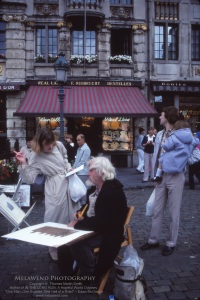 An artist in Brussels exquisite Grand Place.
After his first visit to Brussels in 1837, Victor Hugo – author of Les Misérables – wrote this in his journal: "The Town Hall of Brussels is a jewel, a dazzling fantasy dreamed up by a poet, and realised by an architect. And the square around it is a miracle."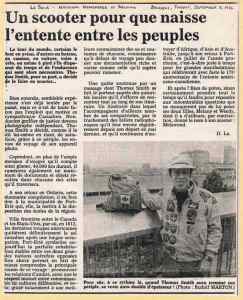 Yours truly gets written up in Le Soir, the French-language national newspaper of Belgium.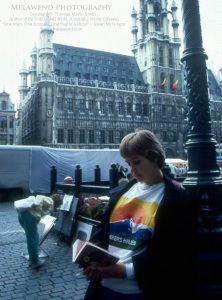 Even on a dreary yet busy day, the exquisite architecture of Brussels Grand Place is a wonder to behold!  And it made a great backdrop for my penfriend Marianne to pose for a photo.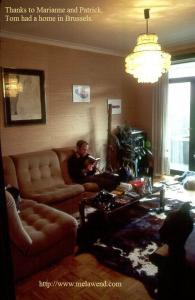 Thanks to my penfriend Marianne and her boyfriend Patrick having recently moved into Marianne's apartment – and thanks to their incredible hospitality – I was given use of his vacated apartment – I had a home of my own for a time!  It was a great place to catch up with my journals, reflect, plan, and listen to some great music, including some by Frank Sinatra.

CANADA ~~ ENGLAND ~~ WALES ~~ SCOTLAND ~~ NORWAY ~~ SWEDEN ~~ DENMARK ~~ THE NETHERLANDS ~~ BELGIUM ~~ LUXEMBOURG ~~ GERMANY ~~ LIECHTENSTEIN ~~ AUSTRIA ~~ SWITZERLAND ~~ FRANCE ~~ SPAIN ~~ MONACO ~~ ITALY ~~ THE VATICAN ~~ GREECE ~~ EGYPT ~~ SUDAN ~~ KENYA ~~ INDIA ~~ NEPAL ~~ SINGAPORE ~~ MALAYSIA ~~ JAPAN ~~ HAWAII ~~ USA ~~ RETURN
MELAWEND – My Amazing Honda Elite 250 Motorscooter
Helpful Quotes & Odyssey Photos by Tom
NEWS ~ About ITLR ~ About Tom ~ Chapters ~ Galleries ~ FAQ ~ Contact ~ For YOU!
Chapter 1: Crossroads
Chapter 23: Sojourn in Greece
Chapter 24: The Ups and Downs of Egypt
IN THE LONG RUN: Stories Written From The Road
Christmas in Greece – lively, lonely…