Part IV              Along European Lines
Chapter 19         PARIS:  Beauty and the Bombs
Chapter 21         Riding the Rivieras
Have you been to France, my friend?
Of course one of my primary destinations in France was Paris – "The City of Lights", though I thought of it more as "The City of Love" for its reputation as being one of the most romantic cities in the world.
What I hoped to come away from Paris with – as with any place along my journey –  were experiences and observations of positive elements of life, love, friendship, urban beauty, together with personal reflection and improvement – things that you can grow from, wherever you live and wherever you travel.   I sought lessons of life that I could and would continue to share with you – through my writing.
As referenced many times in IN THE LONG RUN, Ernest Hemingway was a recurrent mentor for my writing.  And Paris had been such huge part of his beginnings and later growth as a writer.  He wrote a lot about his times in Paris.  So as well as Paris being the gateway to France, and thereby important to the outward diplomatic purpose of my mission, there was something of the romance and personal growth ambiance of Paris that lured me there as a writer.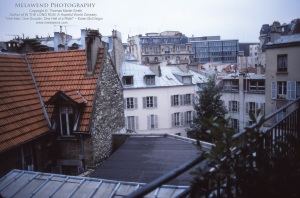 Paris – famous in part for its rooftops!  This scene, which I photographed from a window in the apartment where I was staying, did make me wonder if Hemingway had also looked out on rooftops in Paris when he lived there.
In my leaving Paris as a young man, I did take away what Hemingway shared in A Moveable Feast:
"If you are lucky enough to have lived in Paris as a young man, then wherever you go for the rest of your life, it stays with you, for Paris is a moveable feast."
Though I loved writing, I did not want my visit to Paris to be about Hemingway, Hemingway's Paris, or even much about writing.
More than anything, I wanted to feel my whatever experience I would have of Paris – feel anywhere I was in the world at any moment.  I knew that would help empower me to eventually write about it – from the heart.  So it write more from natural presence, openness, and qualified afterthought, rather than gearing experience to pre-conceived notions or the experiences of others.
Here is a passage from Chapter 19: PARIS: Beauty and the Bombs
I was definitely in the vicinity of Hem's old haunts: "In those days many people went to the cafés at the corner of Boulevard Montparnasse and the Boulevard Raspail to be seen publicly and in a way such places anticipated the columnists as the daily substitutes for immortality." (A Moveable Feast, page 81)

But I was not a writer in the truest sense, not yet, I thought, and I did not want to violate Hemingway's memory by merely dogging his immortal footsteps.  I wanted first to earn the right to be where he had been, and to make footsteps of my own,  for my presence in Paris to have meaning beyond idol-worship.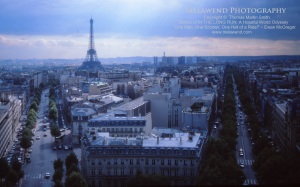 A view of Paris I took from the top of the Arc de Triomphe.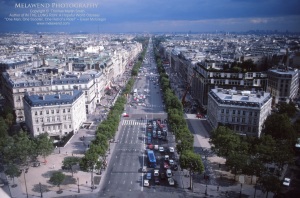 The famous Avenue des Champs-Élysées, as I photographed it from to top of the Arc de Triomphe.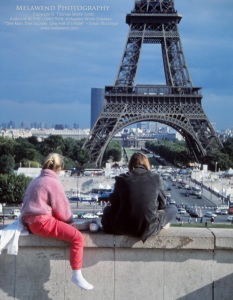 The Eiffel Tower – part of the romance of Paris!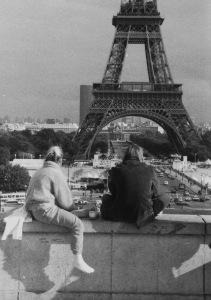 The b&w photo used in the Times-Review story on France.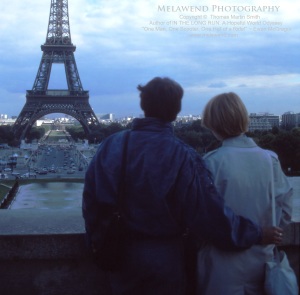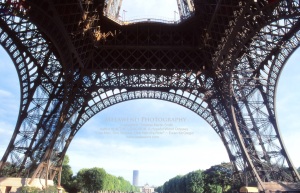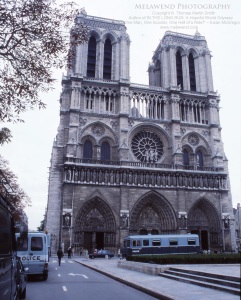 Police guarding Notre-Dame Cathedral. This was part of the Paris I experienced – a city besieged by terrorism during the "September Bombings".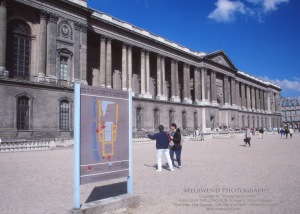 The Louvre – so plain outside – but the creative wonders inside!  I thought, that will have to wait for another visit to Paris.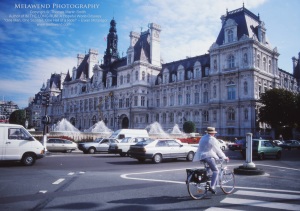 PARIS – my diplomatic mission took me to its incredibly elegant Hotel de Ville (City Hall).  Its location has been the centre of the administration of Paris since 1357.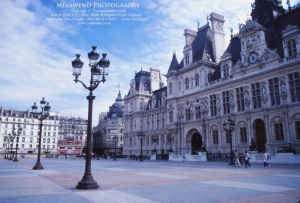 Alain Belais at Hotel de Ville, Paris (City Hall)
I was received by Alain Belais in his 4th floor office.  He was dignified man, about 40, a trim and impeccably groomed fair-haired man attired in a dark three-piece suit.  In comparison, I felt like a hobo in my rather odd Odyssey Jacket and faded jeans, carrying my bulky daypack and flimsy brown valise that had a large worn Canadian flag sticker on the outside.  Alain was friendly and most receptive of the spirit of my journey.

"Paris could really use something like this now," he said.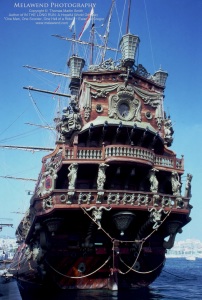 The ship used in the movie Pirates – starring Walter Matthau – docked in Cannes.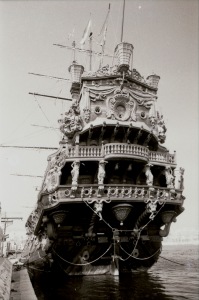 This b&w was used for the Times-Review segment on Cannes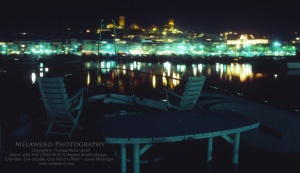 All to myself – the deck of a yacht in the Old Harbour in Cannes.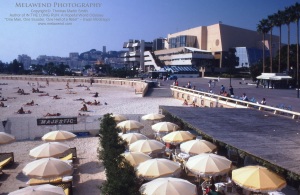 The Palais de Festivals – home of the Cannes Film Festival.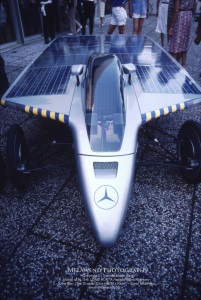 A solar powered vehicle on display outside the Palais de Festivals, Cannes.  (But I decided to keep my Melwend!)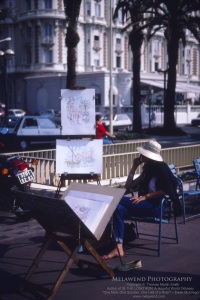 Artist selling her works on the Boulevard de la Croisette, Cannes.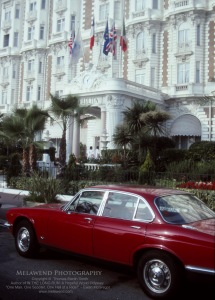 The elegant Carlton Hotel, Cannes.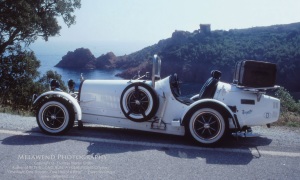 A vintage Bugatti (late 1920's?)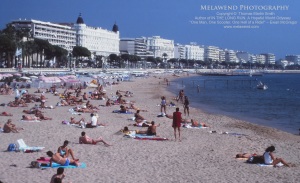 On the beautiful beach at Cannes.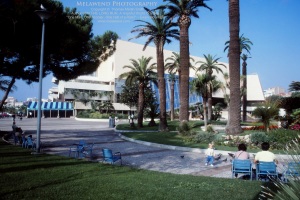 Another view of the Palais de Festivals, Cannes.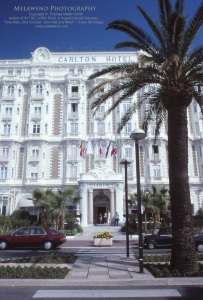 The elegant Carlton Hotel, Cannes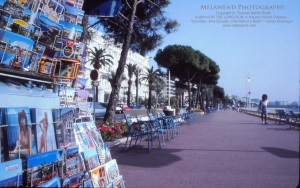 Walking along the Boulevard de la Croisette, Cannes.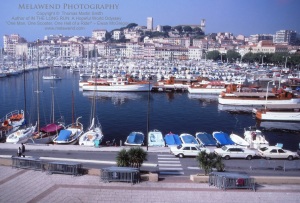 The Old Port, Cannes.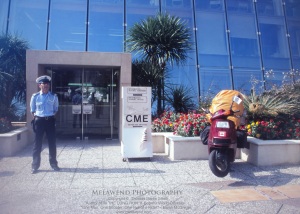 Show time! Melawend gets the VIP treatment at the Palais de Festivals, Cannes!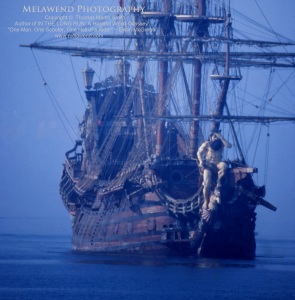 Just like a movie…. this ship enters the waters near Cannes from out of a fog!  The ship used in the movie Pirates, starring Walter Matthau.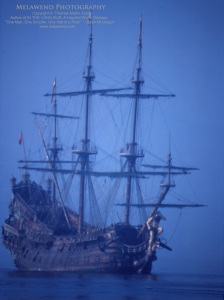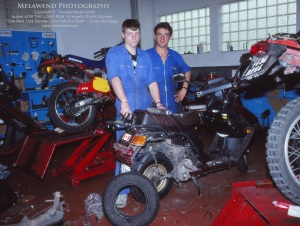 Melawend gets a tire change and the Franco Americain Honda dealership in Biarritz, France.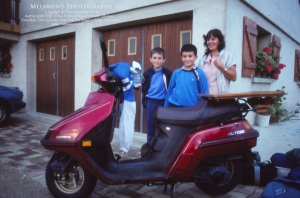 The Mazo family welcomed Melawend and me to their farm near Poligny, France.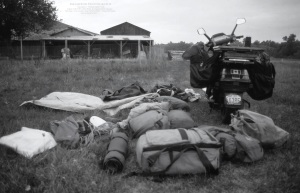 All that came off Melawend!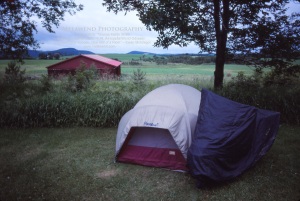 A typical campsite on a farm.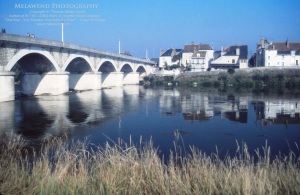 The beautiful Loire River, France.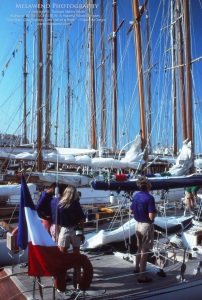 Yachts in St. Tropez, France.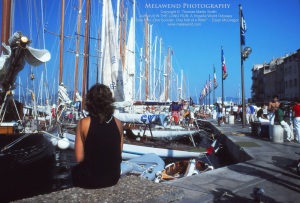 CANADA ~~ ENGLAND ~~ WALES ~~ SCOTLAND ~~ NORWAY ~~ SWEDEN ~~ DENMARK ~~ THE NETHERLANDS ~~ BELGIUM ~~ LUXEMBOURG ~~ GERMANY ~~ LIECHTENSTEIN ~~ AUSTRIA ~~ SWITZERLAND ~~ FRANCE ~~ SPAIN ~~ MONACO ~~ ITALY ~~ THE VATICAN ~~ GREECE ~~ EGYPT ~~ SUDAN ~~ KENYA ~~ INDIA ~~ NEPAL ~~ SINGAPORE ~~ MALAYSIA ~~ JAPAN ~~ HAWAII ~~ USA ~~ RETURN
MELAWEND – My Amazing Honda Elite 250 Motorscooter
Helpful Quotes & Odyssey Photos by Tom
NEWS ~ About ITLR ~ About Tom ~ Chapters ~ Galleries ~ FAQ ~ Contact ~ For YOU!
Chapter 1: Crossroads
Chapter 23: Sojourn in Greece
Chapter 24: The Ups and Downs of Egypt
IN THE LONG RUN: Stories Written From The Road
Christmas in Greece – lively, lonely…