Part VIII           Surprising Singapore
Chapter 35         Treasure In the South China Sea
It occurred to me that my prospects for getting on with the odyssey in any direction, let alone China or the Soviet Union, were bleak. I was becoming weary of trundling around offices in Singapore and not having any time to enjoy the beauty and attractions of Singapore itself.  (Office buildings seemed to be little worlds unto themselves no matter what city they were in.)  It had become all hustle and tired muscles with poor results outside the localized help and friendship I had received.  I had to get away for a while, regroup and come back at it with a fresh strategy.  Lydia told me of the perfect place.

"There are no phones, no cars and no roads!" she said.
I definitely needed to get away from Singapore for a while…
I was on my way to an island with an origin that was "shrouded in mystery". Legend had it that the island was the resting-place of a magical dragon princess who was on her way from China to visit her prince in Singapore. This beautiful maiden stopped by at this island to seek solace during her flight and fell in love with the island's charms.  Enchanted by its wonders, the princess discontinued her journey and vowed to spend the rest of her days giving pleasure and comfort to weary travellers who came to visit what was now Pulau Tioman – Tioman Island. 

Part of the movie based on James Michener's novel Tales of the South Pacific was filmed here – at a secluded waterfall.  Tioman had also been nominated by travel agents as "One of the Ten Most Beautiful Islands in the World". 

I just knew that I had to get away for a while, whether I would find a princess there or not. I caught the bus at the Lavender Street Terminus in the morning and was the only western tourist on board.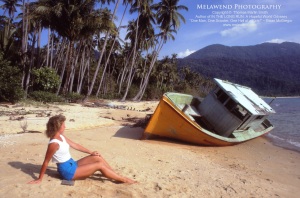 To be shipwrecked on Tioman Island, Malaysia!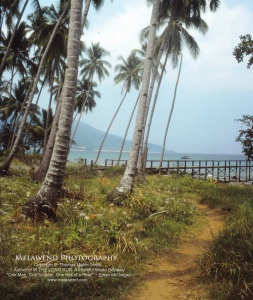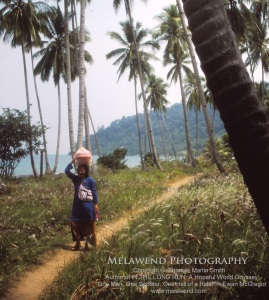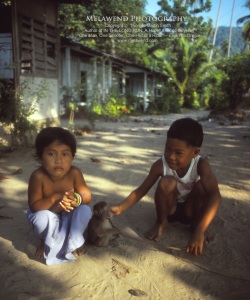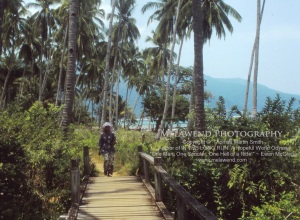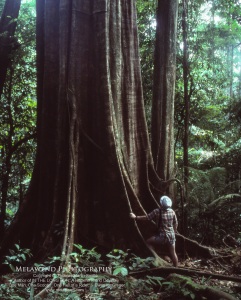 I made the trek up and across the island, trekking through the jungle, discovering awesome natural wonders wherever I went on Tioman Island.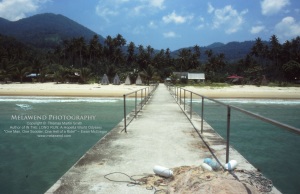 Pier in the village of Juara, at the end of the trek across the island.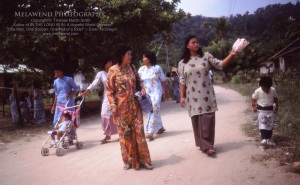 Nazri's restaurant closed early because there was a big event on the island – track and field competitions at the school in Tekek. Though I did not get there in time to see him, Prime Minister D. S. Mahathir Bin Mohamed had come to open the festivities.  There were many local people walking along the gravel road by the low school.  Women were dressed in brightly coloured long floral dresses and several carried equally colourful parasols.
Tioman Island, that exquisite natural haven gave me the space I needed just to kick back and enjoy life – and to come up with strategies to move my journey forward.  I was ready to go back to explore opportunities in that paradise of the modern kind – SINGAPORE.

CANADA ~~ ENGLAND ~~ WALES ~~ SCOTLAND ~~ NORWAY ~~ SWEDEN ~~ DENMARK ~~ THE NETHERLANDS ~~ BELGIUM ~~ LUXEMBOURG ~~ GERMANY ~~ LIECHTENSTEIN ~~ AUSTRIA ~~ SWITZERLAND ~~ FRANCE ~~ SPAIN ~~ MONACO ~~ ITALY ~~ THE VATICAN ~~ GREECE ~~ EGYPT ~~ SUDAN ~~ KENYA ~~ INDIA ~~ NEPAL ~~ SINGAPORE ~~ MALAYSIA ~~ JAPAN ~~ HAWAII ~~ USA ~~ RETURN
MELAWEND – My Amazing Honda Elite 250 Motorscooter
Helpful Quotes & Odyssey Photos by Tom
NEWS ~ About ITLR ~ About Tom ~ Chapters ~ Galleries ~ FAQ ~ Contact ~ For YOU!
Chapter 1: Crossroads
Chapter 23: Sojourn in Greece
Chapter 24: The Ups and Downs of Egypt
IN THE LONG RUN: Stories Written From The Road
Christmas in Greece – lively, lonely…