Part IV            Along European Lines
Chapter 23      Sojourn in Greece
My time in Greece was truly life-transformational.  An accident on Melawend caused a long delay – I crashed into a tree while trying to outrun dogs in pursuit of me at a campground near Athens.  Melawend was okay, but I had torn a groin muscle.  Imagine trying to hide that!  I ended up staying almost two months – and the rerouting of my supplies from Canada – to Athens instead of Egypt.  But I seized upon it as an opportunity to become more acclimatized to one place, and to look inward for untapped strengths, much needed for the road ahead.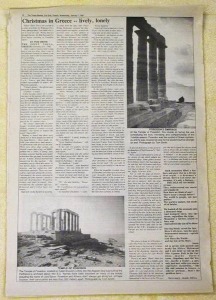 A story of Christmas in Greece I wrote for my hometown audience in the Times-Review.  (Unfortunately, the negatives were lost so I was not able to scan them.) For me, this was a tangible representation of being proactive about my passions for writing and photography.  What are you doing about your passions, my friend?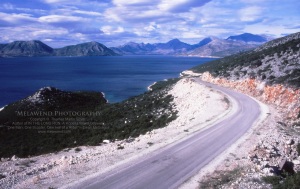 My first photo in Greece – after disembarking at Igomenitsa.  Beautiful, eh?  What do you feel when you look upon such a scene?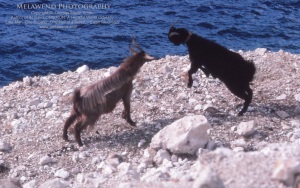 Locals butting heads!  Perhaps like a metaphor for some people you know?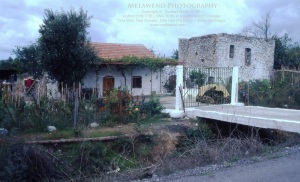 I was at first intrigued by this place near Kalamata – but later learned the area had recently suffered an earthquake.
Along the road near Kalamata, I stopped to take a shot of small old house. It was white-painted stone and had a red tile roof.  It lay on the other side a concrete bridge over a ditch.  An old stone barn that stood to the right of the house drew my attention.  It looked like a perfect cube, a little taller than the house.  The whitewash on the stone was faded.  Two windows had been filled with stone and left unpainted.  But there was no roof.  The two massive cracks in one of the barn's walls should have told me something was wrong here.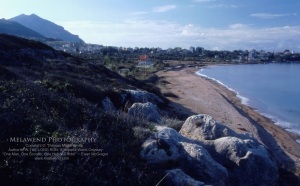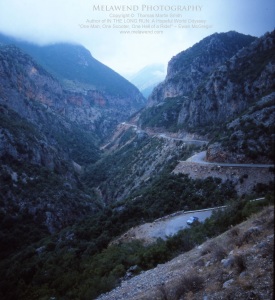 Rugged mountain roads on the way to Sparta.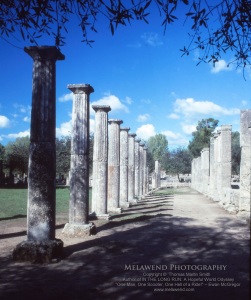 OLYMPIA – original home of the Olympic Games!
In Olympia, I thought it was time to give the Olympic Games a new name. After all, though they were originally staged to honour a mythical god, they were more practically used to interrupt wars – to promote peace.   I had not truly appreciated that.  But what a fun way to exorcise our barbaric compulsion to conquer each other!  It seemed better to cheer the athletic heroes of the playing fields rather than mourn the dead heroes of the battlefields.  I thought, to hell with "War Games"!  On with the "Peace Games"!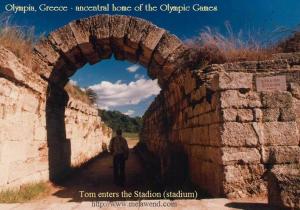 I walked through this ancient passage that had been used by ancient athletes running into and out of the stadium. What a disappointment!  (I was an idiot. I had not done any research prior to my arrival here.)  I was expecting some grand amphitheater, an Olympian Colosseum – it was just a rather small empty field of grass lined with some stone blocks!  Banks of grass-covered fill and a bit of forest at the far end bordered the field.  That was it!  It was less impressive than many third-rate high-school track and field yards.  But the Greeks gathered here to watch the most honourable of men compete in the footraces that began the second day of the games.
What I failed to realize was how the setting really worked for the people of that time.  And studying up on it when I got back, and looking back on what I saw, I now see how the grassy banks could hold so many people.  Here is an entry from Wikipedia:
The track is 212.54 m (697.3 ft) long and 28.5 m (94 ft) wide and surrounded by grassy banks on all sides. All the seats were made of mud and on the southern slope there was a stone platform, the exedra, on which the Hellandikai, the judges, would sit. Opposite this, on the north slope, was an altar to Demeter Chamyne. The stadium could hold 50,000 spectators.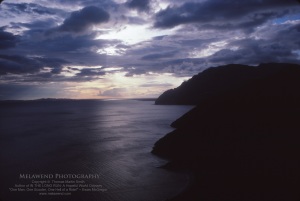 Sunset in Greece.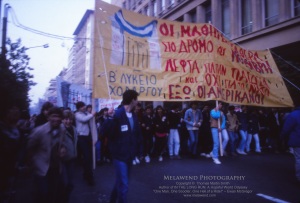 Have you ever encountered a protest that tied up traffic you were in?  I had to get off the bus I was on because here people in Athens are protesting the closing of a factory by the government.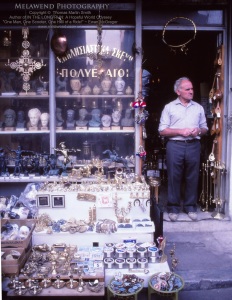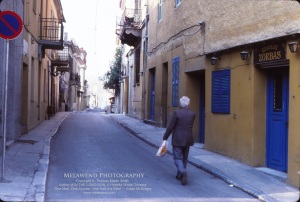 On a street near the Acropolis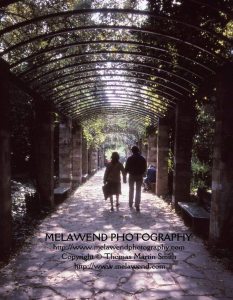 A loving couple in the National Gardens, Athens.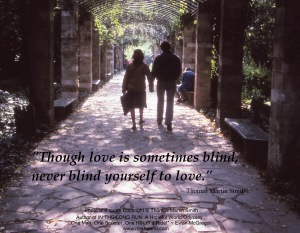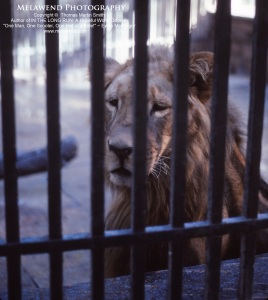 A forlorn king of beasts in the zoo at the National Gardens in Athens.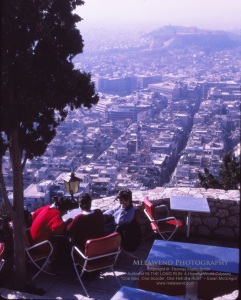 Well if you pursue your passions with passion, you won't let much stand in your way – not even yourself or well-meaning friends! I had torn a groin muscle in an accident on Melawend in camp, but I was determined to get out and around to see Athens.  The doctor had told me, "Pain is your friend.  He tells you what you can do and not do."  It took a while, but I limped up Lycabettus Hill – and got this shot overlooking Athens below and the Acropolis in the distance.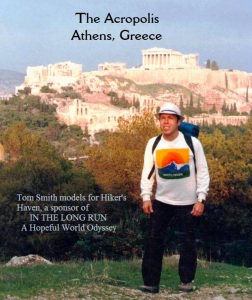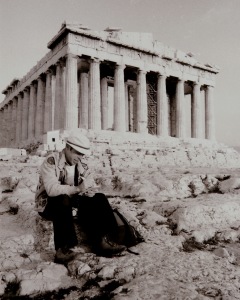 Photo of yours truly writing notes at the Parthenon, on the Acropolis, used in an earlier story on Greece for the Times-Review.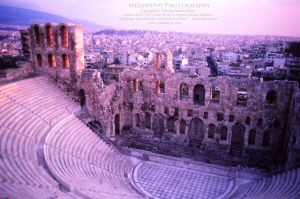 Do you like to explore ruins?  What do they mean to you?  For me, they give a sense of the longevity of the spirit and community of people, and the comfort of knowing come such a long way since our first primal ancestors.  Here, I loved the Theatre of Dionysus near the base of the Acropolis.  It could accommodate 17,000 spectators.  I imagined what productions went on here and the crowds that were entertained.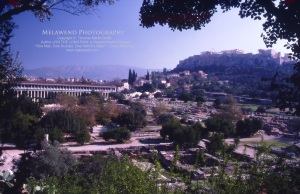 The Agora in Athens.  Agora referred to the political, spiritual, artistic, and athletic centre of Greek city-states – and the one in Athens is one of the best surviving examples.  to the upper right, you see the Acropolis.
Though you walked around buildings and the remnants of columns (that seemed to whisper, "We were once tall!") there came a hopeful feeling when you realized a huge city had grown up around this preserved ancient urban area.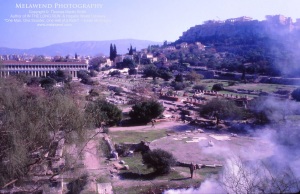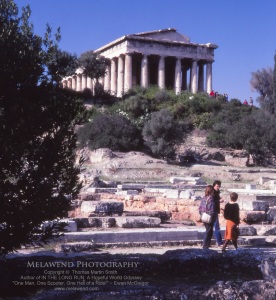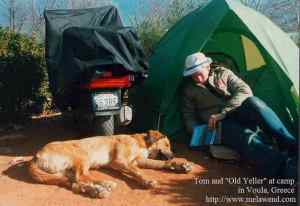 My camp at Camping Voulas, near Athens.  It was home for almost two months.  You learn to make the best of whatever you have as you strive to make things better and move forward in your life.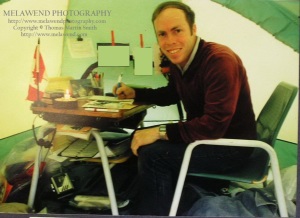 Warm and cosy in my tent in Voula, writing a story for the Times-Review.  Writing these stories, under whatever conditions I had, increased my sense of purpose and accomplishment, gave me great joy!  I was living a dream!  Have you felt like that lately?
I loved to read.  I felt that many readers, (or most anyone, for that matter) were often groping for solutions, some pearl of knowledge, some idea or concept around which to fashion a more meaningful life.

I also thought of myself as a writer – someone who wanted to convey important discoveries, facts and feelings, to inform and to entertain my readers. Along with all the other aspiring, perspiring and expiring writers in the world I would often call upon the spirits of dead literary giants.  (For me, some of the main ones were Ernest Hemingway, Mark Twain, Thomas Wolfe, and Kalil Gibran. Gibran wrote: "Your reason and your passion are the rudder and the sails of your seafaring soul.").  I would hope that one of them might reach through the veil, grab me by the forehead and bestow upon me the gift of literacy!  What did I know about the dead, or about writing?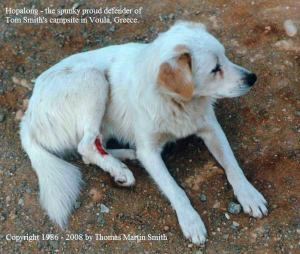 Meet Hopalong!
Do you like dogs?  I love them!  Here is an excerpt from the story I wrote for the Times-Review, "Christmas In Greece… lively, lonely" – included in the book, IN THE LONG RUN: Stories Written From the Road
No so with the dogs of Greece. Bess, Kula and Rags were unique of their breed.  They are loving and loved, but only in memory as they have all passed on.  Still, the stray dogs here are, for the most part, a likeable lot.  There's Old Yeller, a sleepy-eyed version of the dog of Walt Disney fame, who greets you upon your return to camp, then goes back to sleep.  Hopalong is a white coarse-haired little dog with a gaping raw wound in his right rear leg to which he will not let you attend (but he is getting better).  He's the proud defender, well versed in the Laws of Dogs.  For a time, he would register title of his domain on the walls of my tent, in the way of dogs and fire hydrants, updating this notice as required.  I'm very relieved to report he is now secure in his title, despite its removal from the record.  One can be grateful the horses and cattle on the farms in the UK, Scandinavia and Europe were not so instructed or inclined.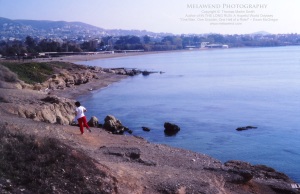 The beach in front of Camping Voulas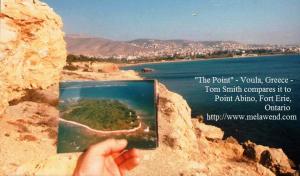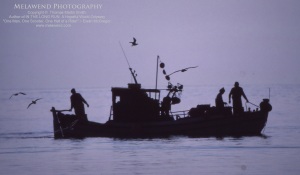 Greek fishermen in the morning near "The Point"  – Camping Voulas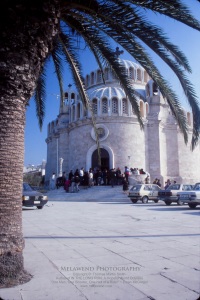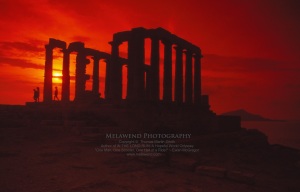 My sunset shot of the Temple of Poseidon, Cape Sounion… later used in an article I wrote for RIDER magazine.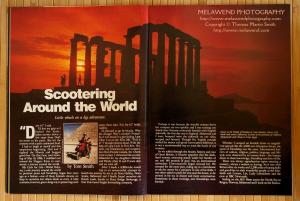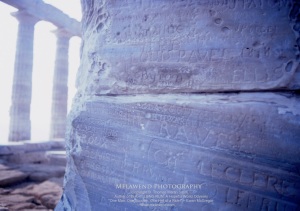 Lord Byron, who came to love Greece and died there, carved his name in this column in the Temple of Poseidon in 1810.  Like so many others, I took a piece of paper and a lead pencil and traced his name.
He wrote this in Don Juan:
Place me on Suniun's marbled steep,
Where nothing, save the waves and I,
May hear our mutual murmurs sweep,
There, swanlike, let me sing and die…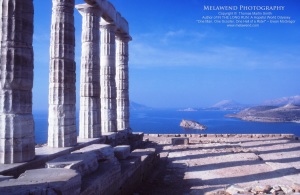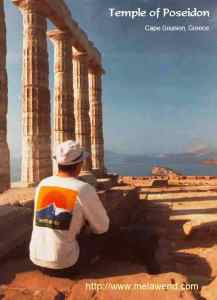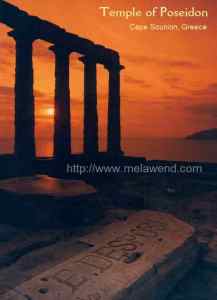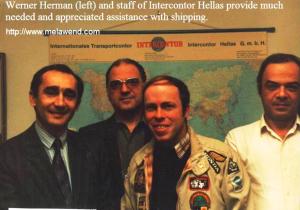 Have  you had people you only just met go way beyond what you had hoped and help you through a trying time in  your life?  I remain very grateful to Werner Herman, president of Intercontor Hellas – as his company received the shipment of supplies sent to me from Canada – he went with me personally to clear them through Greek Customs.  Then, though not asked, he even sent unneeded supplies I had back to Canada.  He did all of this out of kindness.  We also shared great conversation and friendship.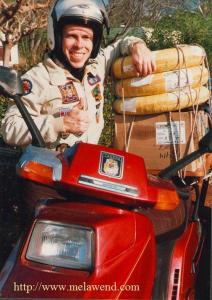 And here I am with that shipment from Canada – now ready to move on to AFRICA!

CANADA ~~ ENGLAND ~~ WALES ~~ SCOTLAND ~~ NORWAY ~~ SWEDEN ~~ DENMARK ~~ THE NETHERLANDS ~~ BELGIUM ~~ LUXEMBOURG ~~ GERMANY ~~ LIECHTENSTEIN ~~ AUSTRIA ~~ SWITZERLAND ~~ FRANCE ~~ SPAIN ~~ MONACO ~~ ITALY ~~ THE VATICAN ~~ GREECE ~~ EGYPT ~~ SUDAN ~~ KENYA ~~ INDIA ~~ NEPAL ~~ SINGAPORE ~~ MALAYSIA ~~ JAPAN ~~ HAWAII ~~ USA ~~ RETURN
MELAWEND – My Amazing Honda Elite 250 Motorscooter
Helpful Quotes & Odyssey Photos by Tom
NEWS ~ About ITLR ~ About Tom ~ Chapters ~ Galleries ~ FAQ ~ Contact ~ For YOU!
Chapter 1: Crossroads
Chapter 23: Sojourn in Greece
Chapter 24: The Ups and Downs of Egypt
IN THE LONG RUN: Stories Written From The Road
Christmas in Greece – lively, lonely…