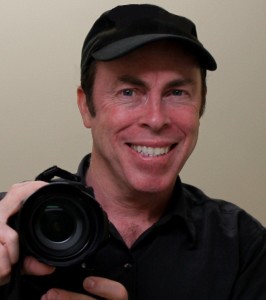 Hi! Tom Smith here – writer, photographer, proactive lover of life – and author of the acclaimed book, IN THE LONG RUN: A Hopeful World Odyssey… two years around the world on motorscooter Melawend – and inward and outward journey that became a profound education in the world and the self.
Are you at a critical crossroads in your life? Awesome! It might not seem like it now, but you are truly living one of the best opportunities in your life! Why? Because you own it, now! But you're struggling with it? I can help you because I've been where you are and I found solutions.
How can my story help you? First, if I am new to you, check out this video. Then read below what some others have said about my story. Below that, read a bit about my story and how it and I can help you.
There will actually be 2 EBOOKS available:
IN THE LONG RUN: A Hopeful World Odyssey – the candidly-told full story with lots of life lessons and win/win strategies!  Check out the 3 FREE SAMPLE CHAPTERS!  Again, read more about it below and how it can help you!
IN THE LONG RUN: Stories Written From The Road – this is the shorter companion book, which brings together in one place the complete series of stories I wrote for my hometown newspaper during the journey.  Learn more about the ebook here… and read this FREE  SAMPLE STORY!
Let's go!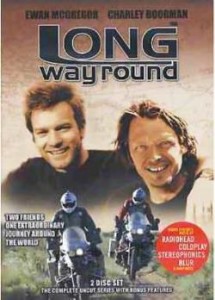 EWAN McGREGOR, award-winning actor and humanitarian had this to say:
"My two trips by bike were amazing and life changing, but short compared to Tom's two-year traveling extravaganza! One Man, One Scooter, One Hell of a Ride!"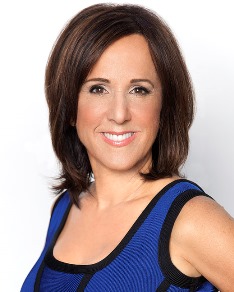 MARICA WIEDER, CEO and founder of Dream University, had this to say:
"Tom Smith's exciting story – IN THE LONG RUN: A Hopeful World Odyssey – about his bravely undertaken journey around the world, gives you insights and inspiration to get the help you might need to fulfill our own dreams. Share in Tom's great adventure and lessons of life!"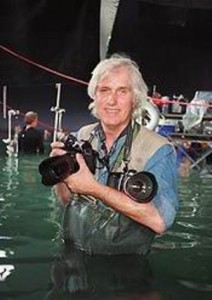 DOUGLAS KIRKLAND, a living legend in photography, Hollywood California, had this to say:
"In The Long Run" is really exciting! After reading it, the words "He's a modern Marco Polo" came to mind. Tom boldly created and carried out this challenging project in part to improve his photography – he achieved some excellent results."
Photo: Douglas on a set of James Cameron's TITANIC. Photo by Scott Browning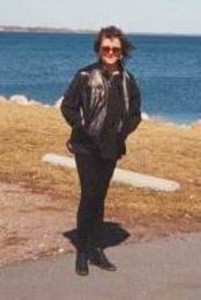 JO-ANN OWEN, Program Assistant, Simon Fraser University, Vancouver, said:
"I love your book Tom. There are no other words to describe it – it is full of wonders – inspiration – spirituality – history and so much more… Your odyssey has taken me on a journey of the spirit. You took one step further – you believed in your capacity and your dreams, and you drove through with determination and confidence toward your journey of life…..Your words have painted a canvas of the world for me, describing people, cities, and things…..I feel your emotions – fear, stumblings, pain, ecstasy, fantasy, luck, discoveries and amazements……Thank you Tom, you've taken me back home again.… to follow your dreams, take a chance, and never give up."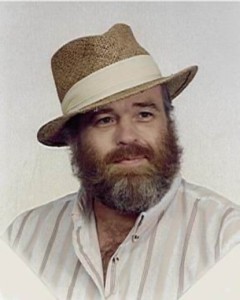 MURRAY ANDREWS, Golden Poet Award-Winner, Grand Rapids, Michigan, had this to say:
"Tom, you got to me!! You took me clear out of myself as I read your story. …I have never been so moved in my life! I actually forgot I was sitting in this wheelchair. It was me on that scooter, and it was me looking out of your eyes, and feeling and being."
Murray utterly surprised me when he WROTE A POEM OF THE ODYSSEY!  Check it out here!
ROSALIE RIVERA, Edmonton, Alberta, Canada, sent me several e-mails as she read the book:
"I received the book yesterday……I was too excited to write at that time and launched right into reading. When my husband saw the size of the book he said, 'kiss me now honey and I'll talk to you sometime in April'."
E-mailed update: "I am in the middle of the book and read it every chance I get…..so, so, interesting and very funny at times….I break out in laughter and startle my poor husband from time to time."
E-mailed update: "It has brought out a number of different emotions in me…..delight, laughter, amusement, sadness. It also has been quite thought provoking … I felt you really opened yourself up to the reader and shared your personal experiences quite fearlessly. I was happy and quite surprised to read about your tender feelings about women in general and this made me feel hopeful…..I'm not accustomed to hearing men talk about longing, loneliness, feelings of uncertainty …. and at some points I was agonizing right along with you. …Well I must get back to the book now…."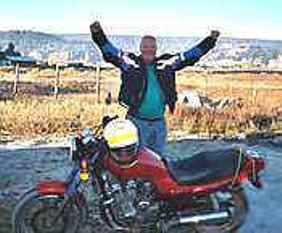 DENNIS LATZY, water treatment plant supervisor, Cool, California, send me a few reading-in-progress e-mails:
"Tom, I received your book in the mail 4 days ago. I have one problem with the book……….I can't put it down! …You did a super job on the journey and writing the book."
E-mailed update: I just now finished reading your book. The last week has been; eat, sleep, read the book. …Your book has been a great inspiration. …Thanks for a great book!"
E-mailed update: "You have got me dusting off your book and reading it for the second time around. (Something I never do with books.) …I think your book blows the doors off Ted Simon, Doc Frazier and the rest of them. Yes, I have read them. While I think that what Simon and Frazier did is fantastic, your writing stands head and shoulders above theirs. Your writing really puts me in the saddle with you."I think your book would be a smash hit if the word ever got out."
GARY SORKIN, New York City, New York, USA, screenwriter, novelist, playwright, artist, entrepreneur, father, interviewed me for Boomers International and had this to say:
"I had the privilege of interviewing Tom for the website, BoomersInt.com. It was truly an education. Tom's choice of odyssey was bold and dangerous…Tom became our eyes and ears to the world from the perspective of a motorscooter. Unique, indeed. …Tom was able to have an impact on everyone who followed his bumpy adventure around the world. …I admire Tom as he tries to teach us all that our real odyssey is to, "Reach for the stars, and that nothing is impossible. Thank you, Tom."

Check out the interview: http://www.boomersint.com/tomsmith.htm
Here is how I can help you…
If you want a tale of grand adventure and romance – together with some powerful life strategies – you've come to a great true story!
I can help you if something has happened in your life that has caused you to come to a virtual standstill – perhaps the loss of someone really close to you, you have recently divorced, lost your job (or simply want to do something you are happier doing), lost your home, or simply lost your way in life. Whatever it is that got you here, you know you just cannot keep going in the same direction. You know something's got to change – and soon. You know that if you don't take charge of the change you desire, someone else will.
I was there too.
At this particular crossroads in my life, I was an unemployed, broke, divorced, introverted, directionless, and virtually homeless father. My parents had divorced rather bitterly a decade earlier. My mom had moved 2,500 miles away. I was downsized out of work, and was then camped in my dad's recreation room, where I had played as a boy. It was very disheartening for a 32-year-old man. How did I get there?
Before that, four of the people I most loved in the world – my grandparents – had all died within two years of each other. I was a pallbearer at each of their funerals. I had been a law clerk for over 10 years. I loved the people I worked with, but I was getting nowhere, barely making ends meet. And it was not something I wanted to do for the rest of my life. I was more creative, having inert passions for writing and photography. I tried going it alone in an antiques and woodworking business, but it foundered – and that was really hard on a young man, his wife and two daughters. I felt lost, hopeless. My marriage fell apart largely because of that.
How $500 changed my life
A short time later, I decided to try to turn my passions into a career. I sold my house, bought a utility trailer, packed up a lot of my things and a drove across Canada to stay with my mom and her husband as I prepared my next move – a photography junket down the Pacific coast of America, then across the USA to the Atlantic, and then back to my hometown of Ridgeway – and dad's place, again. It was a fantastic four-month odyssey filled with learning! I had taken quite a few good photographs. So emboldened, I went to New York and was offered contracts by four of the five photo agencies I applied to (the fifth – The Image Bank – one of the biggest and best in the world, declined, with the executive saying, "Your work will water down that of our core group of photographers." That was actually a high compliment!)
Then I went back to Canada where, in Toronto, I met a man who briefly became a mentor – photographer Ivor Sharp, one of the founders of CAPIC (now the Canadian Association of Professional Image Creators – to which he sponsored my membership). He discouraged me from going into commercial photography as my portfolio revealed to him my passion for natural light/outdoor photography. Instead, he said simply, "Go around the world." He showed me the time-worn portfolio of images he had produced from his four-year odyssey and had trundled around to art directors to begin his amazing career. He meant his suggestion a means to grow as photographer – and as an individual. Still, I could not truly imagine doing that.
And, I was always at heart a homebody but was now homeless. So my father, a retired realtor, put in an offer on a fixer-upper home with great architectural lines in a beautiful lakeside community nearby – he would buy it and I would live in it and put sweat equity into it. So I drove out west again, picked up my trailer-load of belongings and headed back to Ridgeway – a 6,000-mile round trip. But when I got there, Dad informed my that a wheeling-dealing realtor had beat his offer by just $500. I was devastated, feeling like the ground had been ripped out from under me, and I might fall into an abyss.
What to do?
It was time to follow through on Ivor Sharp's suggestion!
There I was, a real fixer-upper myself! I had come to a critical crossroads in my life. I knew I needed a new direction for my life as well as new perspectives on life and love. It was time to get out of my comfort zone – in a big and lasting way.
How to get the most out of the story for your life…
So you are at a crossroads in your life as I was, my friend? Well, come along with Melawend and me on this
life-changing journey!
Remember, no matter that the story involves terrestrial travel, many situations like those you will read about here you will also encounter in your everyday life, particularly when dealing with yourself and others.
As you read, see and feel yourself making the journey. Before reading to the end of a particular challenge, imagine how you would be would be handling it – then see what I did about it. Learn from my efforts and successes, especially the win/win strategies that helped others as well as myself. (Remember that the only true failure in life is not to try.) For your particular reference, highlight passages in the story that resonate with you and your situation. Write down (or type up) notes of things in the story that you can apply to your life. Turn your notes into actionable plans… and then implement those plans!
Get your copy of IN THE LONG RUN: A Hopeful World Odyssey ! It will soon be available as an e-book! And so will its companion book – IN THE LONG RUN: Stories Written From The Road (the series of articles I wrote for a newspaper as I made the two-year journey)… and then let's go! Begin your better-directed journey to a more fulfilling life! I'm with you!
If you have any questions, contact me: tom@melawend.com

CANADA ~~ ENGLAND ~~ WALES ~~ SCOTLAND ~~ NORWAY ~~ SWEDEN ~~ DENMARK ~~ THE NETHERLANDS ~~ BELGIUM ~~ LUXEMBOURG ~~ GERMANY ~~ LIECHTENSTEIN ~~ AUSTRIA ~~ SWITZERLAND ~~ FRANCE ~~ SPAIN ~~ MONACO ~~ ITALY ~~ THE VATICAN ~~ GREECE ~~ EGYPT ~~ SUDAN ~~ KENYA ~~ INDIA ~~ NEPAL ~~ SINGAPORE ~~ MALAYSIA ~~ JAPAN ~~ HAWAII ~~ USA ~~ RETURN
MELAWEND – My Amazing Honda Elite 250 Motorscooter
Helpful Quotes & Odyssey Photos by Tom
NEWS ~ About ITLR ~ About Tom ~ Chapters ~ Galleries ~ FAQ ~ Contact ~ For YOU!
Chapter 1: Crossroads
Chapter 23: Sojourn in Greece
Chapter 24: The Ups and Downs of Egypt
IN THE LONG RUN: Stories Written From The Road
Christmas in Greece – lively, lonely…