Part X            Hawaii: The V.I.P   (Vagabond In Paradise)
Chapter 39      The Happy Camper and the Brodie Bunch
Chapter 40     Assignment: Paradise
Chapter 41     The Weeping Skies  of Hawaii
Beautiful, exotic Hawaii – what Mark Twain described as, "The loveliest fleet of islands anchored in any ocean."
Hawaii represented to me two things:  For one, it seemed the perfect place to end the international portion of my journey – a true East meets Pacific meets West, a sense of having travelled that way in my journey and in my experience of different cultures – coming full circle from the world I knew, and back to it.  But that transition had truly transformed me.  I had become much more aware of and hence sensitive to our cultural differences and our common humanity – I saw the world as an amazing tapestry of life, frayed in places, but global in its coverage and importance. And that's what I saw – locals including native Polynesians, westerners, and Asians, together with the gamut of tourists – reminding me of my travels around the world and what I had learned about people along the way.
The other was the romance of such a beautiful tropical place – a destination meant to be shared with someone special.  And being in such a place for 4 months… well, if you are single and looking, how would you feel?
And thanks to exploring win/win ways in sponsorship in Japan, I had an article to write on motorcycling in Hawaii CYCLE WORLD, a national motorcycle magazine in Japan, and a report in kind for Japan Airlines.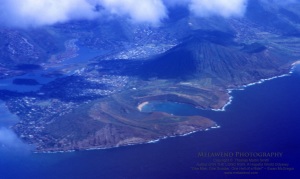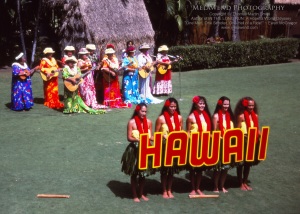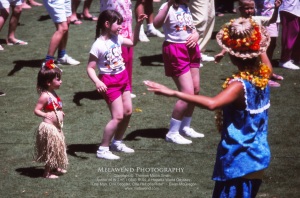 I went up on the concrete walkway near that terrace I had seen from my high lanai at the Waikiki Parc. I looked out over the sea and over the beach to the lion-like visage of Diamond Head.  I looked in front of me and found that I was standing almost directly over a young guy and a girl that were lying beside each other.  They were a mixed couple: he was western; she was Asian.  They seemed oblivious to me and to everyone around them.  She was curled up in a fetal position and had a knee tucked into his crotch.  He was stretched out and had a hand on her thigh.  Then, without inhibition, he moved that hand up and began to fondle one of her ample breasts.  I was not a voyeur, but I just could not resist photographing such a beautiful scene – I much preferred seeing loving couples in the act of being themselves than the distance and even hostility I had seen in others.  Seeing them reminded me of the constant and timeless ebb and flow, the cycle of life – empowered by love.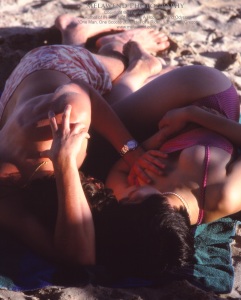 That was brought home again when that night, from my lanai, I saw a couple on the lanai of a neighbouring hotel.  They were standing in the mild air, embracing and kissing each other.  Then they went inside.  I saw her by the bed as she began to pull back the covers.  He closed the drapes.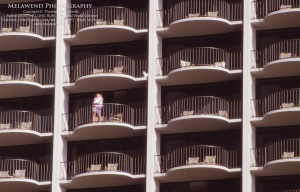 The next day, I rode Melawend up Tantalus for an aerial shot from the high road of Melawend and me against the backdrop of Honolulu and Diamond Head.  I remembered that formation of the Niagara Escarpment near Grimsby where, two years ago, I had wondered how we would overcome all the obstacles ahead to reach the real thing.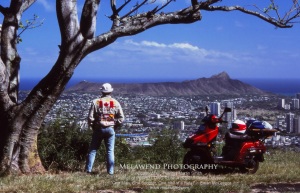 We made it, Melawend.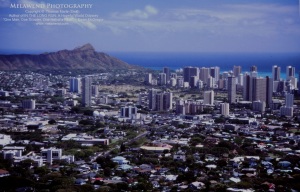 Later, I rode her through a gate and into the crater of Diamond Head.  With a few other tourists, I followed the path to the summit.  I was somewhat surprised to see relics of war up here – crumbling gun emplacements and a pillbox encrusted the top of this most famous cliché of Hawaii.  Of course it must have been an ideal place for all of this but it seemed now so strange in the context of what Diamond Head meant to the tourism industry. 

Tourists came and went.  I lingered until there was no one else up here.  If only for this wonderful sunny day, the summit of Diamond Head became for me what "The Point" had near Camping Voulas in Greece had been – a point of solitude and reflection.  I spent the whole day up here looking out over Honolulu and the Pacific, and thinking about life.

I took some self-portraits on into sunset, including ones of myself in the Odyssey Jacket, looking from the ridge beside the pillbox over the city and the sea below.  As I finished up, a couple emerged on the summit.  Though it was illegal to camp here, they began setting up for the night in the pillbox.  As usual, I envied them, but I left them to the making of a special memory for themselves and retired to my room at the Waikiki Parc.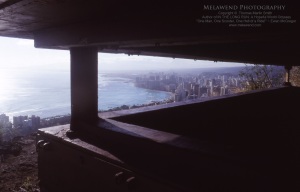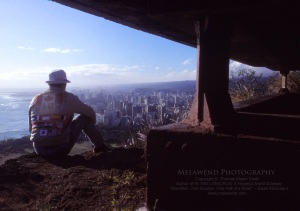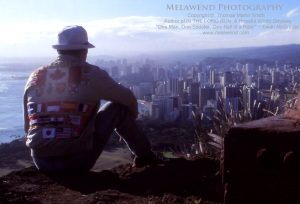 A postcard view of Wakiki Beach and Diamond Head.  When you passionately envision something you desire as real, as, on my first day of the journey I did about being right here in Hawaii, you empower yourself to achieve your desired destiny.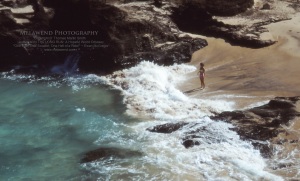 Halona Beach Cove, Oahu – site of the famous sensual beach scene in the movie From Here to Eternity, filmed here in 1953.
Have you been motivated to see a place made famous for one reason or another?  Did you feel fulfilled when you did?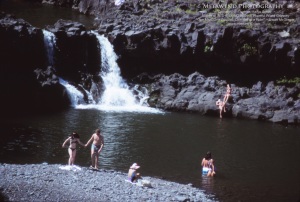 Pools of 'Ohe'o (aka Seven Sacred Pools) eastern Maui.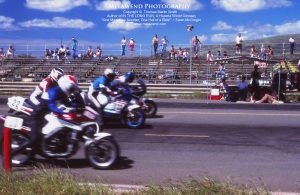 Racing at Hawaii Dragway Park, Oahu.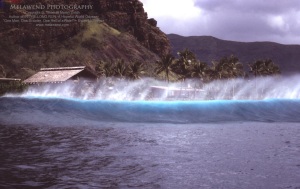 Are you grateful and do you enjoy those unexpected gifts in life that come your way?  I sure did when, from a new friend's motorboat,  I got the opportunity to photograph this beautiful wave and the shore off Oahu's Leeward Coast.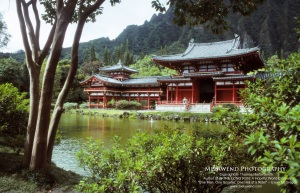 I loved the tranquility and beauty of the Byodo-In Temple, Oahu, and it's natural surroundings.  Japanese inspired in design, but it was non-denominational.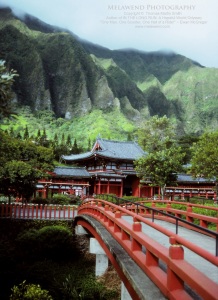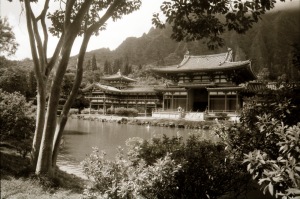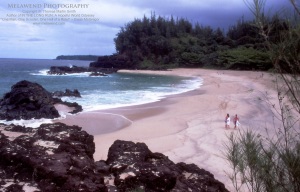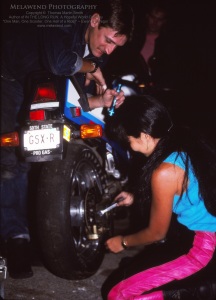 Racer Becky Waikida at Dragway Park, Oahu.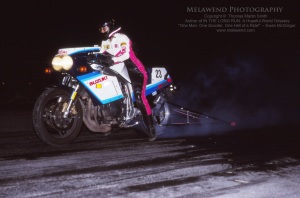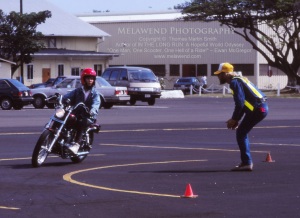 I was blessed to have been hosted for a time by Morgan Keene, Chief Instructor for the Motorcycle Safety Foundation, together with her partner, Daniel Martyniuk, here coaching a student in a course at their training place on Sand Island, near the airport on Oahu.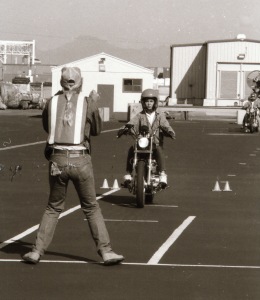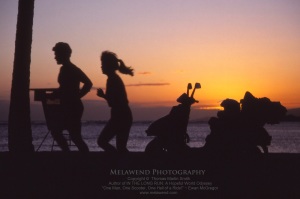 Melawend resting in the sunset on a beach on Oahu.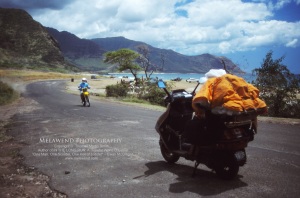 Can't remember this particular beach Melawend and I were at, but I believe it was on the Leeward Coast of Oahu.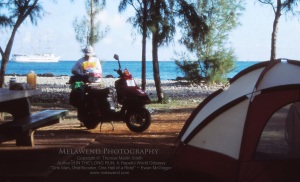 Yours truly and Melawend in Camp at Sand Island State Recreational Area… with the Rella Mae on her way out for a sunset dinner cruise.  (I would later be blessed to enjoy that!)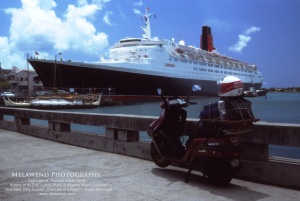 The awesome Queen Elizabeth 2 – docked at Oahu.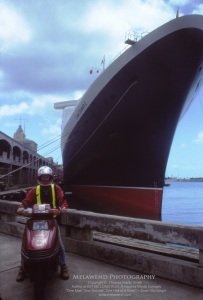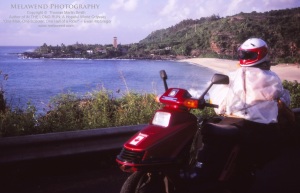 Melawend and I reach famous Waimea Beach on Waimea Bay on Oahu's north shore!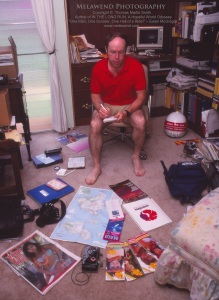 Yours in Oahu, planning my sponsored travels to Maui, Hawaii Is., and Kauai – you're looking at a grateful dude!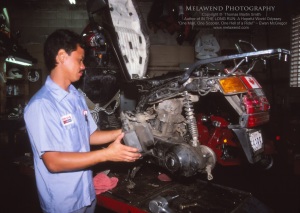 Sac Verdadero masterfully repairs Melawend while I was working as a "liner" at Sandy Brodie's Waipahu Cycles.  What a great guy Sandy was – and what a great crew he had – blessed I was to share great times with them!
Melawend had been stalling most times when we came to a stop and she also ran sluggishly in between.  It was not for lack of air in her tires this time.  In what must have been horrendous work for her, and another mark of stupidity on my part, she was brought into the service shop where it was found she had almost NO OIL!   Apparently someone at Singapore Airlines, or Japan Airlines, had drained Melawend of oil (it had not been required before) and I had not bothered to check when I got her out of Customs.  Sandy told Sacramento "Sac" Verdadero, a curly-haired swarthy guy who had Hawaiian blood, to give Melawend a compression check.  Bad news – she had 60% escape.  I felt that it was largely from this most recent neglect on my part that Melawend now needed piston rings, the most work of any kind that she had ever needed.  Nevertheless, Sandy was amazed that Melawend had covered about 30,000 often-rigorous land miles without having any engine work done.

"You must go to church real regular," he said.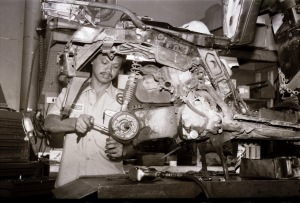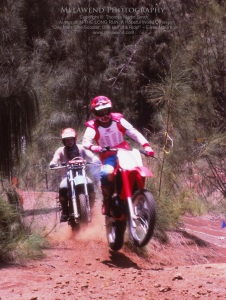 As a guest of Les Brinkley, a salesman at Sandy Brodie's dealership, I had the awesome opportunity to photograph part of the Cobra Hare 'n Hound race in the hinterlands of Oahu.  I had never attended, let alone photographed such an event before!
Do you welcome opportunities when they come your way?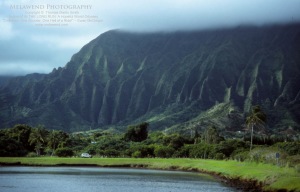 Looking west across Moli'i Pond from Kualoa Regional Park to green, cathedral-like mountains of Ahupua'a Kahana State Park.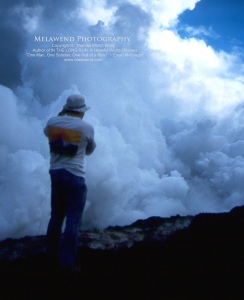 Yours truly photographing the birth of new land on Hawaii Island.  And below, I was standing barely 40 feet from where flowing lava met the waters of the Pacific.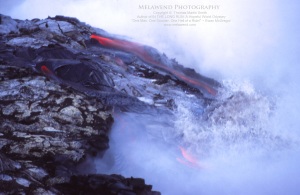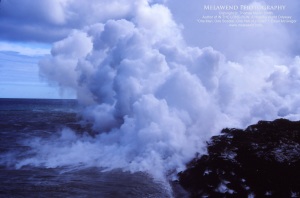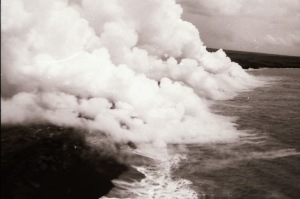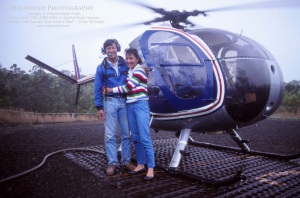 David & Jesse Okita – Volcano Heli-Tours, Hawaii a friendly loving couple!
I returned to Volcano Heli-tours for my flight.  David was a tall slim guy with a good sense of humor and fine skills as a helicopter pilot.  He flew us over Pu'u'O'o Vent for a spectacular view down into the bowels of an active volcano. Then he flew us over forests and roads and homes that had been buried in Pele's relentless flows to the sea.  But at the coastline, we saw turbulent commotion as huge white clouds billowed high into the air where the flowing lava fell into the sea.  When we returned, David and Jessie obliged with a pose by their aircraft – a happy young couple that were soon to be married.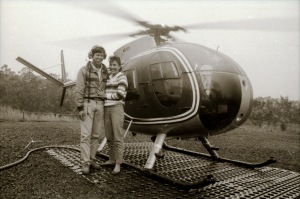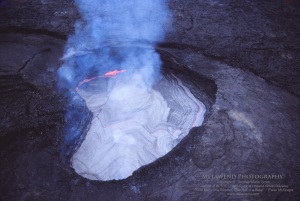 An awesome lava lake in Kilauea Caldera on the big island.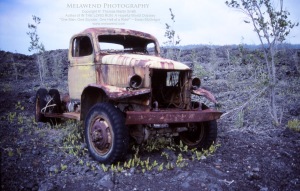 I moved on and found the remains of an old truck that had apparently been caught in a lava flow – its paint was burned away, its glass was gone but its tires were still amazingly intact.  It was set amid the coarse black rock where little bright green plants were shooting up between the cracks in the rock.  It had a haunting, ominous look, like an apocalyptic metaphor for a possible destiny for humankind.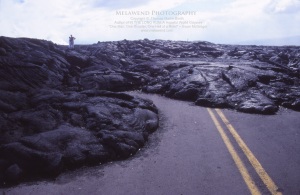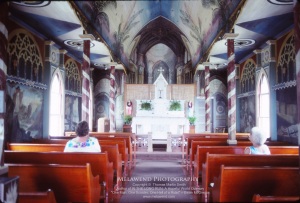 The beautiful St. Benedict's Roman Catholic Church – "The Painted Church" – overlooking Kealakekua Bay on the big island.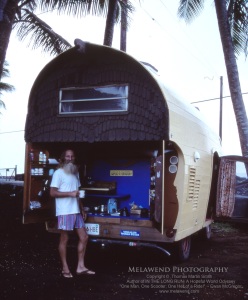 Living an easy lifestyle of his own design – on the big island.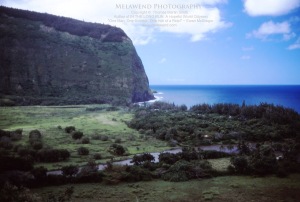 The Waipi'o River, Waipi'o Valley, Hawaii
Waipi'o Valley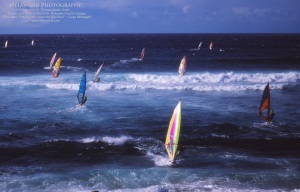 Ho'okipa Beach Park on the north shore of Maui – world famous for windsurfing!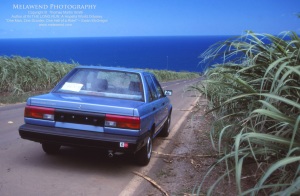 Maui – driving past vast fields of sugarcane in my rental car.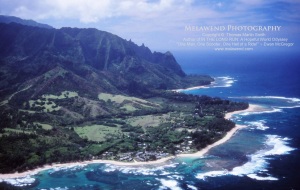 The spectacular Na Pali Coast – here, on the northwest coast of Maui.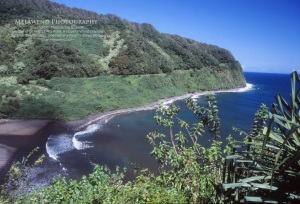 INSERT – photos of the curvy Road to Hana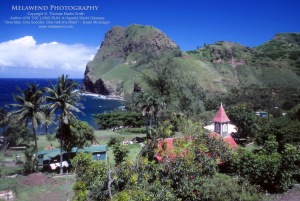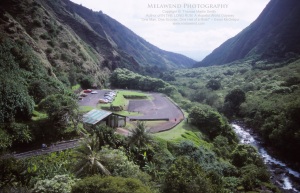 Iao Valley, Maui
Ironically for Captain Cook, just a little further south along the coast was Pu'uhonua O Honaunau – City of Refuge.  It was now Pu'uhonua O Honaunau National Historical Park.  This was an idyllic site of white sands, palm trees, ancient native buildings and sculpture.  In particular, there was a reconstruction of a 12th century heiau (temple) – a small thatched building with a high gable roof, surrounded by a fence of sharpened wooden posts and pillars surmounted by tiki (carved statues of gods).  Here, the kahuna (sacred priest and priestess of the heiau) practiced various religious rites.  The story went that if wrongdoers could make it to the heiau at this site, they would be given sanctuary from retribution.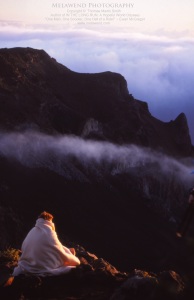 A person wisely brought a blanket to take in the sunrise atop Haleakala Crater, Maui.  When the sun rose, so did the cloud in the crater – bathing everyone in very cold dampness!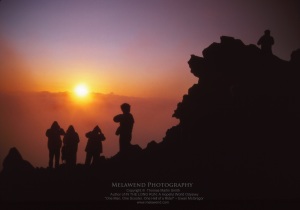 This was an awesome experience! …sunrise 10,000 feet above sea level, on the rim of Haleakala Crater, Maui, Hawaii…
PHOTO TIP: Instead of doing what most people do – aim their camera's directly at the sun at sunrise – centered in the frame…. step back to include some "foreground interest" – here, the tourists taking their photos – while standing amid amazing volcanic formations on the rim of the crater. Expose for the sky just above the sun, so the sun is just outside the frame. Lock that exposure then compose your picture and shoot!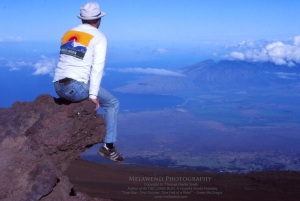 Yours truly sitting on an amazing volcanic extrusion that looked like the head of a prehistoric bird.  Indeed I felt like I was flying by the seat of my pants – 10,000 feet above the Pacific, on the edge of Haleakala Crater.  I saw this and went for this self-portrait.
When life presents you with what seems like an opportunity that might never present itself again… do you go for it?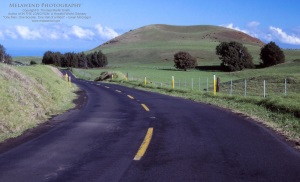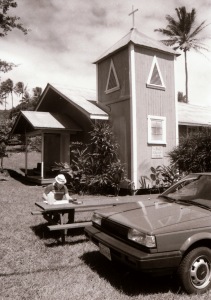 I stopped at St. Paul's Church, a simple green-painted building than had a picnic table by the roadside.  I stopped here to eat and consult my map.  Two middle-aged couples in two separate rental cars stopped and asked if I knew where the church at which the famous aviator Charles A. Lindbergh had been buried.

(Trivia: Lindbergh was not the first person to fly across the Atlantic – he was the 79th – but he was the first to do it solo.)

After the Second World War, Lindbergh had the chance to see the horrors of German death camps but he compared this to the horrors inflicted on Japan at Hiroshima.  He never gave up his anti-war convictions.  Lindbergh the hero was remembered after the war.  He went on to become a Brigadier General.  His book "Spirit of St. Louis" won a Pulitzer Prize in 1954.

In his later years, he sought solitude with the desire to get away from human development.  He chose the east tip of Maui.

"Real freedom lies in wilderness," he said.  "Not civilization."

He campaigned for the environment, published his wartime diary and saw the his aircraft, Spirit of St. Louis, at the Smithsonian.  Before cancer took his life, he managed to wrap up his affairs, and even had his death certificate signed.  He spent his last 10 days in peace.

I got curious myself about Lindbergh's gravesite and drove on to where the road was closed.  Actually it continued on but it was rough and demanded that you had a four-wheel drive vehicle.  I consulted my AAA guidebook and there was no mention of Lindbergh's gravesite.  I backtracked and saw cars parked along an unmarked lane that was across the road near to St. Paul's Church.  I drove down this long lane and found amid the trees, Palapala Hoomau Congregational Church.  This was a whitewashed stone church with a gable roof and was situated on a beautiful oceanfront lot.  The one-room church was open so I wandered inside.  The room fairly small and had simple beige-painted walls and a low ceiling above the pews and altar.  In one window, there was a full-size, full colour translucent image of Christ.

There were some old graves here, but there were no living people wandering around them.  I looked for some kind of headstone that might suit the grave of a famous aviator.  I came upon one last plot that was off by itself near a tree.  The grass had been worn away to bare dirt across the front of the plot.  You could only determine the front of the grave by the words on a large slab.  It was a simple plot – a few small stakes in the ground with a lightweight chain hung low between them (a two-year-old could easily have stepped over it).  Round black volcanic rocks formed a large square around the mottled central stone slab.  These words were written across the base of that slab: "If I take the wings of the morning and dwell in the uttermost part of the sea".  The initials "C.L" followed that quotation.  The inscription at the top of the slab: "Charles A. Lindbergh   Born Michigan 1902   Died Maui 1974."  Otherwise, there had been no sign anywhere to indicate that Lindbergh was buried here.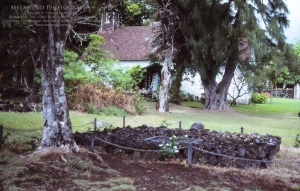 Palapala Hoomau Congregational Church, Maui – and the gravesite of Charles Lindbergh.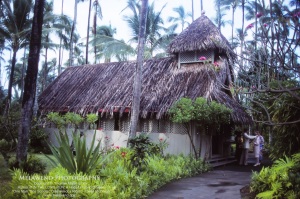 I was so privileged to stay at the Coco Palms Resort.  Here is the wedding chapel famously used where Elvis Presley "married" Joan Blackman in a 20-minutes scene in the movie Blue Hawaii.
Hollywood's presence felt in so many places!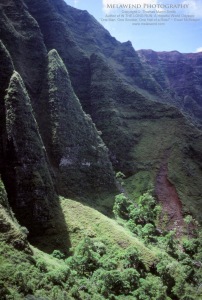 More views of the mesmerizing Na Pali Coast – Kauai – by helicopter.
Seize breath-taking opportunities in your life, my friend!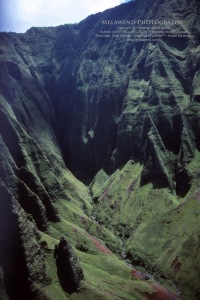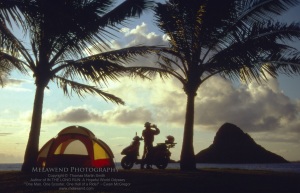 Melawend and I – the only campers at Kualoa Regional Park.  The island just offshore – Mokoli'i Island – perhaps better known as "Chinaman's Hat".  It was so beautiful here – and I had the narrow strip of beach all to myself that night – that I did something I had never done before – stood there totally nude – loving how the Pacific breeze caressed my entire body.
It was difficult to leave such a paradise…. but the next stop was good old North America – and the home run!

CANADA ~~ ENGLAND ~~ WALES ~~ SCOTLAND ~~ NORWAY ~~ SWEDEN ~~ DENMARK ~~ THE NETHERLANDS ~~ BELGIUM ~~ LUXEMBOURG ~~ GERMANY ~~ LIECHTENSTEIN ~~ AUSTRIA ~~ SWITZERLAND ~~ FRANCE ~~ SPAIN ~~ MONACO ~~ ITALY ~~ THE VATICAN ~~ GREECE ~~ EGYPT ~~ SUDAN ~~ KENYA ~~ INDIA ~~ NEPAL ~~ SINGAPORE ~~ MALAYSIA ~~ JAPAN ~~ HAWAII ~~ USA ~~ RETURN
MELAWEND – My Amazing Honda Elite 250 Motorscooter
Helpful Quotes & Odyssey Photos by Tom
NEWS ~ About ITLR ~ About Tom ~ Chapters ~ Galleries ~ FAQ ~ Contact ~ For YOU!
Chapter 1: Crossroads
Chapter 23: Sojourn in Greece
Chapter 24: The Ups and Downs of Egypt
IN THE LONG RUN: Stories Written From The Road
Christmas in Greece – lively, lonely…