Part II              Great, Great, Great Britain
Chapter 8          White Cliffs and Castles
Chapter 10         Roots and Revolution
Chapter 13        Of the BBC  and the North Sea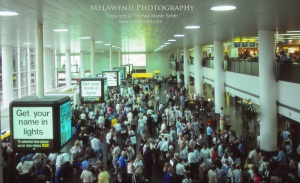 I ended up spending two days and nights at Gatwick Airport, London – waiting for Melawend to arrive and be cleared through Customs.  Here, I grow anxious to leave – getting above the ever-coming-and-going crowds.
     The purpose in coming to an airport is to leave it. And I had come to the second busiest international passenger airport in the world (Heathrow was first).  I saw the usual hordes of people meeting and hugging and leaving quickly with their luggage and loved ones.  There was no one here for me.  I felt crushed by bodies, baggage and the harsh echoing of voices.  I felt alienated by the disembodied though sexy female voice on the PA:  "Mr. and Mrs. Tuppas, recently arrived from New York…"  I scrambled up to a deserted second-level lookout.  I stood below a closed circuit TV camera and surveyed the crowds – such a seething ebb and flow. Get me out of here!

     Gatwick would be home for the next two days and nights. It began with anxious phone calls.  I was two months late in getting my project underway – would anyone remember that I was coming?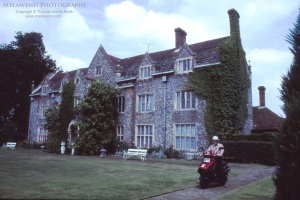 On of my first camps in England was at beautiful, historic Ecclesden Manor – complete with peacocks sounding out at 3:00 a.m – hosted by the owners, John & Jackie Lower and their family.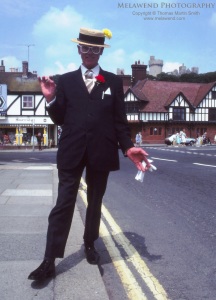 Horace, "The Dandy of Arundel" – a most friendly chap!
I took photos of a retired couple that was reading newspapers as they sat on a slat bench under a tree near the rebuilt bridge. I went on the bridge to photograph the castle and the village.  A strange-looking man entered my viewfinder and came toward me.  He was thin and wore a black pinstripe suit with a red carnation in the lapel and a handkerchief folded to a point in his breast pocket.  He wore a white shirt and a striped tie with a gold clasp. On his head he wore a cream colored boater with a yellow carnation blooming from the hat's wide black band.  He was wearing big white-rimmed glasses in the early style of Elton John.  He flourished a pair of white gloves and walked with the jaunty lightness of Fred Astaire.

He smiled and talked to people as they passed him. Most responded with quizzical looks or smiles.  He also smiled and talked when no one was near him.

"And a fine day to you, good sir," he said.

"Good morning. My name is Tom.  And yours…?"

"Horace is the name."

"Horace, you look splendid in that fine suit. I love your hat.  May I take your picture?"

"Why certainly, but please be quick as I have a very important luncheon engagement." As I focused the camera, he said, "Where are you from, Thomas?"

Horace smiled, splayed his arms and hands and for a moment, I had that image of Fred Astaire. Click. Click.  I told him of Fort Erie and about my journey.

"That's simply marvelous!" He came closer, looked about secretively and said, "If I were younger, I would love to go with you." He stood back.  "But now I really must go to lunch.  Good day to you Thomas and have a fine journey!"

With that, Horace spun on the heels of his shiny black shoes and danced back toward the village.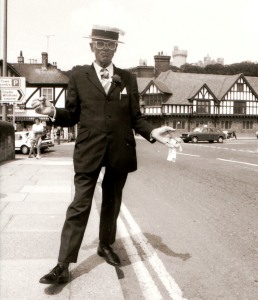 And the b&w photo of Horace used in the Times-Review story.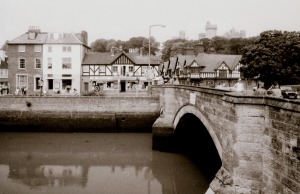 In the photos of Horace above, the too of us met and took that photo while standing on this bridge – Arundel Bridge – over the River Arun.  This b&w photo was used in the same Times-Review story.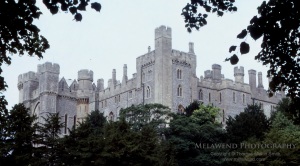 Arundel Castle, Arundel, England.  Near Angmering, where I was camped at Ecclesden Manor.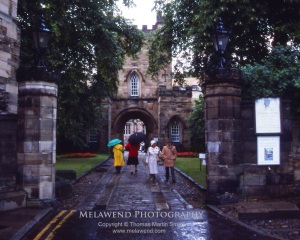 Durham Castle, Durham, England – near Newcastle.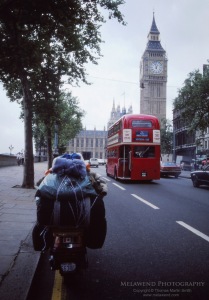 We made it to jolly old England!  Melawend and Big Ben in London!
– from Chapter 8: White Cliffs and Castles
It seemed frivolous, even arrogant to include London in my diplomatic agenda, to rank little Fort Erie with such a world-class city, but I had no list of communities to follow. And because Fort Erie was known as "The Gateway to Canada", I felt justified in incorporating national capitals in my mission: Were they not also gateways to their respective countries?  And because of our British heritage, what better capital to begin with than London?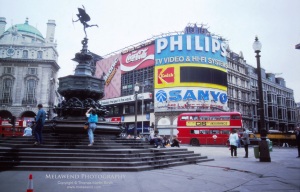 Piccadilly Circus, London, with its famous statue of Eros, the Greek god of love.
Melawend – my royal coach – resting stately before the gates of Buckingham Palace, London.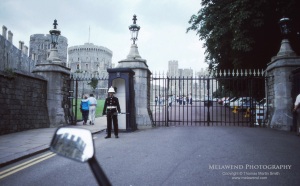 Windsor Castle – home of the Queen and her family.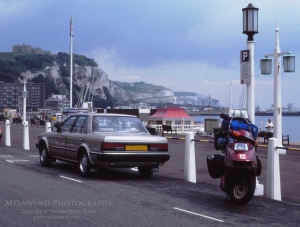 Melawend reaches the white cliffs of Dover, England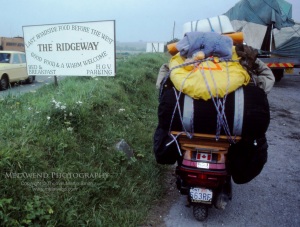 I took this just for the sign – The Ridgeway – B&B on a road out of London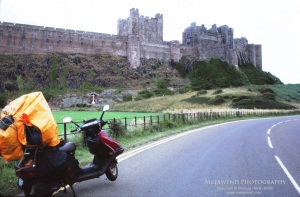 Bramburgh Castle, England, on the road to Newcastle.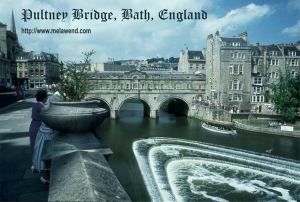 The Abbey, Bath, England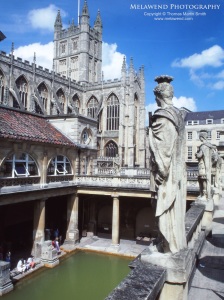 The Roman Baths, Bath, England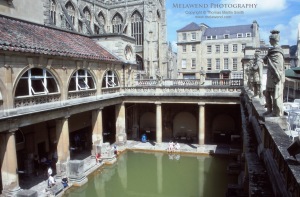 The Roman Baths, Bath, England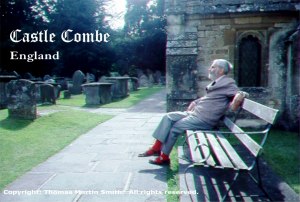 Castle Combe, near Bath, England – chosen as "the prettiest village in England". Hollywood had invaded the village in 1966, filming it as the harbor town in Doctor Dolittle (though the village is 17 miles from the sea).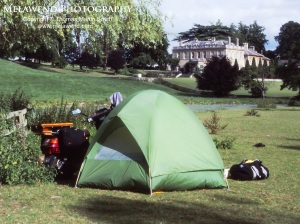 Melawend and I camp stately on Glympton Estate, England.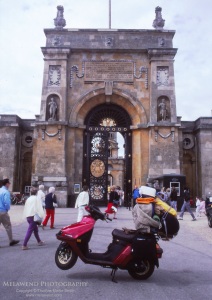 Melawend takes a stand in front Blenheim Palace, Woodstock, Oxfordshire, England
– birthplace and childhood home of Sir Winston Churchill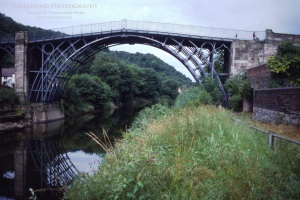 The Iron Bridge… Ironbridge, Shropshire, England. I was told by my Grandfather – Thomas Jefferson Darby – that we are descended from the man who build the worlds' first bridge made of iron – this bridge.   Abraham Darby was the first to smelt iron using coke and became the builder of this bridge over the River Severn.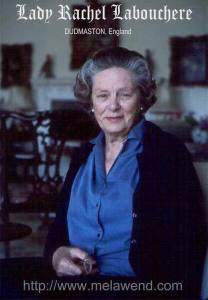 In her home at Dudmaston Manor, I met Lady Rachel Labouchere, a descendent of Albert Darby, brother of Abraham Darby, who was truly one of the fathers of the Industrial Revolution.  She was happy to meet one of the Darby descendants – and quite possibly a relative of hers!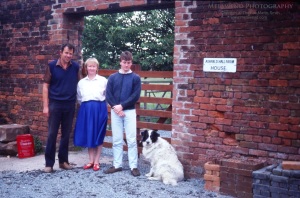 My hosts Denis and Pam Smith & family at their residence – Ashfield Hall Farm, near Neston, England.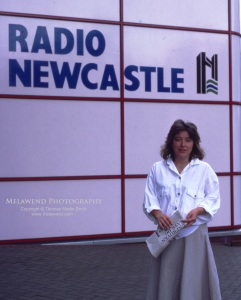 Brigeen Clafferty, a producer at BBC Radio Newcastle – together with her boyfriend Alan Rooks, hosted me and helped me get employment as the official photographer of Newcastle's first Tyneside Music Festival!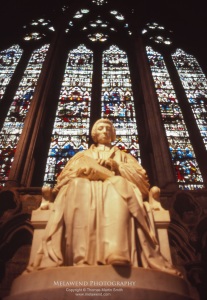 Durham Castle, Durham, England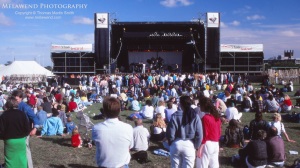 I had a blast being Official Photographer for Newcastle's first Tyneside Music Festival!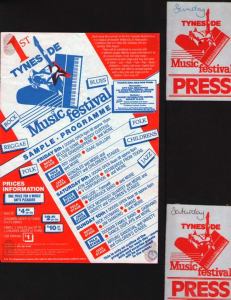 The Press Pass I was given for each of the two days of the festival.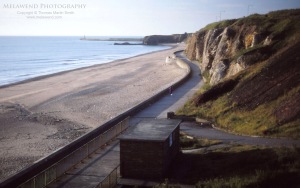 The promenade along the North Sea at Seaham, England.  Seaham was famous in part because here, on January 2, 1815, Lord Byron married a local girl, Anne Isabella Milbanke.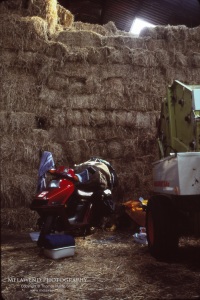 Accommodations for Melawend and me for the night in Seaham, England.

CANADA ~~ ENGLAND ~~ WALES ~~ SCOTLAND ~~ NORWAY ~~ SWEDEN ~~ DENMARK ~~ THE NETHERLANDS ~~ BELGIUM ~~ LUXEMBOURG ~~ GERMANY ~~ LIECHTENSTEIN ~~ AUSTRIA ~~ SWITZERLAND ~~ FRANCE ~~ SPAIN ~~ MONACO ~~ ITALY ~~ THE VATICAN ~~ GREECE ~~ EGYPT ~~ SUDAN ~~ KENYA ~~ INDIA ~~ NEPAL ~~ SINGAPORE ~~ MALAYSIA ~~ JAPAN ~~ HAWAII ~~ USA ~~ RETURN
MELAWEND – My Amazing Honda Elite 250 Motorscooter
Helpful Quotes & Odyssey Photos by Tom
NEWS ~ About ITLR ~ About Tom ~ Chapters ~ Galleries ~ FAQ ~ Contact ~ For YOU!
Chapter 1: Crossroads
Chapter 23: Sojourn in Greece
Chapter 24: The Ups and Downs of Egypt
IN THE LONG RUN: Stories Written From The Road
Christmas in Greece – lively, lonely…