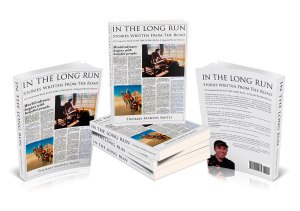 Be one of the first to get an entertaining and perhaps even inspirational and life-transformational book – the first of two books about my two-year journey on motorscooter Melawend to promote friendship and communication. Just imagine the adventures and life-transformational growth that came from that! Hard-won lessons that might help you on you and your loved ones' continuing journey through life….
I think you'll like it and will get good things out of the story for your own life.
IN THE LONG RUN: Stories Written From The Road comprises the 18 stories I wrote for my hometown newspaper during that two-year trip – but you will get them all at once! The book also contains 51 color photos!
Of the consumate book – IN THE LONG RUN: A Hopeful World Odyssey – also coming to Amazon! – I've been blessed with some great reader reviews, including this hand-written blurb I received…
"My two trips by bike were amazing and life-changing, but short compared to Tom's two-year travelling extravaganza! One Man, One Scooter, One Hell of a Ride!"
~ Ewan McGregor, actor, humanitarian, co-author of Long Way Round and Long Way Down
If you decide to get it and you like it, PLEASE POST A REVIEW ON THE AMAZON PAGE.
And check out the website based on the journey: http://www.melawend.com
And while you're there… LET'S CONNECT! Sign up for updates! See sign-up form in the upper right on the page!
PLEASE SHARE THIS with anyone you feel might like it!
Let's move forward!