Part I               Trial Run
Chapter 1           Crossroads
Chapter 2           Of Home and the River
Chapter 3           Never Over the Falls
Chapter 4          The Golden Horseshoe
Chapter 5           Capital Wonders… and Blunders
Chapter 6          The French Connection
Chapter 7           Eastern Passage
The odyssey begins!  (Or does it?….)
You can read Chapter 1: Crossroads – in full – on the Chapters page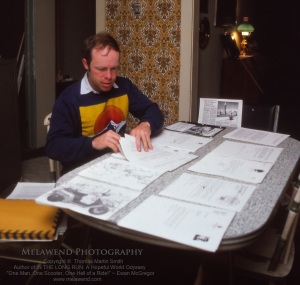 In the kitchen of my Dad's home in Ridgeway, Ontario (part of Greater Fort Erie) – as I prepare to send out notice of my trip to the various Canadian Embassies and Consulates I would be working through.
– from Chapter 1: Crossroads
As I lay there in the dim light, I thought, I'm no activist. And maybe this enterprise of mine is too broad, vague and personal. But I had convinced myself that perhaps by getting out of myself, getting out there, getting focused, seeing as much of the world as I could, meeting people on their own ground (were people truly the same wherever you went?), promote a little international friendship, and then come back and tell about it – write this book – maybe some readers would look at the world, and themselves, more positively.  And perhaps I would grow in the exchange.  But now, only hours before my departure, I wondered if going on good intentions would be good enough.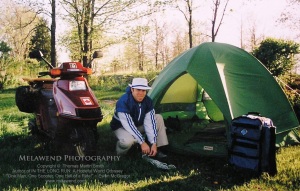 Melawend and I at our first campsite!  the KOA in Mallorytown, Ontario – which was officially opened yet!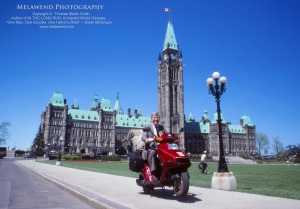 Our regional Member of Parilament – Girve Fretz – aboard Melawend for a nice photo-op as I was heading east toward Halifax, Nova Scotia.  Girve was helpful to my journey.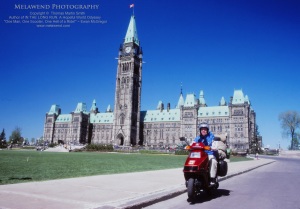 Melawend and I getting ready to leave Ottawa.  Your writer blew Photo-Op 101, big-time!  Shortly after I took this photo and put the camera and tripod back on the load, a man in a suit, carrying a briefcase, came diagonally across the lawn from Centre Block (the main building the background) to greet me and ask me about my trip…. it was Joe Clark – or former Prime Minister and then current Minister of Foreign Affairs – literally the head man for all the Canadian Embassies and Consulates I would be working through as I made my way around the world!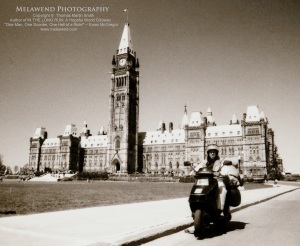 The same composition – but taken with the Minolta X700 that had black & white film – to be used for taking photos for the hometown newspaper I would be writing for… and this was the first photo used in the first story.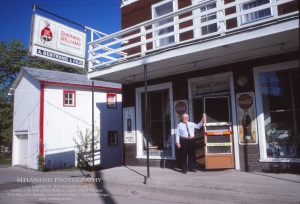 Alain Bertrand at his general store in Rigaud, Quebec.  He and his brother directed me to nearby Sanctuaire Notre-Dame-de-Lourdes – a hillside shrine where I would make my first camp in Quebec.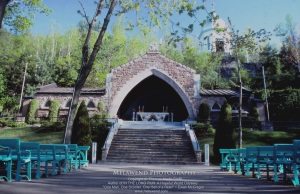 Sanctuaire Notre-Dame-de-Lourdes – Mount Rigaud, Quebec.  It truly became my sanctuary.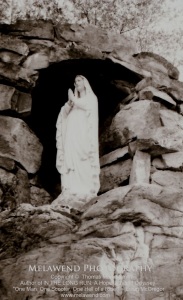 A black and white photo of a statue of Mary that I took at Sanctuaire Notre-Dame-de-Lourdes – used in the first story for the Times-Review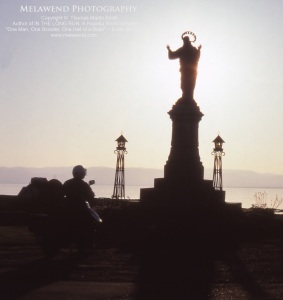 I take a moment on Melawend to pray before a statue of Jesus beside at St. Lawrence River at a church in Saint-Roch-des-Aulnaies, Quebec.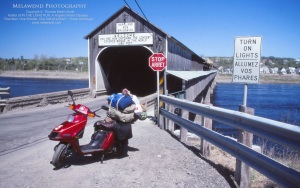 The Hartland Bridge, New Brunswick – the longest covered bridge in the world.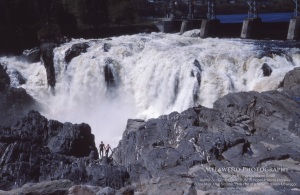 Always awestruck by Nature's beauty and power, I stop to take this photo at Grand Falls, New Brunswick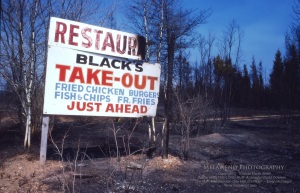 Again, awestruck by the power of Nature and it's destruction – natural or man-made – I stop to photo this aftermath part of massive fires that were ravaging New Brunswick – this was about 40 miles beyond Fredericton.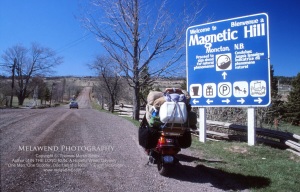 Magnetic Hill – near Moncton, New Brunswick – and optical illusion created by rising and descending terrain.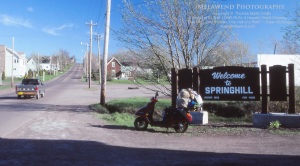 Springhill, Nova Scotia – home one of Canada's best-ever singers – Anne Murray.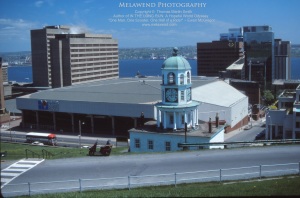 From Citadel Hill… Halifax, Nova Scotia.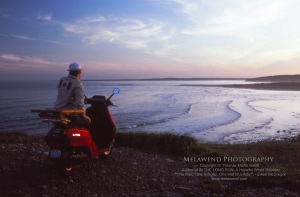 As my efforts in Halifax to find onward passage were failing, I sought reflective refuge by the sea.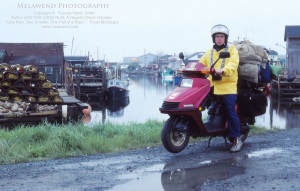 About to start the return trip to Ridgeway.  The weather matched my spirit.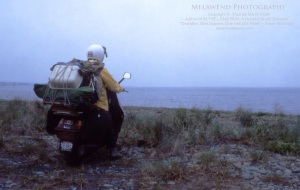 One last look at the brooding Atlantic before turning around and heading west…. 1,600 miles back to Ridgeway – with the intent to try again!
On the return trip to Ridgeway, one of my most beautiful campsites was at this church in Leclercville, Quebec, where I had been turned away on the way to Halifax.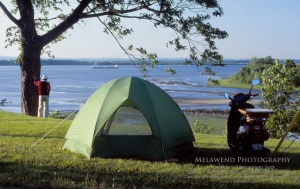 Melawend and I at our campsite on the lawn of the church overlooking the village of Leclercville, Quebec, and the Rivière du Chêne where it enters the St. Lawrence River.
After my return to Ridgeway, Peace Bridge Brokerage – whose headquarters was in Fort Erie – extended their "Magic Carpet Service" to me and Melawend by sponsoring our flight from Toronto of London.  Here, PBB staff pick up Melawend from Dad's home – to be crated and flown!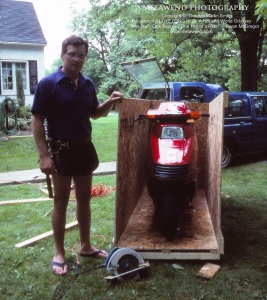 Acting for PBB, Bob Rivet of Fort Erie builds the crate that will carry Melawend to England.

CANADA ~~ ENGLAND ~~ WALES ~~ SCOTLAND ~~ NORWAY ~~ SWEDEN ~~ DENMARK ~~ THE NETHERLANDS ~~ BELGIUM ~~ LUXEMBOURG ~~ GERMANY ~~ LIECHTENSTEIN ~~ AUSTRIA ~~ SWITZERLAND ~~ FRANCE ~~ SPAIN ~~ MONACO ~~ ITALY ~~ THE VATICAN ~~ GREECE ~~ EGYPT ~~ SUDAN ~~ KENYA ~~ INDIA ~~ NEPAL ~~ SINGAPORE ~~ MALAYSIA ~~ JAPAN ~~ HAWAII ~~ USA ~~ RETURN
MELAWEND – My Amazing Honda Elite 250 Motorscooter
Helpful Quotes & Odyssey Photos by Tom
NEWS ~ About ITLR ~ About Tom ~ Chapters ~ Galleries ~ FAQ ~ Contact ~ For YOU!
Chapter 1: Crossroads
Chapter 23: Sojourn in Greece
Chapter 24: The Ups and Downs of Egypt
IN THE LONG RUN: Stories Written From The Road
Christmas in Greece – lively, lonely…