Welcome to the FAQ  (Frequently Asked Questions)
The answers to the FAQ will give you insights into the journey including things that you might find useful in your own life and travels.  Of course, you will discover complete answers by reading the book, IN THE LONG RUN: A Hopeful World Odyssey  (so there will be a few obvious but also helpful promotions for my book in the answers.)
The FAQ are bullet-listed below followed by the answers with the questions below.  (When I figure out how to bookmark/hyperlink them in WordPress, I'll do it!  🙂 )
If you have any further questions or comments, send me an e-mail.
Let's begin:
Hi Tom,
WHY did you make the journey?
WHEN did you make this journey?
HOW did you prepare for it?
That took balls.  Where did you get the courage to do it? Weren't you ever afraid?
Were you ever lonely?
WHERE did you go?  What was your route?
What countries did you like best?
What countries did you like least?
Did you ever get sick along the way?
What gear did you take with you?
How did you carry all that gear?  How did you make the cargo platform?
What is the most important thing to take?
Is there anything you did not take that you wish you had taken?
What kind of scooter did you take?
Did you have many mechanical problems with the scooter?
Did you have any accidents with the scooter?
How did you finance your trip?
What credentials did you have to undertake such a project?
Did you find it easy to get hospitality?How did you deal with language barriers?
WHO did you meet?  Since your journey had "friendship" as a theme, what kind of people did you meet?
What are some of the most important things that you learned?
How has making the journey changed you?
Is there anything you would have done differently?
I'm thinking of breaking up with my girlfriend and going around the world like you did.  Do you think I should do it?
I'd like to do something like you did.  Any suggestions on how to get started?
Are you planning any more long journeys?
What's are you working on now, Tom?
At 460,000 words, your book is almost as long as Tolkien's The Lord of the Rings.  Why ?
WHY did you make the journey?
You will find many of the answers in Chapter I, which is presented in full on this website. More reasons also become clear throughout the story.
Basically, I was at a crossroads in my life – a broke, divorced father looking for a new career, and needing new perspectives on live and love.   And I wanted to do something about those altruistic feelings for the world so many of us have – wanting world peace, an end to war, poverty, disease, prejudice, ignorance, environmental destruction,  and so on.  I did a lot of soul-searching; wrote notes from the flow of thoughts, feelings, and discoveries.   Finally, I came up with this project: to go around the world promoting friendship and international communication, to use and develop my skills as a writer and photographer, and to grow as an individual in the process.
You can imagine that was a pretty scary self-assigned gig – especially for a shy guy  as I was!
One of the main goals was to write a useful and entertaining book about the journey.   Something truly different.  For example, have you ever read any of those personal travel books that seemed to be just another "been there, done that", bitch-about-the-local-customs story?  I had. Boring!  And so useless if the writer did not grow from it.  I wanted to write a book that would give readers – you – more of a sense of what it's really like discovering people on their own ground, and discovering youself in the process.  And it would be about what it's like to truly travel – not simply structured "touring" – and so much more. It would be about the true effects on the mind, heart, spirit and body, how travel works on you to change you, hopefully for the better.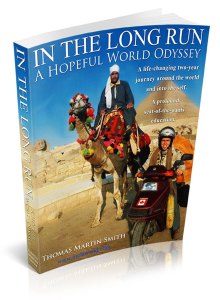 I wanted to write the book to provoke personal thoughts and feelings in YOU – for example, to perhaps rekindle memories of YOUR life, and to make you imagine how YOU might have handled various situations during this journey (thereby making my experience your own and grow from that) – and to perhaps find yourself saying things like:
"You really wimped out on that one, Tom.   I would have…"
– or –
"Hey, that's a great idea!  Maybe I could try that."
In sum, I wanted to write a book that is worth re-reading for the value that you would find in it for yourself.
Readers have told me I was successful…
"p.s. Your book is so full of info, I'm going to have to read it again just to digest all of the information it contains. 🙂 I can tell you put a lot of love, time and effort into it. You're an excellent writer."
BILL CHAMBERS,  Rush Springs, Oklahoma, USA, College teacher
"You have got me dusting off your book and reading it for the second time around.  (Something I never do with books.)  …I think your book blows the doors off Ted Simon, Doc Frasier and the rest of them. Yes, I have read them. While I think that what simon and frasier did is fantastic, your writing stands head and shoulders above theirs. Your writing really puts me in the saddle with you."…"I think your book would be a smash hit if the word ever got out."
DENNIS LATZY, Cool, Califirnia, USA, Operator, water treatment plant and a motorcycle enthusiast
I found that the purpose of the Odyssey did not end with the physical end of the journey or with the completion of the book – but that it will continue to grow through inspirations that will lead to future projects, including upcoming writings.  (I am working on another personal growth, travel-related book.)
Back to the questions
When did you make this journey?
It began May 10, 1986 when I left my hometown of Fort Erie, Ontario, and headed east.    (My hood in Fort Erie – where I was born and raised – Ridgeway – is part of Greater Fort Erie.)  It ended when I crossed the Peace Bridge between Buffalo, New York, and Fort Erie on July 2, 1988.  Melawend and I rode into our annual Friendship Festival – commemorating the peace between Canada and the USA since 1812 – with Fort Erie and Buffalo being the last site of armed hostility between our two nations..
Back to the questions
How did you prepare for it?
Again, much of this is covered in the Chapter I.
As I did that soul-searching, I made notes of thoughts and ideas as they came to me.  I studied books about world journeys.  I gradually turned notes into plans for action.   I contacted mentors, including internationally-renowned photographer Ivor Sharp (now deceased) and travel columnist and former Chief of the Journalism & Creative Writing Department for the University of Alaska, the Jimmy Bedford (also deceased).  I determined my equipment needs and began to source and contact potential sponsors.  I wore out a lot of shoe leather presenting my project.  I charted my course and wrote to my country's representatives (embassies, consulates) in the countries I planned to visit to see if they could help set up appointments with local officials.  And I continued making notes and plans, leaving myself open to new discoveries and opportunities.
What I did just to get started was not nearly enough.   I knew that.  I knew that I would have to get out of my personal shell and seek help all along the way – hospitality, sponsorship, jobs, come up with win/win solutions – whatever it would take, especially of me.
So the Odyssey was also a great seat-of-the-pants learning experience in how to make things happen for yourself – often by helping things happen for others.
Back to the questions
Where did you get the courage to do it?
As I was on the home run after nearly two years on the road,  huge guy at a service station near Reno, Nevada, saw Melawend and her huge load, asked what I was up to, and then said, "You must have balls this big!"
Afraid?   Absolutely!  Balls? Courage?  I don't know.  Maybe I can best answer that with a question:   Have you ever been inhibited from doing something by dark imaginings of so many things that  might go wrong?  All that worry and fear.  I just tired to limit those thoughts.  As Jules Verne said through Phileas Fogg in Around the World in Eighty Days, "The unforeseen does not exist."
But that is also a bit like saying, "Ignorance is bliss."   Bliss?  That's bullshit. It's far better to know what you're up against, or might face. That makes you better-prepared to take it on when, or if, it happens.  I found it's better to spend more time seeing yourself accomplishing your goals.  Make those positive images much bigger and brighter and more frequent in your mind – that will help give you the courage to go on.
True, you put yourself at more risk in such an undertaking, but if you believe in what you are doing, the rewards are worth it, in the long run.  When things do go awry, you are forced to deal with them – and that too can lead to good growth experiences.    That was essentially my mindset.  The wonderful responses I received from people around the world fortified my quest.  From the people who welcomed me into their homes to the executives at big corporations that joined in to help, so many people gave me encouragement to keep going.
Said Dr. Jugen Kull of Germany: "It is always nice to meet people who realize our dreams and prove that it can be done." The story is abundant with people sharing such feelings – being much more about themselves than me.
Back to the questions
Were you ever lonely?
Definitely!   Many times.  I often experienced loneliness when things were going badly, as they did for over a month in Kathmandu.  I would fall back on memories for comfort.     I missed loved ones, and longed to have a special girl in my life.   Going in cold to get sponsorship was something I had to face throughout the journey.  It could get lonely when continual efforts in one place proved difficult or fruitless.  I would get lonely when moving on to another strange place and begin to miss friends that I had just made and had to leave, not knowing if I would ever meet them again, and not knowing if I would find new friends.
But I also knew I was never truly alone.  I'm not very religious, but I did talk to God often during the journey.  I felt God's presence on Mount Sinai.  After the accident that first day out in England, a woman passenger in the car said, "Someone is watching over you."  I knew that God was and would always be there for me.
Back to the questions
What countries did you visit?  What was your route?
The route: from Ridgeway, Ontario Canada – thence north and east to Toronto, Ottawa, Montreal, Quebec, Frederickton, and Halifax.  Having not secured onward passage to England, I had to return to Ridgeway.  Melawend and then flew from Toronto to London, toured England, Wales and Scotand.  Thence we ferried to Norway and rode through Sweden, Denmark, Germany, the Netherlands, Belgium, France, Spain, Monaco, Italy (including Vatican City, which is an independent entity), Greece, Egypt, Sudan, Kenya, India, Nepal, Singapore, Malaysia, Japan, Hawaii, the continental USA from Los Angeles to San Francisco, thence east across the Continental Divide and the American heartland to Tennesee, on up the Blue Ridge Parkway to Washington, D.C., (to the Eisenhower Executive Building, next to the White House), and on to New York City (to a mini press conference at the UN), and on to Buffalo – then home!
Back to the questions
What countries did you like best?
Every country appealed to me in some way… at risk of sounding like brouchures…
the UK and Europe for being so steeped in history, was like riding into period paintings – ancient to modern – around virtually every bend, over every hill;
Norway for its awesome landscapes;
Sweden for reminding me of Ontario, of home;
Denmark, the Netherlands, Belgium, and Luxembourgh like riding into classic tales of old;
Germany for its robust cities and spectacular countryside,
France for its pervasive spirit of romance – the streets of Paris, along the Loire, French vineyards;
Spain for its rugged old-world beauty, vitality and echoes of heroism,
Monaco for its quiet opulent ambiance;
Vatican City for its majesty and timeless display of faith;
Italy and Greece each for their antiquities, and their unique earthy exuberance and yet laid-back atmosphere;
Egypt for its splendid blend of ancient and modern wonders along the awesome Nile and the Sinai;
Sudan for its stark desert beauty;
Kenya for its humbling landscapes and wildlife;
India for its awesome land, spectacular buildings, and amazing people-scapes;
Nepal for its pristine majestic beauty and humble ancient ways;
Singapore for being a island paradise of the modern kind:
Malaysia for its laid-back ways and beautiful land and seascapes (base mostly on the visit to awesome Timoan Island
Japan for the clean organized exquisite uban mass of Tokyo with its surprising pockets of beauty, spirituality and solitude
Hawaii for its almost overwhelming beauty, seductive shores, rich history and natural wonders;
The USA for its majestic land, sea, and cityscapes; its vigorous history; its sweeping coloful tapestry of blended cultures; its vitaltiy; its modern spirit of passion, compassions; creativity and freedom
Canada for its vast and unparalleled natural beauty; its youth and vitality; its peaceful and humanitarian ways; for being such an awesome place to have been born and raised in.
But the most important aspect I found about every country was its people.  I heard tales of abuse, theft, even violence committed by locals upon tourists.  I witnessed some abuses myself.  Maybe I was lucky because my bad experiences of people were few, usually born of misunderstandings.  Sure, I had a lot of lonely times during the journey, especially just after leaving new-found friends for the next destination, but abundant hospitality, generosity, helpfulness, compassion, friendship, and spontaneous acts of kindness, and memories of so many wonderful people I'd met filled the days and nights of my journey.  I found that people anywhere, given the opportunity, really wanted to share the commonalities of life – family get-togethers, good food, laughter, tales of their lives, things they took pride in, and their hopes for the future.
True, every country I visited had its miseries and conflicts, and mean-spirited people, but my encounters left me very hopeful for humanity as a whole, even more than when Melawend and I started out.  Humanity, I feel, is still a work in progress.   It is growing more complex in sheer numbers, cultural diversity, and the increasing demands we make on our finite planet – growing pains – but there is far more information and contact available to many more of us now.   We are not isolated.  We see and we care more about what's going on in the greater world.  Just look at the outpouring of help worldwide to the victims of the Boxing Day 2005 tsunamis.  That was truly encouraging!  The essence of human good is coming to the fore.  Even in our own schools where there is a "no-tolerance" policy towards bullying, is hopeful – and it speaks for what is going on in the world today.
In sum, I would happily go back to any country I visited.  And I am eager to visit many more!
Back to the questions
What countries did you like least?
Well, having said all that above, I would regrettably still have to be cautious as a traveler in some countries.  Sudan is an awesome country with excellent potential, but it is still extremely risky to travel in war-torn areas.
There is good and bad in every country, even in the most developed countries.   Traveling anywhere there are open hostilities is dangerous.  That is the sad thing.  There are beautiful areas of the world that are closed to visitors.   It's best to check with your own country's travel advisories.  Check with online sources.  Join online travel groups and talk with travelers who have recently returned from where you want to go.
Truly, I would love to travel to every country on earth.
Back to the questions
Did you ever get sick along the way?
Can you imagine loosing 24 pounds in just 16 days?   Sounds fantastic, eh?  I did it.  But it wasn't pretty. Now imagine a gray, gaunt zombie – that was yours truly.  I had a nasty bout of bacillary dysentery while I was in Kathmandu.  Thanks to the staff at the CIEWC clinic in Nepal I went from major concern to general recovery.  I even wrote a militaristic parody of the episode, which is included in the book.
Other than that, I had no more than the usual colds and chills you might expect from camping in damp cool weather.
Back to the questions
What gear did you take with you?
Clothes for all seasons (I took far too many clothes – including a parka, two sweaters, two jackets, shorts, t-shirts, floppy Stetson hat, etc… clothes for all seasons. I started to lighten this part of the load after reaching Greece.)  I also took too many toiletries – including a stock of each item (toothpaste, for example) thinking it might be expensive to buy them on the way.
Camping gear – including a Eureka! tent (the Promo Dome through to Nairobi, and the Wind River, shipped to me in Kenya, used until I got home), a Lugger sleeping bag, ground sheet, and a Taymor self-inflating mat.  And believe it or not, I even took the kitchen sink! – a Rubbermaid basin that I used for washing dishes and clothes, etc.
Three 35mm SLR cameras: Minolta X700's (They still work!) and accessories – including several lenses, and many accessories including a full-size Manfrotto tripod (which I still use!)
Realistic tape recorder
RCA Walkman and 10 pre-recorded cassette tapes
A small camp stove and pots & pan set and utensils.  I did little cooking so I sold the stove to other travelers in Kenya.
Spare scooter parts. I took some with me.  In preparing to go to Africa, I recieved a large shipment of spare parts while in Greece, including three spare tires.  But some parts, including brake pads and a set of shock absorbers, were never used.
A thin leather briefcase for my diplomatic missions, together with letters of greeting, photocopies of my articles, a small photography portfolio, etc.
Riding gear –  I started out with little – an ill-fitting workman's (note motorcycle rider's) rainsuit and an open-face ARAI Helmet (which went missing between Kenya and India).  At ARAI HELMET headquarters in Tokyo, I met Mrs Chiyoko Arai, widow of the company founder, Hirotake Arai.  Through her and Hiro Kumura, Arai's Export Manager, I was given a lot of gear including a jacket, t-shirts, luggage, and a top-of-the-line helmet (and replacement parts) customized personally by Hiro with my name and the name of my journey. (Mrs. Arai also presented me with two gift-boxed hams (retailed for US$100 in Tokyo! – which I gave to Ron McKay, my hero in Japan.)  When I got to Los Angeles, American Honda donated a lot of great Hondaline gear including a riding jacket, leather gloves
Books – travel guides, phrase books, notebooks (which I did buy along the way) and to help me with my writing assignments: pocket book editions of Roget's Thesaurus, Collier's Dictionary, and Ernest Hemingway's BY-LINE ERNEST HEMINGWAY: Selected Articles and Dispatches of Four Decades.
Back to the questions
How did you carry all that gear?  How did you make the cargo platform?
I used two soft saddlebags that had side supports and two wide Velcro straps running between them across the passenger part of the seat.  I sometimes carried gear in bag secured by Velcro and a chain – the bag rested on the floor below the steering column.  Most of the gear was tied to a wooden platform that I made before the journey began.
I built the platform freehand from scrap materials – no construction sketches. The bottom of the three photos on http://www.melawend.com/melawend.htm shows the platform lifted up, revealing its hinged mount on the scooter's stock luggage rack. The middle picture on the page shows how the platform rested on the rear part of the seat. I would tie the load to the top of the platform. As you can see from the top photo, the platform carried a LOT of gear!
The platform was made from G1S (good one side) 3/4″ fir plywood, some iron-on wood edge trim around the plywood, a piece of Redwood to anchor the hinges, two carriage bolts, the two hinges, and eyehooks through which I laced down the load. (For that, I used a long piece of water-resistant woven polystyrene rope given to me by the cargo guys at Gatwick Airport, which lasted the whole trip!  I glued some pieces of plywood on the underside of the main part of the platform to give the platform more strength and to anchor the eyehooks. I just figured out the length and width of the platform based on the items that would be going on it along with the width of Melawend and the length between the rear of the luggage rack and the front edge of the passenger part of the seat.
For shipping, I was able undo the carriage bolts and ship the platform complete with the load still attached – as one piece of "luggage" (one heavy piece!)
What appears in the bottom photo as a "backrest" is a pad I made from foam and vinyl secured to a block of wood. When the platform is down, the pad rests on contour of the "passenger" part of the scooter's seat. This also kept the platform reasonably parallel with the ground. On the Honda Elite 250, you gain access to the gas tank under the seat, which lifts up and forward on a hinge. This meant that the platform first had to be lifted off the seat, up and to the rear, hence the hinge setup on the luggage rack. To fuel up, I would lift the loaded platform up and back, being very careful not to exceed its point of balance (as happened at a gas station in Sweden – I lost my grip, the platform fell backwards hard, broke off its hinges and crashed to the ground – a Swedish Highway Patrol policeman help me remount the platform.)
While I held the platform up on this angle, I would then have undo two wide Velcro straps that rested atop the seat running between two saddle bags (see the saddlebags in the top photo. The saddlebags would flop down a bit, but still remain in place via their other mounts.) I would lift the seat up and forward, then bring the two down together so that the seat and the platform formed delicately balanced triangle over the now-exposed gas tank. "Fill 'er up!" Then I would reverse the procedure to get going again. It was awkward, but it worked for over two years.
One of the braces of the scooter's luggage rack broke in Kathmandu, but a quick weld at a local shop fixed it for the rest of the journey.
Back to the questions
What is the most important thing to take?
Well, it's something that you can carry with you anywhere you go, 24/7/365… something that does not cost or weigh anything, and, God-willing, you never run out off – a good sense of humor!  You need that when things appear to be at their worst.   Keep saying to yourself: "This too shall pass."  (My Dad always said that.) And smile!  Try to see some humor in any situation.  Think of the awesome stories you have to tell!  And when others are giving you a hard time, try to find the humor in the situation and share it – disarm them with their own laughter!    It worked for me, especially at border crossings.
Back to the questions
Is there anything you did not take that you wish you had taken?
More money!  It would have helped – a lot!  Yet being on a tight and uncertain budget for this journey actually helped make it better – by forcing me to reach out to people for hospitality and friendship.  Not having financial sponsorship meant that I had to approach companies and governments with win/win projects to gain onward passage, accommodation, etc.  It provided a lot of personal growth and lent a valuable dimensions to the journey buy developing diplomacy, negotiation, logistics, win/win solutions and so on.  Having to be creative financially became one of those "mixed blessings".
However, if you want to focus completely on your goals, set aside enough money to make the journey, beginning to end.  The allow for budget overruns.  Then add to that a financial cushion in case you meet with disaster or if you have to otherwise bail out quickly.
One of those small, thick, high-quality coil notebooks – I would rather have had one of those than the thirty or so letter-size pages of travel notes than I took in Duotang folder I kept in a resealable plastic bag.  I could have made it a quick-reference guidebook – with a more detailed itinerary, including longer and more detailed lists of people to contact, specific places to explore, and generally things to do. (I would have taken a travel-tough PDA or a laptop computer if they had existed then, with the notebook as a backup.)
When you read the story, see what else you might have taken if you were making the journey.
Back to the questions
What kind of scooter did you take?
A 1985 Honda Elite (Spacy in Europe and Australia) CH250 that I named Melawend (for my daughters Melanie and Wendy).  It was a stock machine, right out of Lapp Cycle & Parts showroom in Stevensvile, Ontario. There were no modifications to the scooter.
Back to the questions
Did you have many mechanical problems with the scooter?
Melawend was simply amazing – she carried me and too much gear over 35,000 often difficult land miles.  I wasn't much help to my mechanical steed, I'm afraid.  Being mechanically disinclined – even being forgetful of basic maintenance – Melawend did suffer.  She had a flat tire in Norway, but I didn't really notice until she was laboring to do just 10 miles per hour – and I looked down to discover the flat.  When riding from Jomo Kenyata Airport into Nairobi, Melawend overheated easily – until I found once again that one of her tires was quite low.  And after arriving in Hawaii, I forgot to put oil back in her crankcase after the flight from Japan – she ran hard again.  At Sandy Brody's Honda dealership in Waipahu, they discovered loss of compression due to a worn piston ring, so they replace it.  That was the only major work she received. Honda dealers in Spain, Singapore, and Nepal generously attended to routine maintenance I had neglected.  As she was carrying such a heavy load (me and upwards of 140 pounds of gear), I went through eight tires – three front and five rear.
In spite of my negligence, three accidents, harsh terrain (long steep mountain roads, virgin desert, deep rocky ruts, rough gravel, potholes…), horrendous heat (India), and a general complacency, "She'll get me through.", Melawend carried me all the way around the world.
It might well be good advertising for Honda, but the simple truth is that little scooter went through hell and back again. She's earned her retirement.  She deserves to have her whole story read.
Back to the questions
Did you have any accidents with the scooter?
Oh, yes!  Three main ones.
The first came the first day out in England, when Melawend and I were knocked off the road and onto a sidewalk.
The next was in a campground in Greece when three stray dogs came after us – I didn't see loose gravel on the lane… Melawend's rear wheel slid under and we slammed into a tree.
The third was in India when a man driving a new van crossed four lanes of traffic – right in front of me and I couldn't help but broadside him.  After he took off, the crowd dismissed it as my karma and when asked what I should do, the one-word answer was, "Insurance".  Right, the policy I'd paid $3.00 for.  Enough to pay for a get-well card for me and Melawend, I imagined.   Melawend survived them all.  I got scratched up near London, a torn groin muscle in Athens, and pissed off in New Delhi.
Check out the book to get the full story on each accident.
Back to the questions
How did you finance your trip?
That is often the first question a envious person asks me as well as someone who might be contemplating making such a journey.
The former sometimes make assumptions, saying, "Who paid for your trip?"  Anyway, the quick answer is: I started out with $600, then worked for money or hospitality along the way, got sponsors before and during the trip, and maxed-out my credit card (it went bust in Tokyo – find out how I managed to leave Japan, via JAL's Executive Class.).   Financing was complex, to say the least – you will find it all detailed in the book.
Basically, I had already sold much of what I owned to undertake a four-month journey by RV around Canada and the USA to build my photographic portfolio.   My goal was to apply to stock photo agencies in New York.  Four out of five I applied to offered me contracts.  I signed with one headquartered on Madison Avenue.  That helped me gain further recognition and sponsorship (goods and services, but no financial sponsorship).
To earn money as I traveled, and in exchange for hospitality (food and accommodation), I did a variety of work including writing articles for newspapers and magazines, baling hay in Wales, cleaning yards and barns, painting in Hawaii, and giving a lecture/slide presentation at a college in Tokyo.  For major expenses including onward passage by air, I applied locally to corporations and airlines for sponsorship (Melawend and I flew a total of 11 times).
Though seeking and applying for sponsorship was a profound education it itself, it was not the purpose of my journey and it consumed a lot of my time.
If you are thinking of undertaking a major enterprise, budget it generously through its forecasted conclusion.  Then allow for delays and other budget overruns.  And definitely include a financial cushion to see you through disaster.   If you need sponsorship, it is far better to have all of it (including financial sponsorship) before you go – unless you are prepared to devote a lot of time to it as you travel (time that could be better spent on the goals of your trip).
But you did get sponsors.  What kind of sponsorship did you get?  How did you apply for it?
Wow, that is a story in itself!  I remember well those early days, getting city-sore feet as I plodded the streets of Toronto, briefcase in hand (with something to eat carried in the briefcase with my proposal)…
At the outset, you'll see that Honda Canada declined assistance, citing budgets, as did other companies including airlines.  It's an easy out for a company, but you have to realize there is a possible underlying reason (one that was revealed to me by an executive) – that if you are an everyday person with no media-related background, no track record in what you are proposing to do (I'd never even ridden a motorcycle or motorscooter before), or yours is not a "tear-jerker story" (as someone in Tokyo media had put it) companies understandably project little benefit for themselves.  Sponsorship is not, nor should be, a free ride.  "All they did was ride around the UK with one of our stickers on their luggage box." Big companies like Honda tend to sponsor teams, high-profile sports champions, other celebrities, or big events – people and venues that will almost certainly generate a lot of positive media coverage and long-term brand recognition.  "That's another victory for Honda!"
The only financial sponsorship I received came near the end of my trip.  That was from American Honda (after a month of in-person negotiation with the busy company) to help cover expenses for the home run from Los Angeles to Fort Erie.  (Los Angeles – San Francisco – Washington, D.C. – New York – Buffalo – across the Peace Bridge to Fort Erie) Those funds held out as far as Washington, D.C.  Then, in one of those fateful blessings that Oprah once featured on her show as "random acts of kindness", a self-made entrepreneur driving a Corvette stopped me on the ring-road outside the US capital, drawn perhaps by the "Cycle for Life – World Odyssey" that I had written on the orange tarp that covered my load. Though I told him I was not collecting money for a cause, he spontaneously gave me $50.  "I know what you're doing and I simply want to help."  What he did not know was that his act of kindness was enough for Melawend and me to make it home.
Nevertheless, some companies did take a chance on me.  Lapp's Cycle and Parts of Stevensville, Ontario, gave me a break on the price of the scooter.   Because of my photographic background and contacts, Minolta Canada was there from the beginning, lending me about $2,000 in camera gear. Minolta Camera Company in Japan and Minolta USA would later step in when urgent need arose.     They also provided a letter of support.  A local company called Hiker's Haven, created and run by down-to-earth entrepreneur Dan Tyndall, provided camping gear.  And after the futile attempt to leave Canada via Halifax (See "Trial Run" in the book – chapters 1 and 7 are in full on the website.), Peace Bridge Brokerage (now PBB Global Logistics) came forward and flew Melawend and me to England to get the journey underway.
I went after a lot more sponsorship as I went, as it was needed.  Ferry lines provided passage in Europe and Scandinavia.  Negotiations with national and regional airlines resulted in sponsored flights for Melawend and me from Sudan to Kenya, Kenya to India, Nepal to Singapore, Singapore to Japan, Japan to Hawaii, around the Hawaiian islands, and lastly from Hawaii to continental USA.   Along the way, tourist boards, hotels, campgrounds, attractions all lent support with free accommodation and services – all done by in-person application and negotiation.  Once granted, I found that people at those companies often went out of their way to make things easy for me.
I also met went through lot of drawn-out futile applications and outright rejections.  It sometimes seemed I was telling my tale for the personal entertainment of executives who had no intention of becoming involved.
I found rejection has three results – breakdown, stall, or drive.  Rejection could break you – leaving you whine in your owner-built box of self pity (and who cares?).   Fear of more rejection could stall you by making it easy to justify postponing further efforts, even when you know you have to move on, telling yourself, "It will never work."  Or, it could give you even more drive to succeed.  How?  By learning from it, firing up all your creative juices to think outside your box, then getting busy to make it work the next time.  I went through all three along the way, especially during the forty-two-day dysenteric ordeal in Kathmandu.
But it was in the distances between corporate sponsors that hundreds of everyday people helped me with generous hospitality and friendship.  In the four months spent traveling in the UK, Scandinavia, and Europe, I paid for only four nights' accommodation.  I camped on humble farms, slept in hay wagons and barns, and was hosted in apartments, condos, and homes in Newcastle, Brussels, Paris, Khartoum, Hawaii, and Santa Monica, and many more places.  I was even allowed to camp on the side lawn of a 3,000-acre estate in England.  And when they had no place for me to stay, one family put me up for two-nights in a historic local hotel.  That spoke volumes for the common good in most people.
Frankly, for a shy guy like me, it was never easy seeking hospitality or sponsorship, feeling so often as I did like a freeloading vagrant.  But when it worked two ways, it made for the best of times – great conversations and exchanges of knowledge and friendship – life-changing moments learn from and to share with others.
The difficulties in getting help ended up creating some of the best, priceless lessons of life I learned during the journey – read the book to learn more!
You can see the names of all the sponsors and many of the people that helped along the way on the Credits page.
Back to the questions
What credentials did you have to undertake such a project?
While having tangible credentials, a track record of related accomplishments, and perhaps some "celebrity" status does help (considerably, no doubt), I don't believe you need very much to get underway.  You just have to package and sell yourself more creatively and assertively than they do.
I had only one credential, really, but one thing lead to another. I had taught myself the fundamentals of photography and went for it until I earned a New York stock photo agency contract – backed by a portfolio made from self-assigned home-area images and images from my four-month photo junket through Canada and the USA.  I also had photos of a few exhibitions of my photography and clippings of a few local news articles about my photographic efforts.
The managing editor of our small-town newspaper had run one of those articles – inspired to do so by an article she had read in a newspaper from a nearby city.  Shortly before the journey began, I took her to breakfast and on a napkin drew a circle with two smaller circles resting on top of it.  She guessed what I was up to and jumped at the chance to run a series of articles I offered write during the trip.  She provided me with a letter of support that I used to enlist help from others.  Although I had no journalism background, I had a guaranteed assignment.   I was a bona fide journalist.  That's what got me started.
Before I set out, I did try to expand this by also offering to write a series for a large Canadian newspaper, but its editor said that the paper had been "burned" by running a feature on a would-be traveler who promised stories from the road – they never heard from him again.  The editor suggested that I make the trip first so that I would be able to "offer a package" to newspapers.  Ironically, once I completed the journey, it was "old news."  That is all I could surmise because none of the Canadian newspapers I approached after the journey responded to my "package" offer, though I had 18 published on-the-road stories to back it up.
My advice:  If you have next-to-no credentials, approach the editor of your local paper(s) anyway.  If yours is a major paper, that's great!  Even it its not, at least it is a start.  Such an undertaking by a local person makes for great copy.  Then fire up your passion and deliver a can't-refuse proposal to the editor, including what you do have that will strongly suggest that you will succeed.  Then enlist his or her support by way of a letter of intent that you can show to others.  This will help you get press passes to events and locations along your route, as well as possibly helping you gain sponsorship.
Back to the questions
Did you find it easy to get hospitality?
In practice, yes.  I was seldom refused when I'd knock on someone's door, asking to camp on their land.   Many even offered hospitality.  "Come and eat with us."
Psychologically, it was challenging for a rather shy guy like me.  So it was also a wonderful growth experience.
Back to the questions
How did you deal with language barriers?
Often when local people that I was dealing with did not understand English or my gestures, they would send for someone who did or they would otherwise go out of their way to get help.  An older couple in Denmark sent for their daughter to translate for them.  In India, a group of young guys seeing I was in need of fuel, sent for someone who spoke English who talked with me about options and actually went and got fuel for me.   In Tokyo, a young woman who did not understand me, looked at the Japanese-written street name that I was looking and, without a word spoken, happily led me three blocks out of her way to physically point it out.   I found that so many people want to help and will find a way to do so, even if they don't understand what you are saying.
So many people appreciated an effort to speak their language, even as you fumbled through it with a phrase book.  It often led to laughter and much more hospitality that I could have imagined.   There's nothing like breaking the ice by trying to speak their language!
Back to the questions
Since your journey had "friendship" as a theme, what kind of people did you meet?
So many kinds.  Rich people at their homes, homeless on the streets, beggars in markets, executives in their offices, gamekeepers at their compounds.  I met teachers, students, government officials, entrepreneurs, ambassadors, governors, generals, mayors, military personnel, secretaries, mechanics, actors, photographers, refugees, customer service reps, strippers, hookers, black marketers, accommodation owners, tourism executives, singles, couples, everyday families, … the list goes on.
You can meet them all by reading the book!
Back to the questions
What are some of the most important things that you learned?
Understanding – People truly are much the same wherever you go, needing peace within them and around them, the importance of home, family and friends, the daily necessities, as well as common dreams, desires, and fears.   We fear most the people we don't understand.  The key is communication.
Tolerance – Significant differences in culture, politics, and religion guide the lives of people who follow them.  Those differences often either purposely or inadvertently create barriers between them and others.   If we learn about those differences and what they mean to the people who follow them, we can hopefully learn tolerance when we don't agree with them.  We can also see more clearly the things we do have in common, and establish more common ground for communication.
Travel can be a passport to world peace – It is a broad and generalized view, but I found that meeting people on their own ground – literally – is often a compliment to them (you have chosen to be there).  If you follow that up by showing an open interest in their homeland and their lives, they will often share that with you, and be eager to learn about you and yours.  By learning more about where people "are coming from", I believe you can help, at least in a person-to-person way, shape the way the world is going.
You own thoughts and beliefs are largely what guide you and limit you – and you can change those for the better.  It is so easy to blame others for things that go wrong in our lives.  By forcing myself to get outside myself, I more clearly saw my own limitations and negative beliefs.  I found ways to overcome or at least deal better with them.
What my book will show you are the discoveries and changes I made along the way – some of which might help you improve your life and the lives of those you care about.
Back to the questions
How has making the journey changed you?
For starters, I believe I am more pro-actively friendly, open-minded, tolerant, understanding, self-aware and out-going, as well as being more knowledgeable and inquisitive in the ways of our magnificent world.  It made me look beyond my old comfort zones to find new perspectives on love and life.  After the journey, I married into a different culture – the Philippines – and am currently helping build a better future and others there, and for myself, through the development of fish and pig farms.  That and the daily job, future writings and travel should keep me quite busy.
Though there is no end in sight for Man's Inhumanity to Man, the journey and its legacy has made me more optimistic than ever that humanity will achieve world peace.  I have much greater confidence in the inward and outward power of the collective and the individual human spirit (including my own) and its capacity for positive change.   I feel we must do all we can to liberate and nurture that positive spirit in ourselves and help do the same for others.
The journey's legacy is that it will always be part of who I am, what I do, and what I'll pass on to others.  It gave me both simple and profound lessons of life to build on.
Back to the questions
Is there anything you would have done differently?
I would have prepared for all contingencies financially before I left, so I could focus on the goals of the journey.  Seeking sponsorship along the way ate up so much of my time.
More than that, I would have used more foresight. I wish I'd taken more time before the journey to compile more research, which would have given me a more detailed itinerary – and many more options including people to meet, places to explore, and generally in things to do.  I would have been much more aware of my surroundings and opportunities.
My intention was to not be too knowledgable – to let whatever I encountered could work its way on me, without the prejudices and biases of others or the glossy renderings of travel brochures.  I wanted experience the world firsthand, not merely go sightseeing and indulge in personal pleasures.  To some degree, I felt that ignorance was bliss.  I was to a greater degree, wrong.
My advice for your itinerary – be it for a journey or other passages in your life – it should be flexible to allow for unknown opportunities that will undoubtedly arise.   Whether you want to focus on one goal or a multitude, do more inward and outward research, thereby giving yourself more options.
Back to the questions
I'm thinking of breaking up with my girlfriend and going around the world like you did.   Do you think I should do it?
A young guy actually asked this.  What to say?  In his case, he felt he and his girlfriend had been growing apart.  She had another year of university and then would begin her career. Her friends did not appeal to him.  He had had some domestic travel adventures but longed for something much larger, something that would be more demanding and, in the long run, enhance his life long after it was done.  I listened more than talked.  He was getting his feelings out.  He just was not sure.  I suggested he talk with his girlfriend about their relationship and their future before making other decisions.  He asked for more details about my journey.
"This is what I needed to here," he said.
I did not really know what he had decided for himself – perhaps he just had more information with which to make a decision.
So I really cannot answer that question for you.
You have to look deeply at your own life, relationships and goals.  If you are in a relationship, by all means talk with him or her about your relationship and where it's going.  Would making such a journey be something you could do together?    Should you do it alone, hoping "distance makes the heart grow fonder"?   Is the relationship really over?  Don't make a journey to run away from something – it will follow you and will ultimately make it more difficult to deal with.
Talk about it with the people you are close to.  You might even want to involve them in some way – taking care of your mail, bills, etc in your absence, maintaining a website about your journey, acting as a local contact for you, etc.
Ulitmately, you must make that decision.   Give yourself time.
Back to the questions
I'd like to do something like you did.  Any suggestions on how to get started?
Explore your background and motivations.  What to you want to accomplish?  Is such a journey really for you?  Or are there other options…  Determine your inward and outward assets and needs.  Take your relationships to heart – how would your trip affect others?  Would it involve them?
Money – make sure you have more than "enough".   Or, you could try doing it on the way, as I did.  Be creative beforehand.  Try not to be a burden to others.
Keep a journal – on- or off-line.  Share your travels.  Do you foresee making a written or multi-media account of your journey?  Prepare for that.
Keep in touch with anyone who would be interested in your journey.  They could also be a lifeline.  Keep in touch with people you meet.
My best advice – STUDY.  Check out websites and read books about such journeys, including mine (plug intended).  Read and compile research about the places you want to go, interweaving it with what you want to accomplish so you can create a meaningful intinerary.  If yours will be a learning trip about a specific interest – such as art, primitive cultures, seashore environments, or whatever – research in detail those aspects of your destinations, trying to find gaps in what is known so you can make your own (not merely to go sightseeing with a checklist).
Back to the questions
Are you planning any more long journeys?
Not right now.
Back to the questions
What's are you working on now, Tom?
That's easy!  Loving life!  I'm working my amazing fiancé Jacqueline Katherine Jones and creating awesome life together, here in Victoria, BC, Canada.  She is a talented American writer, currently working on her book UNITY: Experiencing God While Human.  We will soon be collaborating on written works.  I will continue to work on photography to augment our writing.
Back to the questions
At 459,000 words, your book is almost as long as Tolkien's The Lord of the Rings.  Why is it so long?
Publishers in New York and Toronto were interested in the book, but only if I cut its size.  They were thinking of their budgets and the risks of taking on a new author.
But I had come away with so much new knowledge, new questions, and new perspectives on life and love and with intense feelings of hope that it required the telling of the full story – uncut, uncensored.  I met so many fascinating people, saw so many wonders and learned so much about the world, relationships and the self.  (Much of that education came from making my own mistakes along the way – some real gems!).  The journey became a profound first-hand education that you just can't get at any university.  I gained so much value in those two years that to share it, I spent the next 12 years writing what simply turned out to be a long story – told truly and candidly.
And don't you deserve the whole story?  I wrote it with you in mind – fully, so you can get the maximum benefit from the making of such a life-changing journey, without all the risk in time, finances, health, sanity….
Of course, quantity does not speak for quality.  All I can pass on to you is what people who have read the book have said.  Many have found good things in the book for their own lives and many of them have allowed me to share their feelings about the book with you.   You will find a few of them on the here on the home page…
GET YOUR COPY – as soon as THE EBOOK EDITION comes out!
Stay tuned for details!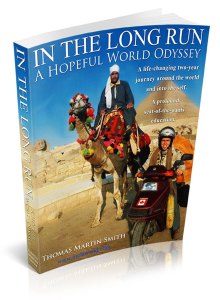 CANADA ~~ ENGLAND ~~ WALES ~~ SCOTLAND ~~ NORWAY ~~ SWEDEN ~~ DENMARK ~~ THE NETHERLANDS ~~ BELGIUM ~~ LUXEMBOURG ~~ GERMANY ~~ LIECHTENSTEIN ~~ AUSTRIA ~~ SWITZERLAND ~~ FRANCE ~~ SPAIN ~~ MONACO ~~ ITALY ~~ THE VATICAN ~~ GREECE ~~ EGYPT ~~ SUDAN ~~ KENYA ~~ INDIA ~~ NEPAL ~~ SINGAPORE ~~ MALAYSIA ~~ JAPAN ~~ HAWAII ~~ USA ~~ RETURN
MELAWEND – My Amazing Honda Elite 250 Motorscooter
Helpful Quotes & Odyssey Photos by Tom
NEWS ~ About ITLR ~ About Tom ~ Chapters ~ Galleries ~ FAQ ~ Contact ~ For YOU!
Chapter 1: Crossroads
Chapter 23: Sojourn in Greece
Chapter 24: The Ups and Downs of Egypt
IN THE LONG RUN: Stories Written From The Road
Christmas in Greece – lively, lonely…