Part v                 Shades of Africa
Chapter 24        The Ups and Downs of Egypt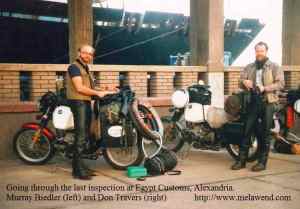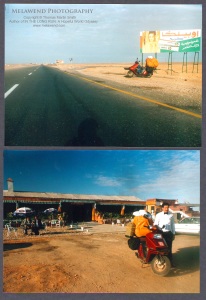 Upper: Melawend by a billboard on the Desert Road.  Below, my first experience of amazing, generous Egyptian hospitality – at Omar Oasis, about half-way between Alexandria and Cairo.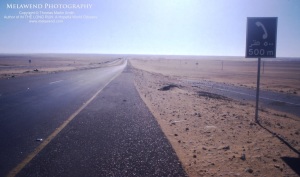 When you free your spirit from self-doubt and from those who would repress it… when you follow your passions… you empower yourself go places in your life far beyond your current dreams!
Just let yourself imagine this: New Year's Day – you're racing along the Desert Road on a heavy-laden motorscooter, crossing the Sahara Desert to Cairo! Last New Year's Day, this journey still seemed like a dream to me; two years back I might have suggested that you were nuts if you had told me I would be here now.  Well, I was here now, riding with the wind, getting honks and waves from the drivers of lumbering old trucks on a beautiful day on the road to Cairo. 

Imagine!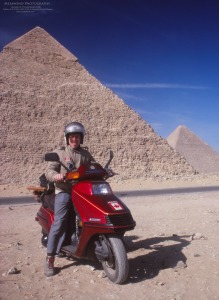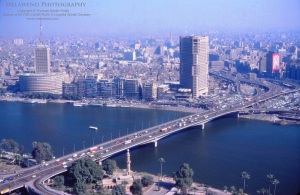 CAIRO as I photographed it 590 feet up in the Cairo Tower.  When I first encountered Cairo, it was strangest city I had ever seen.  As such, it was intimidating.
Lesson learned: Be open to what is daily life for others no matter that it might be totally bizarre to you.
As with any new city, I was intimidated by what I saw. Here, it was the dirtiest, most crumbling and congested urban environment I had ever seen.  The road buzzed with minibuses – Toyotas, Mazdas, VW's, Daihatsu's, Mitsubishi's, and Nissans.  Taxis were old black and white Peugeots or Hyundai Pony's.  There were dusty Chevy and Ford pickups, Chevy Caprice Classics and Mercedes with tinted windows.  I thought: A car wash might do fabulous business here.   Billboards were art, not photographs.  For the first time, I saw animals in the streets – donkeys, bulls and goats.  There were new unsafe-looking buildings. Three had primitive scaffolding around them – 10 stories of lumber lashed together. Buildings seemed almost monotone – all gray cement, mortar and red brick that would be plastered over.  I saw the minarets of mosques and in a park, I saw the head of a giraffe poking its head up amid the trees. …

I would never really become use to the noise, the dirt, the crowds, the general chaos and the strangeness of the streets of Cairo (though seasoned by subsequent travels in other chaotic cites, I would love to go back!).  I much preferred the view I got of this dusty city from a seat 590 feet up in the revolving restaurant (immobile then) atop the concrete lattice walls of Cairo Tower.  From here, I looked southwest to Pyramids that rose at the edge of the desert over nine miles away.  Looking the other way, across the Nile, I cringed at the bleak sprawl of dusty gray and brown city that had hardly a green leaf anywhere.  It did however have "aerial farmyards" – families kept poultry, sometimes goats on their rooftops.  I saw Nasser's vast circular edifice, the broadcast station topped by a square office tower.  It stood across the Nile at Balaq.  The building contained 43 radio stations and 11 television studios and accommodated a staff of some 10,000 – more people than were employed in broadcasting by all the other Arab and African countries combined!  I looked down on the spartan new hotels and apartments and the tide of congested crumbling buildings that pushed them up against the banks of the river.  I shivered when I imagined myself in the midst of all that.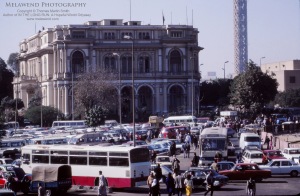 Bustling, chaotic Tahir Square in Cairo.
Tahir Square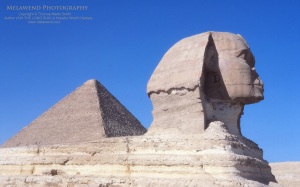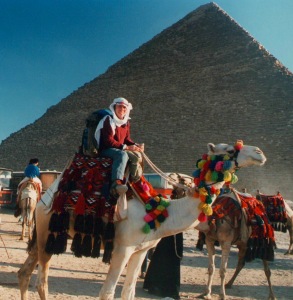 Doing my tourist thing at the Pyramids!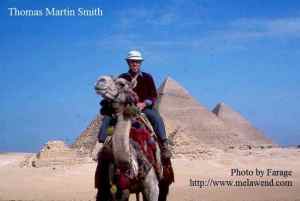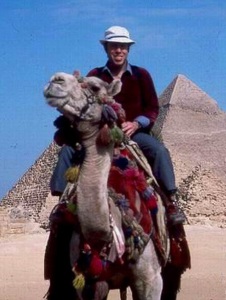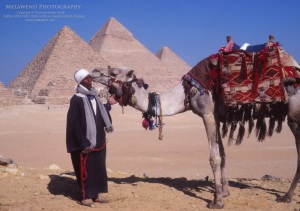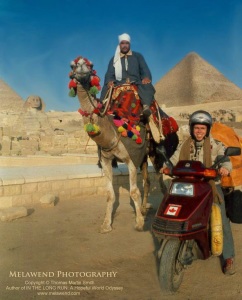 With my new and trusted friend Amer Abu Khamis and his camel Hassan.
A couple sitting at the base of one of the Pyramid of Cheops – give an idea of the scale and condition of the exterior edges of the stone blocks.  You see the same couple in the photo below – so tiny against the 450-foot height of Cheop's pyramid, eh?!!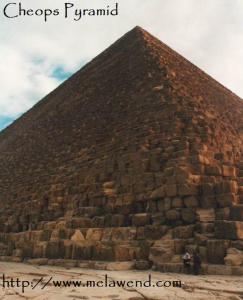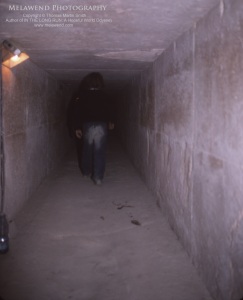 The awesome interior – with joints between huge, perfectly cut blocks so tight, you could not put a piece of paper between them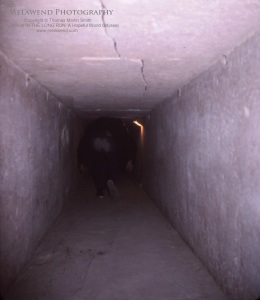 A tight walk… and below, climb!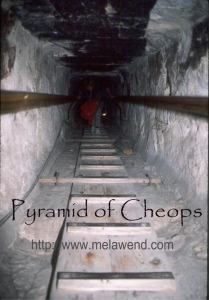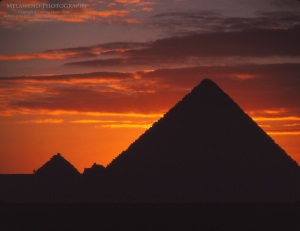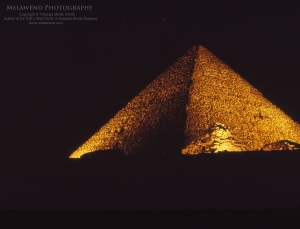 The spectacular Light Show at the Pyramids – with spellbinding music and narration!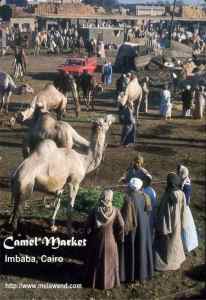 The ancient atmosphere of the Camel Market in the Imbaba District of Cairo.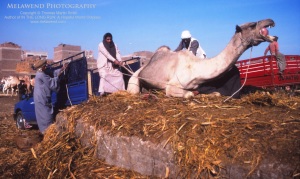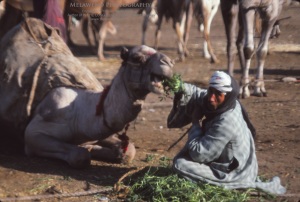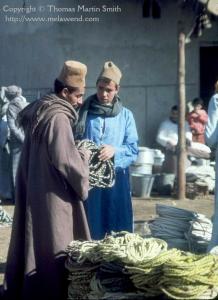 A universal image – a young, eager, perhaps uncertain salesperson – and a seasoned, mature buyer…
in the Camel Market, Imbaba, Cairo.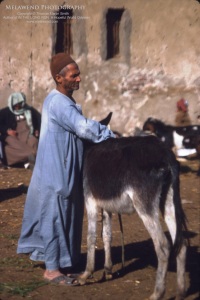 Exquisite tapestries being made at the Ramses Wissa Wassef Art Center in Harrania, near Giza.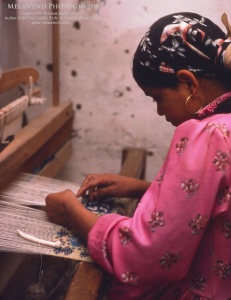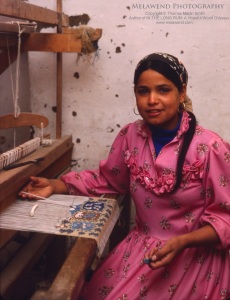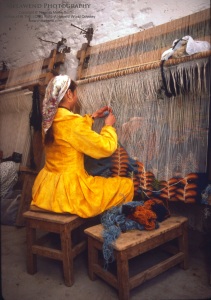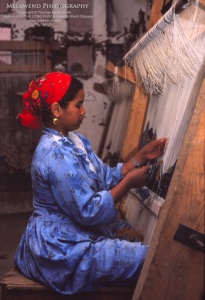 My poor editor – she had to deal with hand-written stories and exposed but undeveloped film that I sent in by snail mail.  The b&w photo of the above was inadvertently used in the story on Sudan.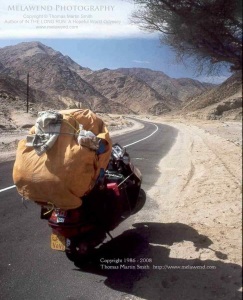 Melawend on the road to Mount Sinai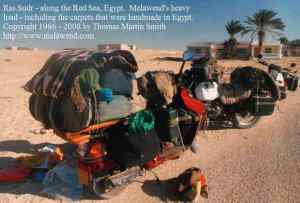 Melawend carrying the three carpets I bought in Cairo.  Long story, but I rode with Don and Murray to Port Said, but did not find passage by sea to Kenya, so I had tried to get them shipped home from of Alexandria, but the broker there just laughed: "The will never make it."  But as I was riding with Don and Murray from Port Said to Mount Sinai, I ended up hauling them with me to the holy mountain – and eventyally all the way back to Cairo.  How they finally got to me in Canada, after the journey, is part of this story!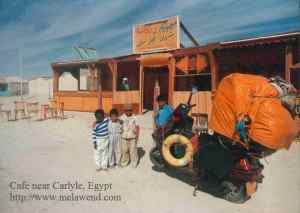 Boys at a remembered café on the road to and from Mount Sinai – twice.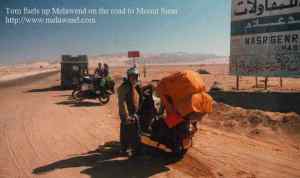 Fueling up Melawend on the road to Mount Sinai.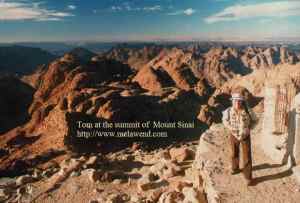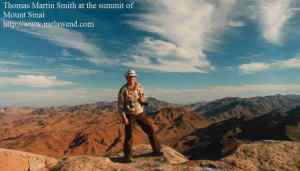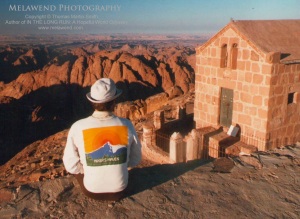 Yours truly atop Mount Sinai – at sunset, and below, sunrise.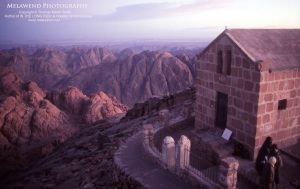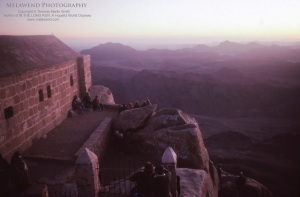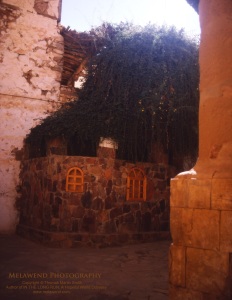 The Burning Bush – at the Monastery of St. Catherine at the base of Mount Sinai.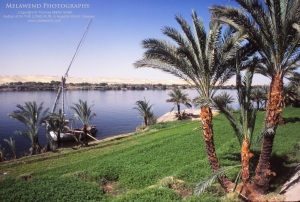 Felucca on the Nile. Heading south toward Aswan… and deeper into Africa.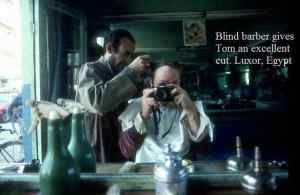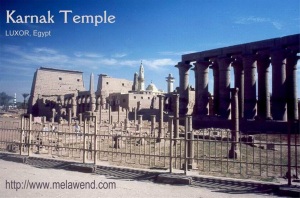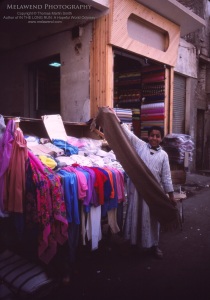 A persuasive young salesman I met in Luxor – I bought that scarf from him!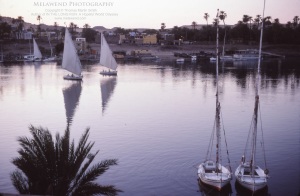 Modern feluccas on the Nile in Aswan.
NEXT… the ferry to the SUDAN…

CANADA ~~ ENGLAND ~~ WALES ~~ SCOTLAND ~~ NORWAY ~~ SWEDEN ~~ DENMARK ~~ THE NETHERLANDS ~~ BELGIUM ~~ LUXEMBOURG ~~ GERMANY ~~ LIECHTENSTEIN ~~ AUSTRIA ~~ SWITZERLAND ~~ FRANCE ~~ SPAIN ~~ MONACO ~~ ITALY ~~ THE VATICAN ~~ GREECE ~~ EGYPT ~~ SUDAN ~~ KENYA ~~ INDIA ~~ NEPAL ~~ SINGAPORE ~~ MALAYSIA ~~ JAPAN ~~ HAWAII ~~ USA ~~ RETURN
MELAWEND – My Amazing Honda Elite 250 Motorscooter
Helpful Quotes & Odyssey Photos by Tom
NEWS ~ About ITLR ~ About Tom ~ Chapters ~ Galleries ~ FAQ ~ Contact ~ For YOU!
Chapter 1: Crossroads
Chapter 23: Sojourn in Greece
Chapter 24: The Ups and Downs of Egypt
IN THE LONG RUN: Stories Written From The Road
Christmas in Greece – lively, lonely…