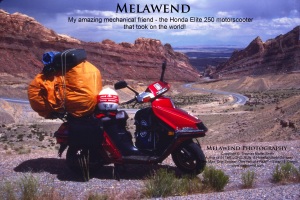 MELAWEND – my amazing 1985 Honda Elite motorscooter – I named her for my daughters, Melanie and Wendy.
Though I had never ridden a motorbike before, (and I had intended to go by bicycle, but a training accident put an end to that) I got a gut feeling when I first sat on Melawend in Peter Lapp's showroom in Stevensville, Ontario (Part of Greater Fort Erie).  I went with my gut feeling…. "This is it!"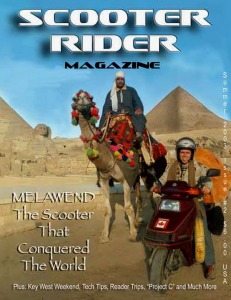 Melawend and I made the cover of the Summer 2003 issue of SCOOTER RIDER MAGAZINE, the publication's second issue, and it's first full-color cover!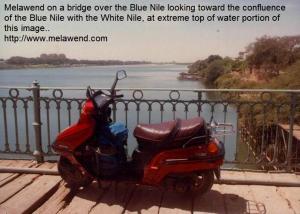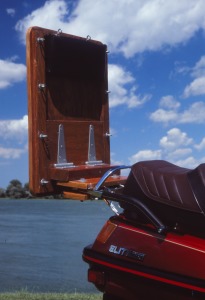 This is the platform I build from scraps of wood – mostly plywood.  Mounted with a hinge on the stock luggage rack, it would tip forward with the load on board while I would then lift and tip the seat forward, and then bring the platform and the seat together to form an open triangle – his exposed the gas tank under the seat for filling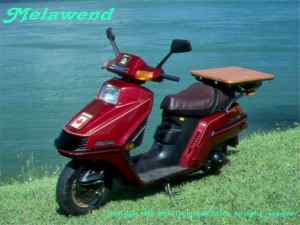 Virgin Melawend!  I took this shot along the Niagara River near my home shortly before the journey began.
The return to the Peace Bridge over the Niagara River between Fort Erie, Ontario, and Buffalo, New York – over 2 years after I began the journey.  The bridge was symbolic of my journey.  Fort Erie and Buffalo was the last site of armed hostilities between Canada and the USA – there had been peace between our nations since 1812.  My hope was that someday peace would bridge all nations.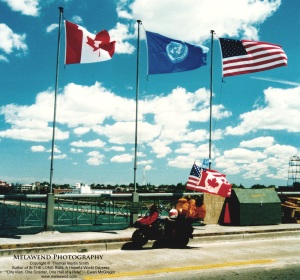 A proud moment in returning home…  I was on the Peace Bridge, heading back home to Fort Erie from Buffalo, and stopped the scooter midway to get this shot of the international border line.  A driver in a big tractor trailer truck behind me gladly held traffic up behind me and gave me a thumbs up as I got off Melawend to take this photo!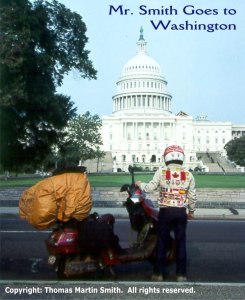 Melawend and I made it to Washington, DC, after travelling for two years around the world!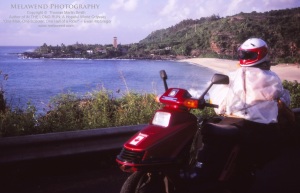 Melawend in Hawaii!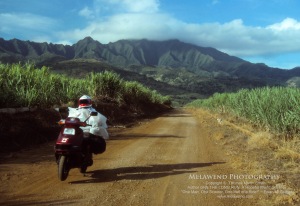 Melawend on a road through a sugarcane field on Oahu, Hawaii.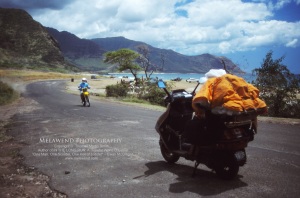 Melawend by a beach on Oahu.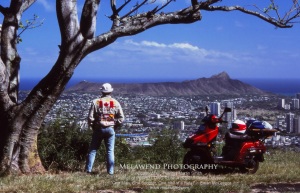 Melawend and I take in a milestone-moment – reaching Diamond Head, Hawaii – having dreamed about this moment for two years!
Melawend and I stopped at this roadside shop in Nepal on the road to Kathmandu.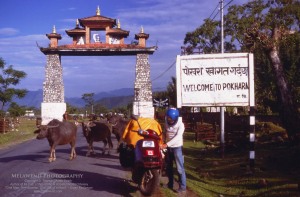 Melawend I raise a bit of curiosity in locals as we leave Pokhara, Nepal, ready to set out on the road to Kathmandu.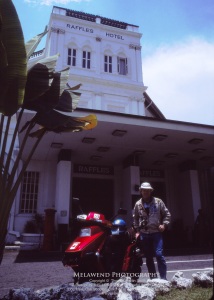 Melawend and I spent some time at one of the most famous hotels in the East – Raffles Hotel, Singapore.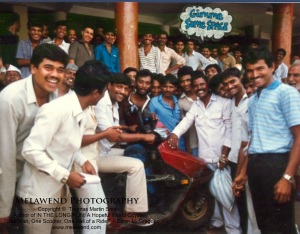 Melawend sure drew a crowd of workers at the Air Cargo Complex in Mumbai (Bombay), India when she arrived.  Few vehicles arrive in India by air!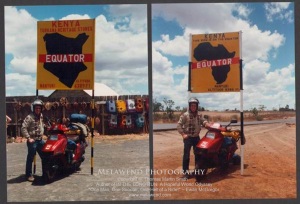 Melawend and I reach the Equator – near Nanyuki, Kenya.  These signs were about a half-mile apart, yet each claimed to be on the Equator – so bit it, a line of longitude is thereby a half-mile wide!  🙂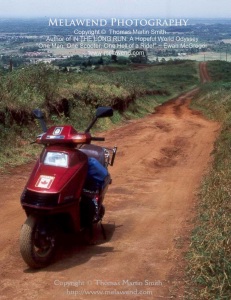 Melawend takes on a torturous road up the Ngong Hills near Karen Blixen's "Out of Africa" home in Karen, Kenya, near Nairobi.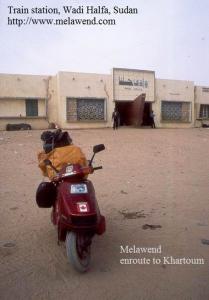 Melawend and I wait to board an old train in Wadi Halfa Sudan, for the overland trip to the capital, Khartoum.  The "roads" to Khartoum were defined on the map as "tracks" – little more than sand!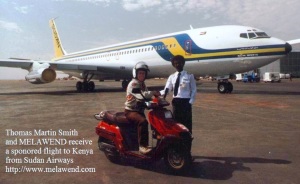 Melawend and I are grateful to Sudan Airways for the flight from Khartoum to Nairobi.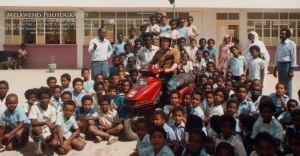 Melawend and I make a welcomed visit during final exams at Khartoum North School, Sudan.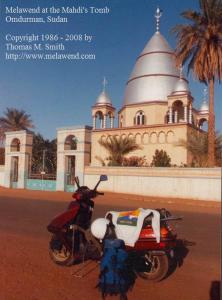 Melawend at the Mahdi's restored tomb – Omdurman, Sudan.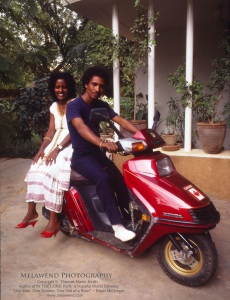 Fred and Tzehai, Eritrean refugees, pose aboard Melawend – just after Fred, to my welcome surprise – cleaned a year's dirt off her!  Khartoum, Sudan.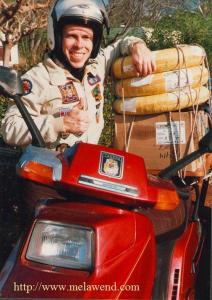 Christmas in Greece!  My long-awaited supplies arrived from Canada just before Melawend and I hit the road to the port and the ferry that will take us to Africa!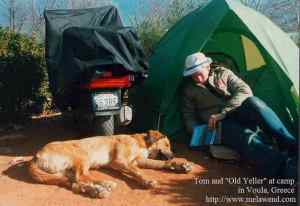 "Old Yeller" – my constant stray-dog companion at my campsite in Voula, Greece, near Athens.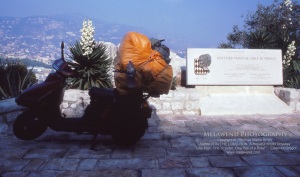 Melawend and I reach Monaco!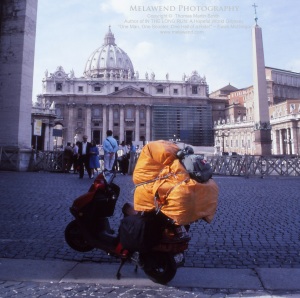 Melawend at St. Peter's Basilica – The Vatican.
Melawend and I pose for a news photographer at Campidoglio – the hill-top site of Rome's City Hall
– in a piazza designed my Michelangelo.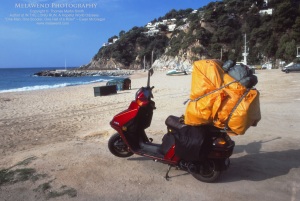 After months of cooler and often wet weather, Melawend and I finally put tires and backside happily to sand on the Mediterranean at Valencia, Spain.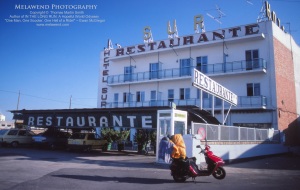 Hotel Sur… a nice hotel Melawend and I stayed overnight at in Tarancon, Spain – on our way to the French Riviera!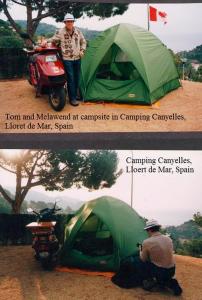 Our campsite while visiting Lloret de Mar, Spain.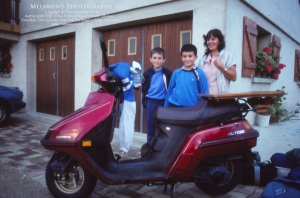 The Mazo family – my hospitable and friendly hosts in Poligny, France.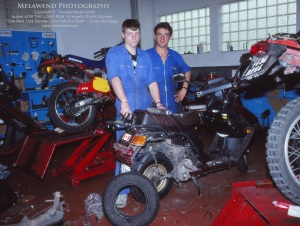 Melawend gets a tire change at a the Franco Americain Honda dealership in Biarritz, France, just before we enter Spain.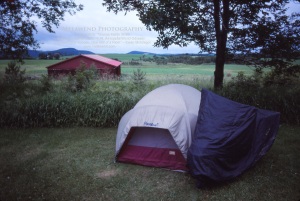 Camp on a farm in Sweden.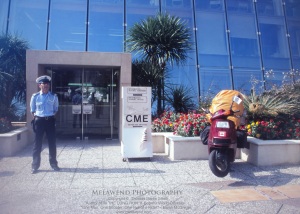 Melawend is briefly a featured visitor at the Palais de Festivals, Cannes, France
Melawend and I arrive at the UN, Geneva.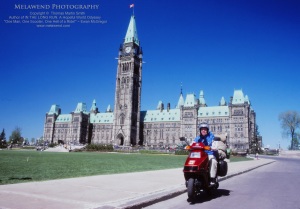 Melawend and I getting ready to leave Ottawa.  Your writer blew Photo-Op 101, big-time!  Shortly after I took this photo and put the camera and tripod back on the load, a man in a suit, carrying a briefcase, came diagonally across the lawn from Centre Block (the main building the background) to greet me and ask me about my trip…. it was Joe Clark – or former Prime Minister and then current Minister of Foreign Affairs – literally the head man for all the Canadian Embassies and Consulates I would be working through as I made my way around the world!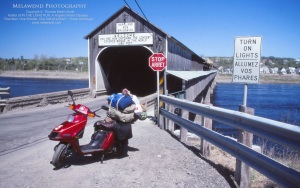 The Hartland Bridge, New Brunswick – the longest covered bridge I the world!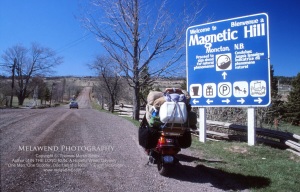 Magnetic Hill, Moncton, New Brunswick – an optical illusion created by rising and descending terrain.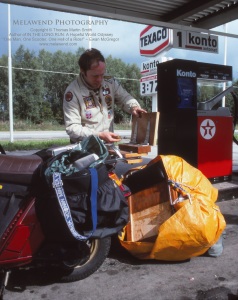 Clumsy me – I lost my grip while filling Melawend at a gas station in Sweden – the load on the platform fell backwards, snapping off its hinge mount.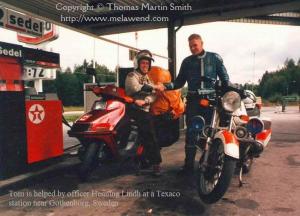 When this highway patrol officer pulled into the station, I thought I was cooked for having an overloaded scooter…. But Officer Hennig Lindt helped me get the load back onto Melawend.  And we talked in the way of new friends!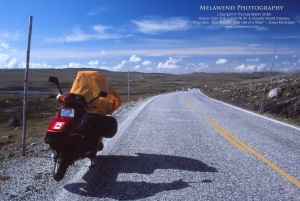 Melawend on a high plateau in Norway – with poles to guide snow-plow drivers in winter!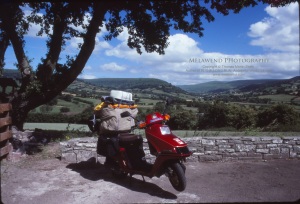 Melawend in Wales!  One of my ancestral countries!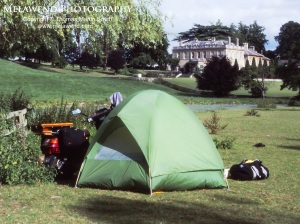 Melawend and I camp stately on Glympton Estate, England.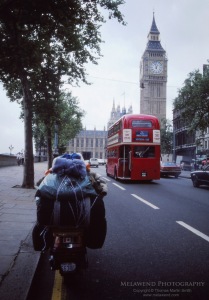 My Melawend and Big Ben in London!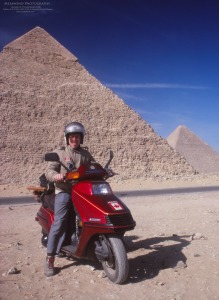 Melawend and I reach the Pyramids of Giza!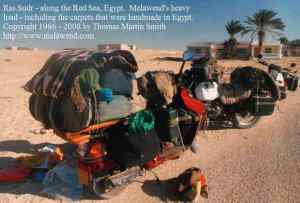 One of the biggest and heaviest loads Melawend carried – he we are camping in Ras Sudr, the Sinai, Egypt.  I had been taking three carpets I bought in Cairo to Alexandria in hopes an affiliate of Peace Bridge Brokerage there would ship them back to Canada for me.  But the executive just laughed: "The will never make it.  They will likely be stolen."  So, being with Don Travers and Murray Biedler, we continued on our travels sound to Mount Sinai – and her we are part way there.  We would go own ways when we reached the holy mountain.  I ended up hauling the carpets back to Cairo – and the merchant I bought them from said he would get a tourist to get them out of Egypt and send them to Canada.  I got them about a year after I returned to Canada!  That is in itself a fascinating people-oriented part of the journey!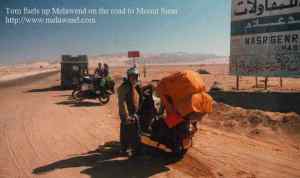 Melawend and I self-serve fueling up on the road to Mount Sinai.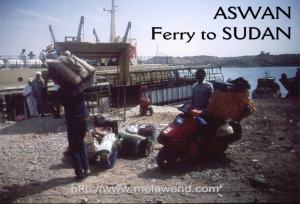 Melawend just before she boards the ferry from Aswan, Egypt to Wadi Halfa, Sudan.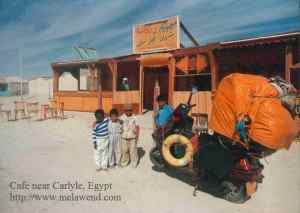 A return visit to a café near Carlyle, Egypt – the Sinai.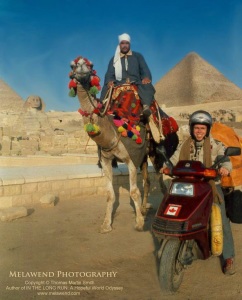 Melawend and I with Amer Abu Khamis – cameleer at the Pyramids and my awesome friend!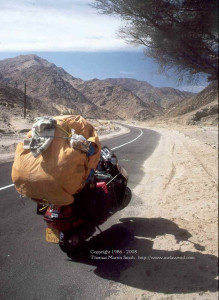 Melawend in the Sinai.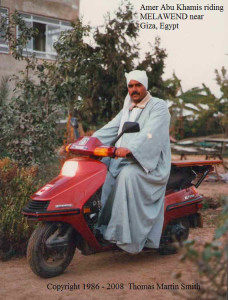 My friend Amer Abu Khamis – tries out Melawend – and falls off.  He decided to stick to his camels – and I to my Melawend!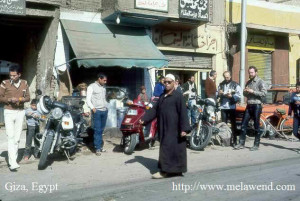 Melawend draws attention at a fast-food kiosk near the base of the Pyramids, Giza, Egypt.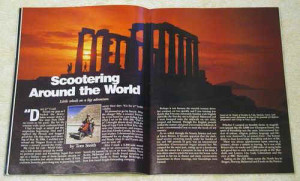 My photo of sunset at the Temple of Poseidon, Cape Sounion, Greece – used in an article I wrote for RIDER magazine.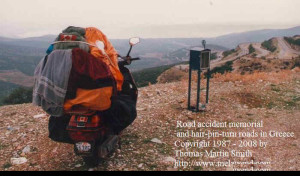 One of the many roadside memorials in Greece to those who perished here at a vehicle accident.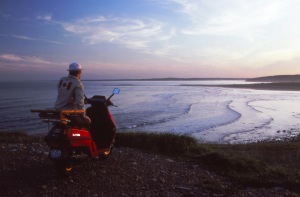 Melawend and I frustrated, facing a 1,600-mile return trip to Fort Erie, Ontario, because we could not find sponsored onward passage to England while in Halifax, Nova Scotia.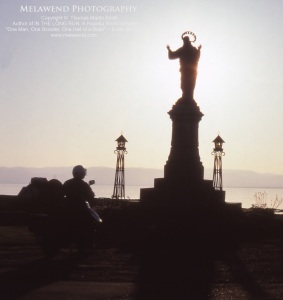 Melawend and I – praying at a statue of Jesus at a church along the St. Lawrence River in Quebec.
Melawend – my royal coach – resting stately before the gates of Buckingham Palace, London.

CANADA ~~ ENGLAND ~~ WALES ~~ SCOTLAND ~~ NORWAY ~~ SWEDEN ~~ DENMARK ~~ THE NETHERLANDS ~~ BELGIUM ~~ LUXEMBOURG ~~ GERMANY ~~ LIECHTENSTEIN ~~ AUSTRIA ~~ SWITZERLAND ~~ FRANCE ~~ SPAIN ~~ MONACO ~~ ITALY ~~ THE VATICAN ~~ GREECE ~~ EGYPT ~~ SUDAN ~~ KENYA ~~ INDIA ~~ NEPAL ~~ SINGAPORE ~~ MALAYSIA ~~ JAPAN ~~ HAWAII ~~ USA ~~ RETURN
MELAWEND – My Amazing Honda Elite 250 Motorscooter
Helpful Quotes & Odyssey Photos by Tom
NEWS ~ About ITLR ~ About Tom ~ Chapters ~ Galleries ~ FAQ ~ Contact ~ For YOU!
Chapter 1: Crossroads
Chapter 23: Sojourn in Greece
Chapter 24: The Ups and Downs of Egypt
IN THE LONG RUN: Stories Written From The Road
Christmas in Greece – lively, lonely…