Part II         Great, Great, Great Britain
Chapter 12    Bagpipes and Highland Rains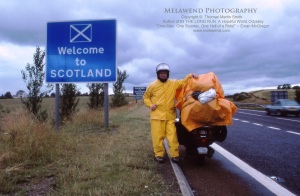 Soggy but happy, Melawend and I reach Scotland!
     I had four primary destinations in Scotland: Loch Lomond, Loch Ness, Inverness, and Edinburgh. To me, Scotland was Lomond's beauty, the monster Nessie, rugged shores, barren green hinterlands, harsh wet weather, strong liquor, bagpipes and kilts.  It was the homeland of Sean Connery.  My image of Scots was of a people that were valiant, proud, tenacious, boisterous, brawling, vigorous, weathered, and hearty.  They had a throaty accent, and were resolute in their individuality.  I knew Scotland was a hell of a lot more than that.  But what more could I say of it?  I was an ignorant young guy.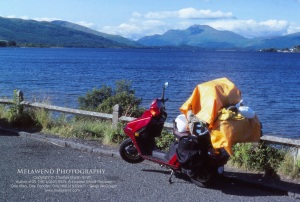 Melawend and I reach the south shore of Loch Lomond, Scotland!  I believe in the background is Ben Lomond on the eastern shore.
 Packing up my camp from a soggy field near the south shore of Loch Lomond, Scotland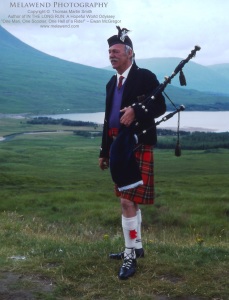 Alexander Stewart – in full regalia, playing bagpipes near Glencoe, Scotland.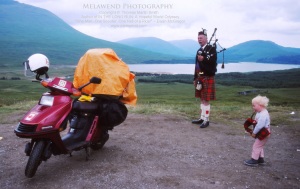 Alex Stewart Jr. plays a tune for Melawend!  Near Glencoe, Scotland.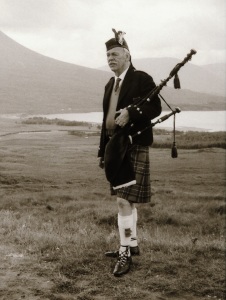 The photo of Alexander Sr, used in a story for the Times-Review.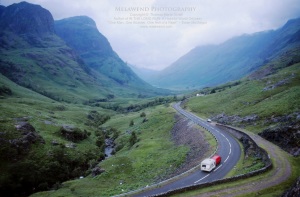 The haunting beauty of Glencoe, Scotland – site of the massacre of many members of the McDonald Clan by forces of King William II.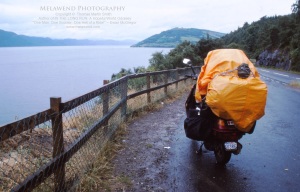 Melawend and I reach world-famous Loch Ness… but alas, no sign of Nessie!

CANADA ~~ ENGLAND ~~ WALES ~~ SCOTLAND ~~ NORWAY ~~ SWEDEN ~~ DENMARK ~~ THE NETHERLANDS ~~ BELGIUM ~~ LUXEMBOURG ~~ GERMANY ~~ LIECHTENSTEIN ~~ AUSTRIA ~~ SWITZERLAND ~~ FRANCE ~~ SPAIN ~~ MONACO ~~ ITALY ~~ THE VATICAN ~~ GREECE ~~ EGYPT ~~ SUDAN ~~ KENYA ~~ INDIA ~~ NEPAL ~~ SINGAPORE ~~ MALAYSIA ~~ JAPAN ~~ HAWAII ~~ USA ~~ RETURN
MELAWEND – My Amazing Honda Elite 250 Motorscooter
Helpful Quotes & Odyssey Photos by Tom
NEWS ~ About ITLR ~ About Tom ~ Chapters ~ Galleries ~ FAQ ~ Contact ~ For YOU!
Chapter 1: Crossroads
Chapter 23: Sojourn in Greece
Chapter 24: The Ups and Downs of Egypt
IN THE LONG RUN: Stories Written From The Road
Christmas in Greece – lively, lonely…