Part III           Scandinavian Serenity
Chapter 14      Norwegian Highs  and Lows
When you hold apprehensively in mind an image of a place and then you see something of that place that is unexpected, even if it is less threatening, it can make you nervous: Is this the right place? That is how I felt when the Venus glided along the shore of Norway.  My first sight was not of towering dark fjords – my image from school days – but of rugged gray and green hills dotted sparsely with homes.   Though for the moment I felt more hopeful for Melawend, my shattered image left me puzzled.  The image, however, would soon be overwhelmingly restored as we continued north along the coast.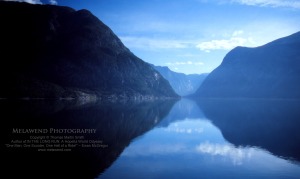 The beauty of Norwegian fjords – a photo I took on a short ferry ride.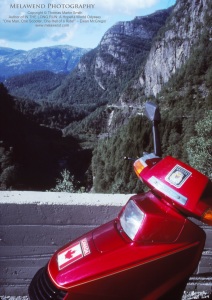 Heading up into the mountains in Norway!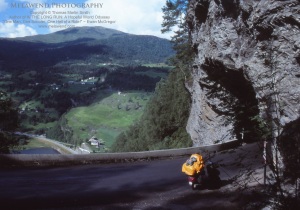 Melawend about to carry me through a long dark tunnel in a mountain in Norway.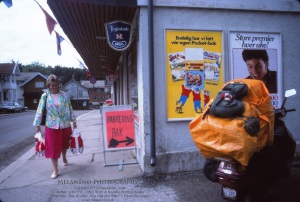 Norwegians are fond of lotteries too!  In being able to take Melawend around the world, I felt like I had won a lottery!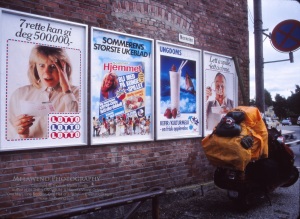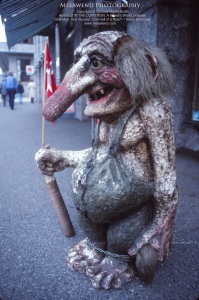 A statue of a Gnome on a main street in a Norwegian village.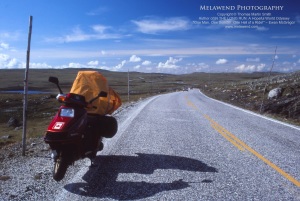 Hi high plateau in Norway – with poles to help guide drivers of snow plows in winter!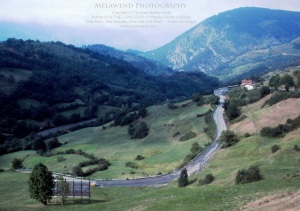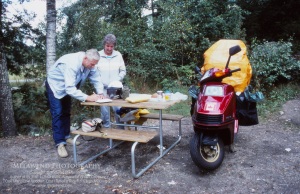 After a nice chat on a roadside rest area, a Norwegian couple signs one of The Odyssey Signature Books.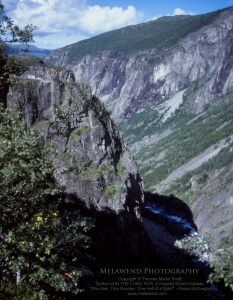 Steep it is in Norway!  Looking so tiny on a road near the upper left, you see a vehicle pulling an RV trailer!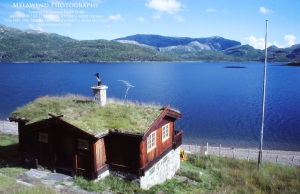 Popular roofing in Norway!

CANADA ~~ ENGLAND ~~ WALES ~~ SCOTLAND ~~ NORWAY ~~ SWEDEN ~~ DENMARK ~~ THE NETHERLANDS ~~ BELGIUM ~~ LUXEMBOURG ~~ GERMANY ~~ LIECHTENSTEIN ~~ AUSTRIA ~~ SWITZERLAND ~~ FRANCE ~~ SPAIN ~~ MONACO ~~ ITALY ~~ THE VATICAN ~~ GREECE ~~ EGYPT ~~ SUDAN ~~ KENYA ~~ INDIA ~~ NEPAL ~~ SINGAPORE ~~ MALAYSIA ~~ JAPAN ~~ HAWAII ~~ USA ~~ RETURN
MELAWEND – My Amazing Honda Elite 250 Motorscooter
Helpful Quotes & Odyssey Photos by Tom
NEWS ~ About ITLR ~ About Tom ~ Chapters ~ Galleries ~ FAQ ~ Contact ~ For YOU!
Chapter 1: Crossroads
Chapter 23: Sojourn in Greece
Chapter 24: The Ups and Downs of Egypt
IN THE LONG RUN: Stories Written From The Road
Christmas in Greece – lively, lonely…