Hi!
You'll soon see the first book – IN THE LONG RUN: Stories From the Road – published and available to you on Amazon!  (I'm still on a learning curve with all the infrastructure to set up before the launch – but I am getting there!)  🙂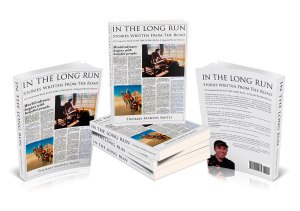 This book comprises the 18 stories I wrote for my hometown newspaper during that life-transformational two-year journey around the world on motorscooter Melawend.  Those readers had to wait two years to get all of the stories – but you will get them all in one place, right away!
FREE RIGHT NOW…. Since the Stories From The Road edition will be the first of the two books to become available, I'm including a longer beginning chapter to get you into the meat of the matter by addressing the questions the title sets out – rather using than the standard blah titles, "Introduction" or "Foreword" or "Preface"  It becomes a story in itself that can help you right away!
Please check it out and let me know what you think.
And if you would like to receive FREE UPDATES that include tips, tools and strategies as well as info on products and programs that can help you at critical times in your life, SIGN UP TODAY using the opt-in box in the upper right!
More soon…
Cheers to you and your loved ones for a happy, fulfilling day!
Tom